The Captain of Köpenick - a German hero's Luxembourg past
The Captain of Köpenick - a German hero's Luxembourg past
Each country has its national hero. Wort.lu/en introduces you the "Captain of Köpenick" - a German imposter, who made a fool of a small town and is buried in the cemetery in Limpertsberg behind the Glacis.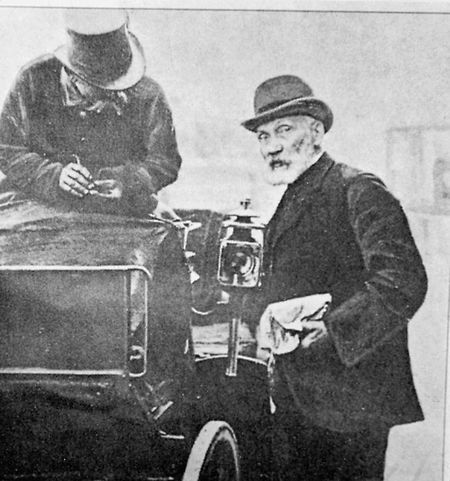 by György Földes
Köpenick, a historic town south-east of Berlin, is most well-known for the famous imposter Wilhelm Voigt, alias the "Captain of Köpenick".
Friedrich Wilhelm Voigt was born to a shoemaker's family in 1850. Between 1864-1891, he was sentenced to prison for a total of 25 years for thefts and forgery. After being released in 1906, he settled near Berlin, living with his sister, where he worked as a shoemaker until police expelled him as an undesirable person in August because of his convict past. He remained in Berlin as an unregistered resident.
That year Voigt embarked on his next adventure, the one won him fame on October 16, 1906. He resigned from the shoe-making factory and purchased parts of used captain's uniforms from different shops.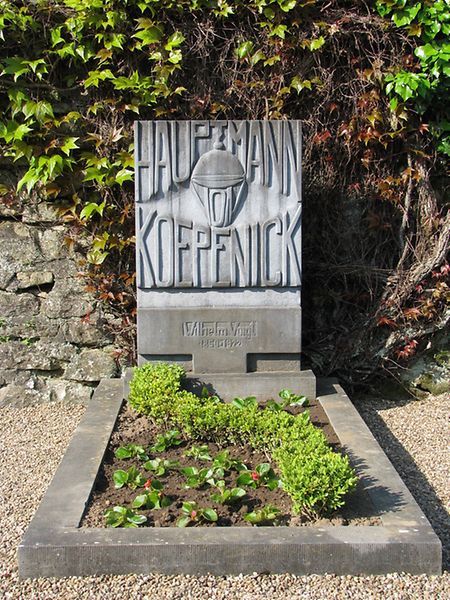 He put on a uniform, went to the local army barracks, stopped four grenadiers and a sergeant on their way back to the barracks and told them to join him. Indoctrinated to obey officers without question, they followed. He dismissed the commanding sergeant to report to his superiors and later commandeered six more soldiers from a shooting range.
He took the train to Köpenick, occupied the local city hall with his soldiers and told them to guard all exits. He told the local police to "care for the law and order" and to "prevent calls to Berlin for one hour" at the local post office.
Voigt proceeded arrested the treasurer, von Wiltberg, and mayor Georg Langerhans, supposedly on suspicion of crooked bookkeeping, and confiscated 4,002 marks and 37 pfennigs, of course with a receipt that he signed in the name of his former jail director.
Then, he commandeered two carriages and told the grenadiers to take the arrested men to the Neue Wache, the former guardhouse on the "Unter den Linden" street in Berlin, for interrogation. He told the remaining guards to stand in their places for half an hour and then left for the railway station. He later changed into civilian clothes and disappeared.
A royal pardon
During the following days the German press speculated on what had really happened. At the same time the army launched their own investigation.
Voigt was arrested 10 days later, and was sentenced to four years in prison for forgery, impersonating an officer and wrongful imprisonment. However, much of the public opinion was on his side, amused by the daring of the culprit. German Emperor William II pardoned him on August 16, 1908, allegedly because he, too, was entertained by the incident.
Voigt decided to capitalise on his fame. His wax figure appeared in a museum on "Unter den Linden" four days after his release. He went to the museum to sign his pictures but public officials banned him from doing so. In spite of the ban he toured in Dresden, Vienna and Budapest in variety shows, restaurants and amusement parks. In 1909 he published a book "How I became the Captain of Köpenick" in Leipzig; it sold well. Although his US tour almost failed because immigration authorities refused to grant him a visa, he arrived there in 1910 via Canada. He also ended up in Madame Tussaud's museum in London. What a carrier!
Life in Luxembourg
In 1910 the Captain of Köpenick moved to Luxembourg and worked as a waiter and shoemaker. He received a life pension from a rich Berlin dowager. Two years later he bought a house in Rue du Fort Neipperg and retired but, inflation following the Great War ruined his wealth. Voigt died in Luxembourg in 1922 and was buried in Limpertsberg cemetery.
German author Carl Zuckmayer wrote a play about the imposter in 1931, and several films were produced on the story.
In Germany Voigt is not considered a criminal; on the contrary, he is a folk hero and a victim of official prejudice, who was caught in the paradox of not being able to get work without a passport, while not being able to have a passport without work. His story is taught in German schools as an example of courageous resistance to unjust government.
A statue of Wilhelm Voigt as the "Captain of Köpenick" stands in front of the city hall of the small town, where aa plaque on the wall describes what happened there a century ago.