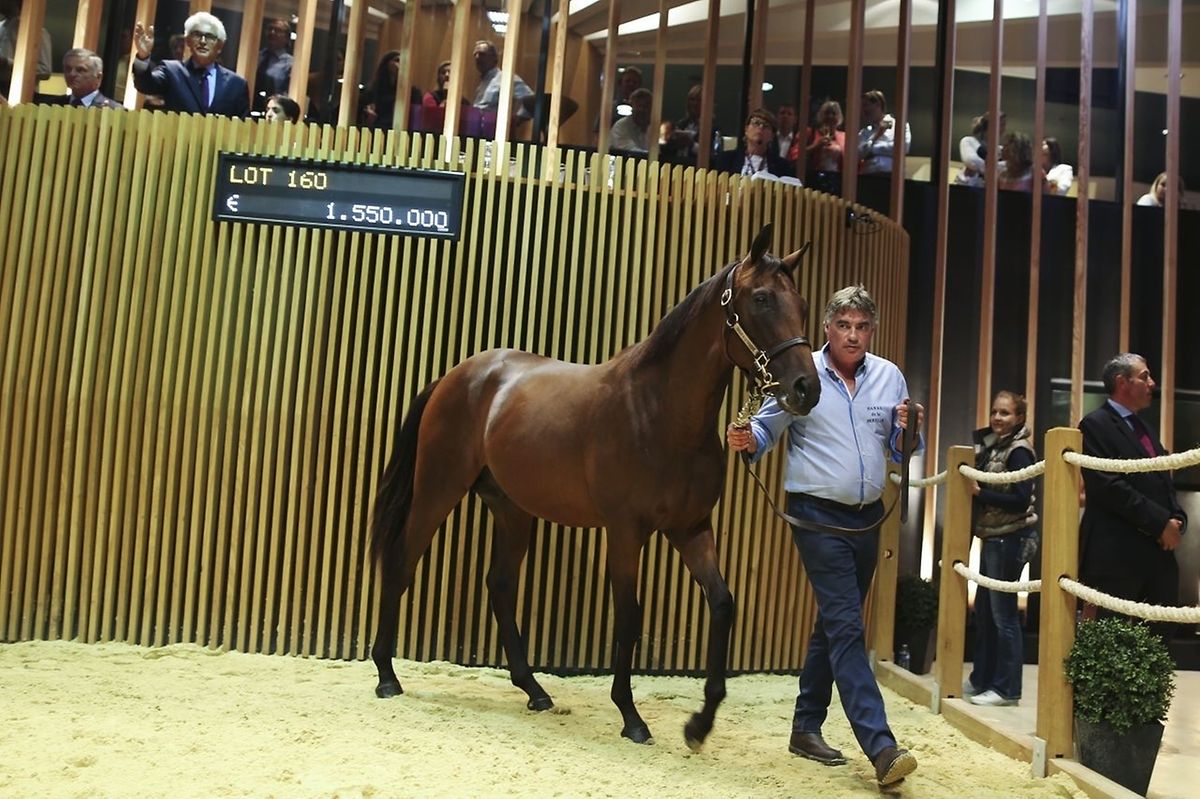 The business of race horsing is still going well and continues to internationalise, as shown this year by the sale of the yearlings - a horse between one and two years old - of Deauville. The best sale, which took place on Sunday, at €1.55m - one of the highest prices registered at Deauville for yearlings (the record was set in 2015 was €2.6m) - resulted in suspense worthy of the arrival of the Grand Prize at the Arc de Triomphe or Epsom races.
While the Sunday ran smoothly compared to the Saturday, everyone was excited by the arrival of the 160th yearling for sale: a foal with a fierce allure, bay colouring (a light brown coat with a black mane and tail) son of Dubawi, a fashionable stallion, and Giofra, a young mother of whom it is only the second "product", after a series of victorious courses.
In steps of €100,000, the bids broke into a gallop. Two bidders broke away, Angus Gold, agent of Shadwell, the company of Hamdan Al Maktoum, emir of Dubai, and Kerri Radcliffe, representative of Phoenix Thoroughbreds, an investment fund based in Luxembourg, a recent entrant into the horse market.
Faced with the star bidder from the Gulf, it was the newcomer who won the bet. "It's just a magnificent foal, I did not want to leave Deauville without him," said Mrs Radcliffe.
A notable example among the new players in the world of race horsing, the Luxembourg fund is not a unique example. Japanese owners who had never been to Deauville came to purchase. New American faces took part as well. The Qatari buyer from producer Selon Arqana, the French auction organiser, whose main shareholders is Aga Khan, and a group of 53 Chinese had made the trip.
For now, horse racing is not allowed in mainland China, unlike in Hong Kong. However the Chinese, associates in a buyers' syndicate with Qatar Racing and Laurent Dassault, son of the French aviator Serge Dassault and patron of Artcurial (shareholder of Arqana) paid €750,000 for a very sought after filly, sister of Wings of Eagles who won the Epsom derby.
Among the French newcomers, we noticed Thierry Gillier, the boss of the ready-to-wear clothing chain Zadig & Voltaire, who bought two fillies for a total of €720,000. On the other hand, the representatives of Qatar, until now omnipresent, were very discreet. "We were expecting it because for multiple years they have bought significantly. Now they do not need to as much because they have become producers," explained Alix Choppin de Granvy, responsible for communications at Arqana.
In fact, sheikh Joaan Al Thani, owned of the famous Trêve mare – who twice won the Grand Prize at the Arc de Triomphe, in 2013 and 2014 – bought the stud of Bouquetot à Clarbec (Calvados) and shone on the side of the vendor. "This was a good thing because it creates value in France, and its a recognition of the French expertise," said Choppin.
(Written by Thierry Labro, Translated by Hannah Brenton, hannah.brenton@wort.lu, +352 49 93 728)