This is how Luxembourg will be celebrating St Patrick's Day this weekend
This is how Luxembourg will be celebrating St Patrick's Day this weekend
It's that time of year again when the Irish paint the town green in celebration of the annual St Patrick's Day on March 17. From a pub crawl around the city to music concerts and a film night there's plenty going on. Oh, and there's a place to buy your fancy dress costume.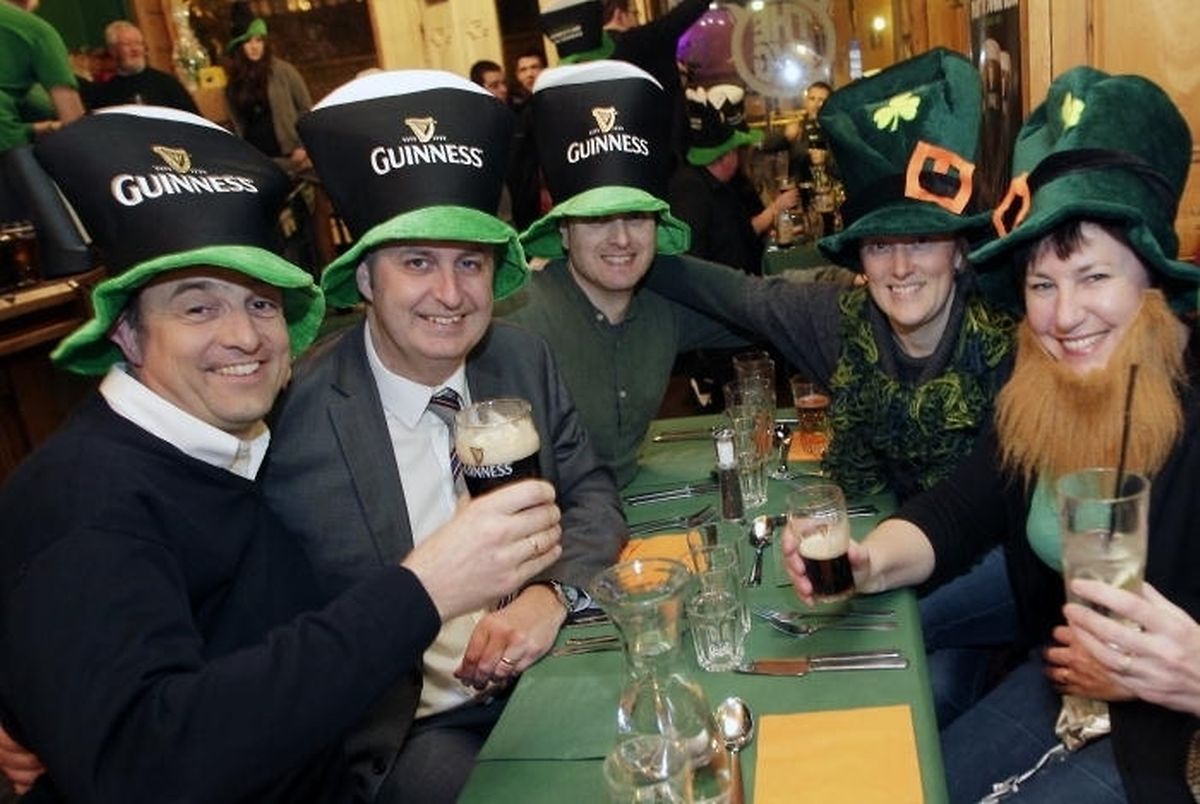 (HP) It's time to get your shamrocks out, your Guinness hats on and dig out that Leprechaun costume because on Friday the Irish are celebrating St Patrick's Day.
Held every year on March 17, St Patrick's Day began as a religious festival but has today evolved into parades, music and dance in celebration of Irish culture.
These are some of the highlights happening in Luxembourg this year.
St Patrick's pub crawl
After more than 200 people took part last time, the St Patrick's pub crawl is back this year.
Starting from Scott's pub in the Grund, the pub crawl will be making its way around the city centre and will visit Updown, Steiler, Tube and Apoteca on Saturday evening.
Bracelets will be handed out on arrival, allowing special deals in the bars.
Pub crawlers will have the chance to win a special glass on arrival and the lucky winner will have free drinks until 6am in the last bar of the crawl, Apoteca. Two special glasses are up for grabs - unlimited beer for guys and unlimited crémant for girls.
Where: Meeting at Scott's in the Grund (4 Bisserweg)
When: 7:45pm on Saturday, March 18
Irish comedy film
The Irish Club of Luxembourg is holding an Irish comedy film screening on Sunday evening and will be showing The Young Offenders starring Chris Walley.
Where: Cinémathèque
When: Sunday March 19 at 5pm
Booking: Tickets cost €8.80 and can be bought online at www.bifilmseason.lu
Folk music concert
The Kilkennys - named after the Irish city famous for ale and beer - will be playing old Irish folk songs and new songs of their own in a concert on Friday evening.
Where: Syrkus Kulturhaus 20, route de Luxembourg, L-6910 Roodt-sur-Syr
When: Friday at 8pm
Live concerts
For the seventh edition of their St Patrick's Day celebrations Vis à Vis is holding live converts on Friday evening.
Where: Vis à Vis, 2 rue Beaumont
When: Friday from 6:15pm
Watch Dublin parade live from Luxembourg
As the whole of Ireland celebrate with a parade through Dublin you won't miss out on the fun if you live in Luxembourg as RTÉ Player and RTÉ Player International are bringing the festival parade to you.
Des Cahill, Bláthnaid Ní Chofaigh and Aidan Power host the event from the streets of Dublin. The theme this year is Ireland You Are and it promises to be packed with art, design, performance and, of course, ceol agus craic (a lot of fun).
As well as the live parade viewers can watch cities around the world go green in special news reports. Audiences can also catch up on regional parades from across the North, South, East and West of Ireland which will be added throughout St. Patrick's Day.
Where: RTÉ Player
The Black Stuff
There will be live music and food from Streatchef Food Truck, including pulled pork, home made french fries, their signature burger and the newest addition to the menu - The St. Patrick (Irish salmon).
Where:The Black Stuff, 15 Val de Hamm, Pulvermühle
When: From 6pm Friday
Oscar's Bar
The Fools On The Hill return to Oscar's Bar in the Grund once again for a monumental St Patrick's night special with the Jägerettes on Tour.
Where: Oscar's Bar, 9 Bisserweg, Grund
When: 10pm - 1am, Friday
The Pyg
There will be live traditional Irish music from 6pm until 9pm and then Irish DJ Sam Steen will play until closing time.
Where:The Pyg, 19 Rue de la Tour Jacob
When: From 6pm Friday
Scott's Pub
It will be a green celebration all day and the upstairs bar will be open with a DJ and a dance floor.
A happy hour will take place between 12pm and 3pm where you can double up on Diekirch green draft beer and there will be a St Patrick's Burger on the barbecue from 12pm onwards.
Where:Scott's Pub, 4 Bisserweg, Grund
When: From midday on Friday
Irish Pub Howald
From a pipe band to Irish dancers the new Irish Pub in Howald will be celebrating all weekend.
Celebrations kick off with Lux Pipe Band at 7:45pm on Friday and Four Leaves Trad Band will be performing on Friday and Saturday at 8pm.
On Sunday award-winning Irish dancers will be performing from 3:30pm.
Where: Irish Pub Howald, 40 rue des Bryuères, Howald
When: Friday, Saturday and Sunday
Dressing up
And just in case you need a few accessories to really get you in the St Patrick's Day mood ÉireLux food&drinks Supplies has everything you need, from face paint to rosettes to Irish flag false nails, wigs and beards.