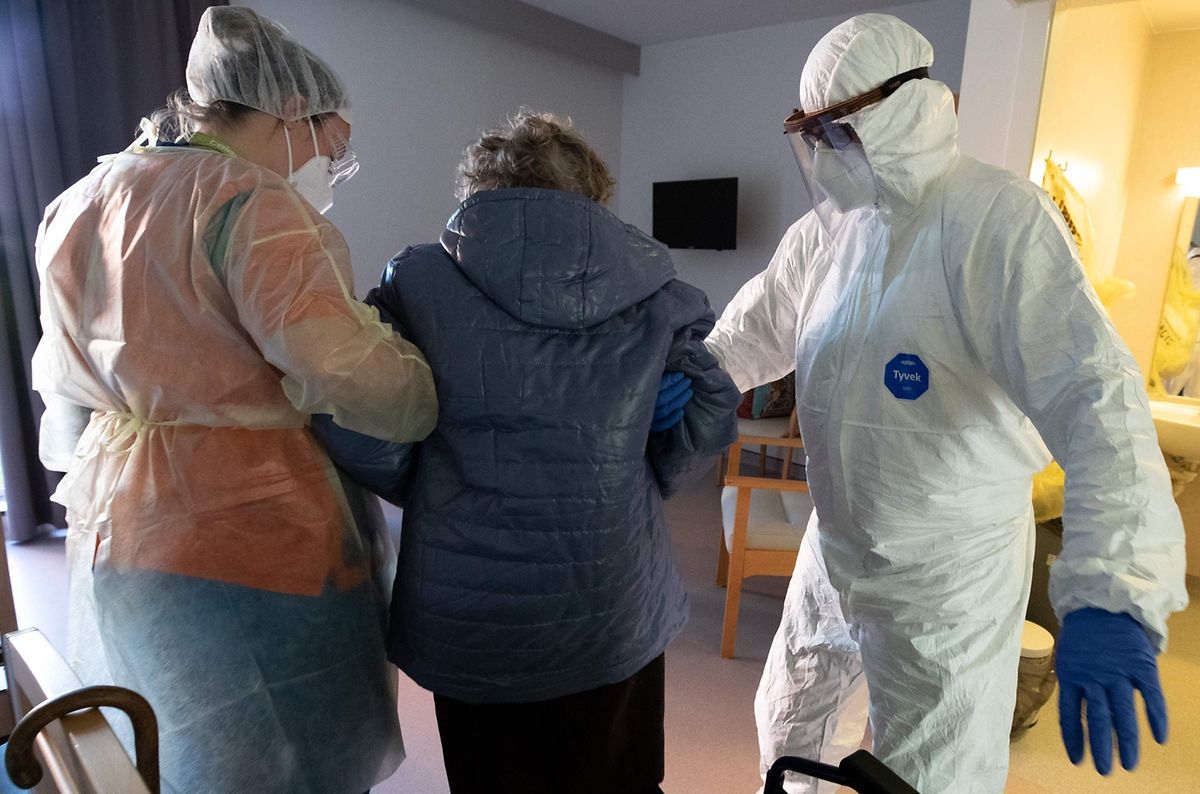 Staff in protective gear at a care home in Belgium helping an elderly woman Photo: AFP
Elderly in care homes keep dying at high rate from virus
Luxembourg's year-end surge in lives lost to Covid-19 continued to claim hundreds of fragile victims clustered in the country's homes for the aged, new government figures show.
Of the 507 fatalities from Covid-19 in 2020, 241 had lived in housing offering care for the elderly, the Health Ministry reported to Parliament late last month, or 48% of the total.
More than 600 firms fined for business register flaws
Luxembourg has handed out fines to more than 600 businesses for failing to provide details to the country's business register, an official said on Friday, as the Grand Duchy battles new allegations it is making it too easy to hide dirty money.
The Luxembourg Business Registers (LBR) has passed more than 20,000 files to the prosecutor's office (Parquet du Luxembourg) in instances where information was missing, a spokesman for the prosecutor's office told the Luxembourg Times.
Luxembourg seeks to take politics out of judicial system
A duo of public spats has shown the need for a more robust judicial system in Luxembourg just as the country is dealing with new media accusations it is not doing enough to trace dirty money.
Lawmakers in the Chambre of Deputies working on new legislation are mostly focusing on giving the public prosecutor's office more independence to rid it of meddling from politicians.
Grand Duke Paris Match interview was unauthorised
Grand Duke Henri and his wife launched criticism at a shake-up of their court without the government's stamp of approval, a senior official said, just as Prime Minister Xavier Bettel took stock of progress of the reforms after a mismanagement scandal last year.
Henri had complained that the formal role of his wife, Grand Duchess Maria Teresa, was being "erased" in an interview with Paris Match from 3 February - a comment government-appointed Court Marshal Yuriko Backes said had not been agreed with her or with Bettel.
OpenLux: the Italian mafia's connection to Differdange
An alleged senior figure in the Italian mafia group the 'Ndrangheta is among those whose business activities have featured in the OpenLux disclosures of the past week which accused Luxembourg of not doing enough to trace dirty money from across the world.
Santo Rumbo, who was arrested two years ago in Luxembourg and deported back to Italy, was listed as the director of a company which ran a sports bar in Differdange and is also alleged to have been a senior figure in the 'Ndrangheta clan, based in Calabria, having taken on a leading role when his father was sent to prison in 2010.
---
The Luxembourg Times has a new LinkedIn page, follow us here! Get the Luxembourg Times delivered to your inbox twice a day. Sign up for your free newsletters here.