UK's News of the World successor to launch
UK's News of the World successor to launch
The successor to Rupert Murdoch's scandal-shuttered News of the World newspaper will begin publication in a week's time, a senior News Corp. executive said Sunday.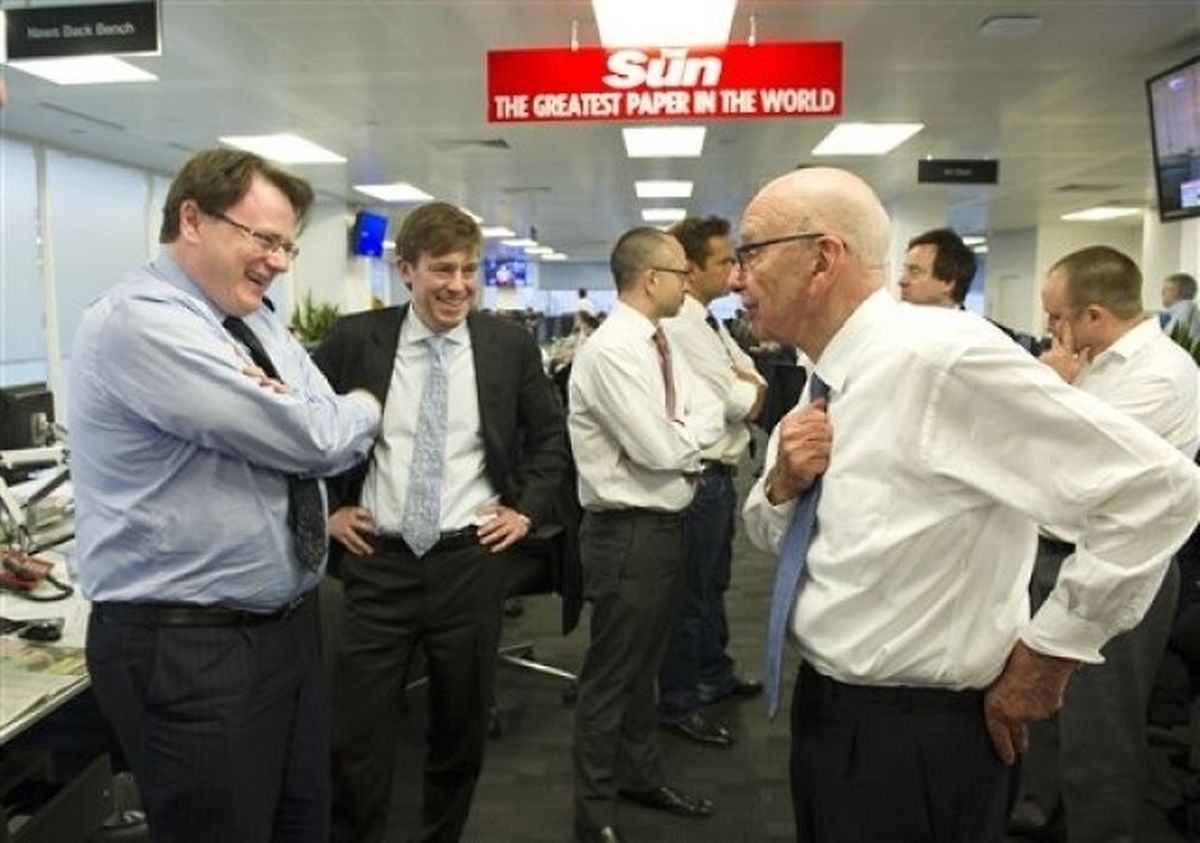 (AP) The successor to Rupert Murdoch's scandal-shuttered News of the World newspaper will begin publication in a week's time, a senior News Corp. executive said Sunday.
In an email to staff, News International CEO Tom Mockridge said that Murdoch himself would be staying in the British capital to oversee the launch of The Sun on Sunday.
Mockridge said he was sure that "every one of us will seize the opportunity to pull together and deliver a great new dawn" for the newspaper.
The Sun on Sunday will replace the top-selling News of The World, which was closed in July after revelations that members of its staff had routinely hacked into cell phone voicemail messages of celebrities, sports figures, politicians and crime victims and paid bribes to public officials to score exclusives. The ensuing scandal stunned Britain's establishment, led to dozens of arrests and resignations, and has spawned a wide-ranging official inquiry into U.K. media ethics.
It also prompted a damaging advertiser boycott which left Murdoch with little choice but to close the tabloid, whose reputation had been left in tatters.
There has long been speculation that the Australian media tycoon intended to replace the market-leading paper with another one once the scandal blew over.
Sunday's announcement sent a ripple of excitement through the British media world, although some former Murdoch employees were sceptical that the new tabloid could win its predecessor's place as the public's favourite.
Ex-News of the World journalist Tom Latchem said it was tough to know how The Sun on Sunday would work as a tabloid, saying in a message posted to Twitter that it was "notoriously difficult" to give a Sunday paper its own identity in a seven-day operation.
The sentiment was backed by Neville Thurlbeck, the paper's former chief reporter and one of many arrested and released on bail in the scandal. He said the new paper "needs its own staff and own ID," warning that if it merely leached off Murdoch's daily newspaper, The Sun, it would be little more than a cheap imitation of its predecessor.
Jules Stenson, a former editor with the News of the World, predicted that the Sun on Sunday would get opening day sales of 2.5 million at a cover price of 60 pence (just under $1), with circulation later settling around 1.8 million. That would be far less than what the News of the World was selling when it was shut — about 2.7 million copies a week — but it's comparable to its rivals, the Sunday Mirror and the Mail on Sunday.
The biggest question is whether The Sun on Sunday can shake off its predecessor's rotten reputation.
Police and News Corp. lawyers are combing through millions of emails for evidence of wrongdoing at The Sun as well as the News of the World, and several senior members of The Sun's staff have already been called in for questioning over allegations of police bribery. More arrests are possible.
Since Murdoch closed the 168-year-old News of the World, police have made almost 40 arrests — detaining several reporters — over phone hacking and in two related inquiries into the alleged use of bribes to public officials and email hacking. Millions of pounds (dollars) have been paid out by Murdoch's company so far in out-of-court settlements to about 60 victims of hacking.
Two top London police officers and several senior Murdoch executives have resigned in the scandal, which also prompted Andy Coulson — a former News of The World editor — to quit as Prime Minister David Cameron's communications director. Cameron ordered a judge to lead a national inquiry into media ethics, which has seen celebrities and news executives give testimony in weeks of televised hearings.
Mockridge insisted that News International, a subsidiary of Murdoch's New York-based News Corp., was working to put the scandal behind it.
"News Corporation has made clear its determination to sort out what has gone wrong in the past," he said in the email. "We are fundamentally changing how we operate as a business."
Murdoch, who first unveiled plans for a new paper earlier this week, appeared to be in an upbeat mood ahead of the latest announcement.
"Just for the record," Murdoch said in a message posted to Twitter earlier Sunday, "Newscorp shares up 60c (cents) on news of Sun on Sunday. Highest for year."