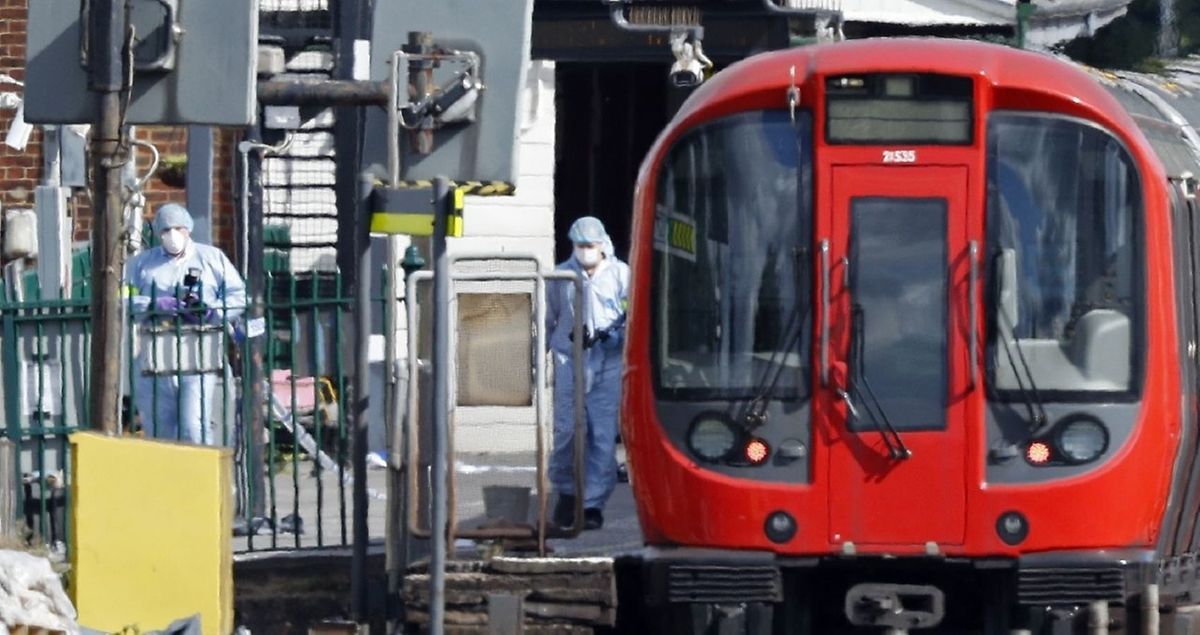 (Bloomberg) UK Prime Minister Theresa May announced the country's terror threat level has been raised to critical, its highest level, as police hunt for a suspect who set off an improvised bomb on a packed London commuter train.
The joint terrorism analysis centre's assessment "is that further attacks may be imminent," May said in a recorded statement. At least 22 people were injured in Friday's blast, which caused what witnesses described as a fireball.
May said earlier that the device was "intended to cause serious harm." Sky News broadcast images of a small fire in a bucket with protruding wires and said the device, which had a timer, had probably failed to detonate fully.
In the latest update, Metropolitan Police Assistant Commissioner Mark Rowley described the search for the perpetrator as a "very complex investigation, continuing at speed." Troops will be deployed as part of an operation to free up some 1,000 armed police so they can protect transport hubs and events.
"Rest assured the full resources of our police and security services are being deployed to track down those responsible" London Mayor Sadiq Khan said in a statement.
Trump Storm
U.S. President Donald Trump said on Twitter that the "loser terrorist" was "in the sights of Scotland Yard," a reference to the headquarters of London's Metropolitan Police Service.
May complained directly to him when Trump called to offer condolences, according to a UK government official familiar with the conversation. She was more measured in a pooled broadcast interview earlier.
"I never think it's helpful for anyone to speculate on what's an ongoing investigation," she said.
In an apparent US leak, CBS reported that the explosives were consistent with those used in another recent attack. The US and UK have close intelligence-sharing ties and the UK has publicly criticised US leaks of police intelligence after previous attacks.
The attack is the fifth this year in the UK and Londoners are growing used to the sight of armed police patrolling the transport network. Police said on Thursday that terrorism-related arrests had risen 68 percent over the past year.
Earlier this year assailants with vans and knives attacked passers by on Westminster Bridge and London Bridge in two separate strikes, and a van was driven into worshippers outside a mosque in Finsbury Park. A suicide bomber attacked a concert venue in Manchester in May, killing more than 20 people including children and mothers. The terror threat level was raised to critical after that attack and lowered within days to severe, meaning an attack is considered highly likely but not imminent.
Most of the attacks have been claimed or praised by the jihadist group Islamic State. On Friday, the Amaq news outlet said the London explosion had been carried out by a "group following the Islamic State."
After the explosion at Parsons Green station in west London, passengers were caught in a stampede as they tried to flee. Ambulances rushed people to hospital, although the injuries weren't life-threatening with most suffering what police called 'flash burns'.
Witnesses described a fireball after the device detonated and passengers standing nearby had their hair, faces and hands burned.
"There was a massive flash and flame that went up the side of the train, then an acrid chemical smell, then a big stampede," Chris Wildish, a witness, told Sky News. "The crush for the stairs was pretty heavy."