Uncle Mike, Tour Guide
Uncle Mike, Tour Guide
Last month my nephew and his wife visited Luxembourg for a few days. It was great to see them and as I do with all our visitors, I took them on a personalized tour of d'Stad.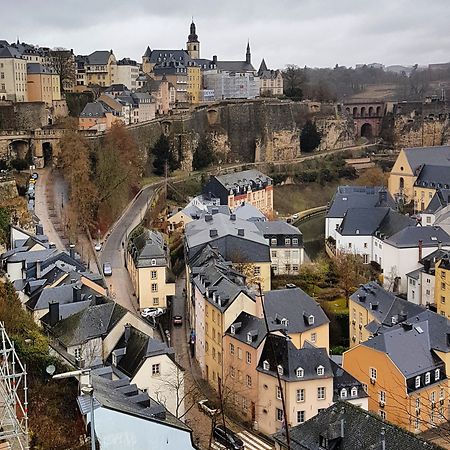 By Mike McQuaide
Last month my nephew and his wife visited Luxembourg for a few days. It was great to see them and as I do with all our visitors, I took them on a personalized tour of d'Stad.
I love showing off Luxembourg City's charms. It's an opportunity to once again view the city through a newbie's eyes, just like I did four years ago when I moved here. Admittedly, I do it for the ego boost too. I act all experty-like and show off that I can read signs and plaques written in French. (If an English translation is provided as well, I make sure to block it from view while doing my translating thang.)
Alex, Andrea and I began our tour on the Corniche. Or the Plateau de St. Esprit. Truthfully, I'm not exactly sure where one ends and the other begins-to me, it's one continuous jaw-dropping balcony. To be safe, I just call it the upper deck. Luxembourg is unique because, like a baseball stadium, it's got an upper deck grandstand (the Corniche-Plateau de St. Esprit) where you can spectate on the action down on the field (the Grund, Clausen, Paffendall, etc.)
Start anywhere on the upper deck or down on the field and you're bound to see something below or above that lures you to it. The spacious open square of Neumunster Abbey, say, down in the Grund, which over its four-plus centuries has been everything from a Benedictine Abbey to an orphanage to a Gestapo jail during World War II to now, a cultural center.
Or those holes in the wall (literally) of the Bock Casemates-defense tunnels bored into the rocky sandstone cliffs of the upper deck during the 17th and 18th centuries by the Spanish, the French and the Austrians. (Pretty much whoever had the keys to the city at the time, and a pickaxe.)
"It'd be cool to go down there and cross that bridge," Alex said, pointing down near the abbey to the Stierchen Bridge, the stone walkway spanning the Alzette River. Legend has it that the Stierches-geescht (ghost) harasses drunks who cross the bridge at night.
"Sure!" I said. "But first, let's go look at …" and I filled in the dots with some of my other nearby faves worthy of a look-see.
I led them in the opposite direction toward the Viaduct for a gander down into the green, green gorge of the Pétrusse Valley and its cool, new art deco-ish skatepark. I pointed out the Gëlle Fra above in the distance, and the majestic spire of the Banque et Caisse d'Épargne, which visitors usually think is a castle.
"Uncle Mike, can we go see that bridge across the river now?" Alex asked again.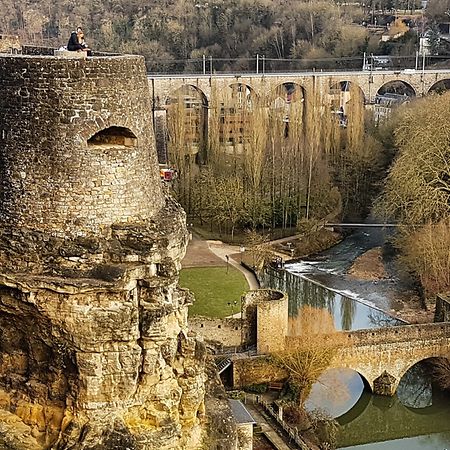 "Sure!" I answered. "But before we head down, let's just go up this way for a little bit." And I led them back along the Upper Deck toward St. Michael's, the oldest church in the city. I pointed out the mermaid Melusina, seated on a rock down below at river's edge. I told them 'bout the summer Blues 'n Jazz Rallye down in the Grund and Clausen, when the whole area becomes a party zone with dozens of concerts on dozens of stages late into the night. I filled their heads with pretty much everything I knew about Luxembourg as if I were helping them cram for an exam they'd be taking later that afternoon.
But then, I spied something down below I'd never seen before--a new footbridge across the Alzette just beyond the Stierchen Bridge that Alex so wanted to see. This new bridge allowed access to a part of the river I'd never been to before, and thus to views I'd not yet seen. I just had to check it out.
"Hey Alex, let's go see your bridge now!" I said with perhaps more urgency than I intended. "Right now--c'mon, hurry up!"
And I led them back along the Corniche and down into the Grund not quite at a run, but close to it.