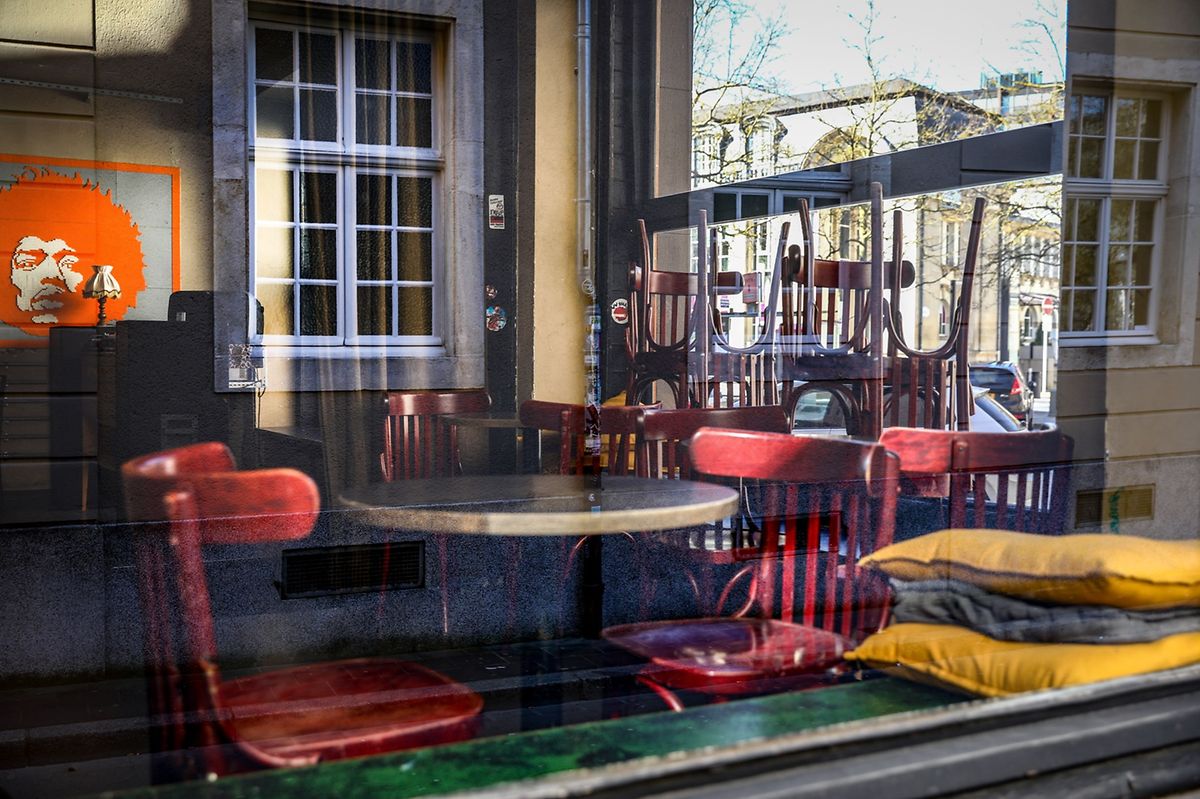 No indication so far how long businesses will remain shut Photo: Gerry Huberty
The coronavirus held an iron grip on Luxembourg on Wednesday, with more than 1,000 cases now confirmed, as the government stood ready to pour hundreds of millions of euros into the economy, which suffers from an almost complete lockdown to help stem the spread of Covid-19.
With the world frantically looking for a cure against the disease, Luxembourg recorded 224 new infections on Tuesday, bringing the total to 1,099. The number of deaths stayed the same, at eight in total.
Prime Minister Xavier Bettel will hold a press briefing at 4 pm together with Health Minister Paulette Lenert, to address the crisis which is flooding hospitals across Europe with patients requiring intensive care. The country expects the epidemic to peak within two weeks.
Franz Fayot, economics minister, will speak to the press slightly later, at 6 pm, together with Finance Minister Pierre Gramegna and Lex Delles, minister for small- and medium-sized enterprises.
Luxembourg has been on lockdown as of last week, with all non-food shops, public services, schools and creches closed. Office buildings stand largely empty as people have been told to work from home, and the Findel airport has closed for passengers, though cargo is still coming in.
People have been told to stay indoors unless they are on urgent business, and if they do go out, they need to stay at least two metres apart.
Efforts are springing up to open phone lines for people feeling isolated because of the need to stay home. The city of Differdange said on Wednesday it is starting a hotline for residents who are 65 and older, in six different languages. And Daniel Rinck of Diekirch has started the Schnëss-Telefon initiative for anyone seeking to unburden themselves.
"We are neither psychologists nor psychiatrists and we do not hold counselling sessions. Above all, we want to listen to those affected but also talk about nice things and convey positive things," Rinck told Luxemburger Wort newspaper.
Economic outlook darkens
The European Commission on Tuesday approved a €300 million package to fund measures aimed at shoring up businesses affected by the lockdown. Luxembourg needed approval from Brussels as such measures are considered state aid, which is heavily regulated.
The money – which will be granted as repayable loans of up to €500,000 – comes on top of a host of other taxpayer-funded programmes.
It will cost what it costs

Prime Minister Xavier Bettel
The government will for instance cover 80% of wages as companies tell staff to work reduced hours, or for extra leave for parents who need to take time off for childcare as schools and crèches are also shut.
"It will cost what it costs," prime minister Xavier Bettel said during a press conference last week when asked to put a number on what the government expects to spend.
As long as the epidemic still spreads, it is unknown how long the lockdown will last. Schools were set to re-open mid-April after the Easter break, but the closures could be prolonged if necessary, the government said.

Hubei province in China, where the coronavirus originated, will be lifting its lockdown on 8 April, after nearly two and a half months of isolation.
Virologist Christian Drosten – an advisor to the German government – expects that this will lead to a resurgence in cases, he said in a podcast hosted by NDR, a German public broadcaster.
This poses a challenge for other countries on how to work on longer term solutions to deal with the pandemic until a vaccine becomes available for general use, which experts say could take until the spring of next year.
Economic forecaster Statec on Tuesday said it was likely to significantly cut economic growth predictions for 2020 and 2021, adding that there was a lot of uncertainty over the medium-term impact of the lockdown, including the deterioration of public finances, bankruptcies, longer-term unemployment, financial service sector results and industrial output.
Luxembourg's government will meet again on Wednesday, while economy minister Franz Fayot is expected to deliver more details on any economic recovery later this week.
On Tuesday, interior minister Taina Bofferding said that Luxembourg's emergency services had been reorganised to ensure they remained fully operational over the coming weeks. This included cutting staff in each ambulance and making more vehicles available.
These measures came amid a host of other steps taken to get Luxembourg's medical sector up to speed for the worst of the outbreak.
All medical staff had to report to the government by midnight on Tuesday for authorities to draw up lists of back-up doctors and nurses. Six treatment centres for coronavirus patients were being set up across the country, in an addition to regular hospital beds where only the most severe cases are being treated.
Luxembourg is taking in seven patients from France where hospitals in the Grand Est region bordering the Grand Duchy are struggling to deal with the inflow of very sick patients. The country has reported 860 deaths as of Tuesday, out of 20,149 confirmed cases.
Italy, one of the countries hardest hit in the EU, has reported 10.5 cases per 10,000 inhabitants – a total of 63,927 patients – with a mortality rate of 9.5%, but the actual number could be much higher as some of those infected show no or only mild symptoms and as a result don't get tested.
With no standardised criteria for testing within the EU, the numbers between countries are hard to compare. The Luxembourg government last week said it was testing around 1,500 people per day, but it could not say how long it would be able to hold this pace.
---
Get the Luxembourg Times delivered to your inbox twice a day. Sign up for your free newsletters here.