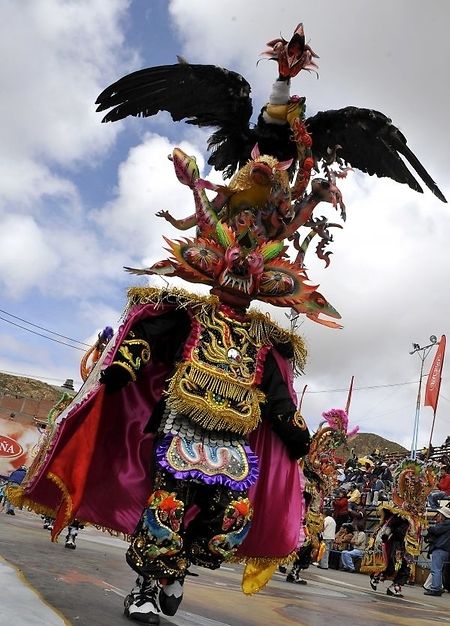 (AFP) From the lopping off of men's neckties in Germany to the burial of a sardine in Spain, carnival traditions around the world are vast and varied.
As the world gears up to throw the biggest party of the year, online booking site Cheapflights.com highlights a few interesting and eyebrow-raising traditions that draw thousands of revelers to the streets in high spirits.
This year, Carnival season runs until March 5, Ash Wednesday.
Here are a few highlights:
Candy Wars, Vilanova, Spain
Victory is sweet following this particular war called the Guerra de Caramelos, which means caramel wars, with revellers engaging in a good-natured candy fight that turns the streets into a bonbon minefield.
Carnival of Binche, Belgium
A tradition that dates back to the 14th century, the Belgian version of Carnival is so unique and steeped in history that it's recognised by UNESCO.
On Shrove Tuesday, the city is overtaken by a thousand 'Gilles', who don masks sporting red hair and moustaches, yellow, orange and black tunic and trousers.
On Mardi Gras, the Gilles meet at the Grand Place and dance with their brooms to the percussion sound of drums as they chase the evil spirits. Then, they march through the town lobbing oranges at the public to symbolise the coming of spring.
Crazy Days, Cologne, Germany
As part of the multi-day festival, the German version of carnival includes a Women's Carnival Day, in which the ladies take over, assert their power, and symbolically storm town halls. Men who dare to go near the women risk getting their ties lobbed off with a pair of scissors. Compensation? A kiss.
Carnival of Oruro, Bolivia
Like the Carnival of Binche, the Carnival de Oruro is also listed as one of UNESCO's Masterpieces of the Oral and Intangible Heritage of Humanity for boasting a 2,000-year-old history. The logistics are impressive: for 20 hours straight, 28,000 dancers and 10,000 musicians repeat a 4-kilometre processional route, without interruption. The highlight of the parade is La Diablada, or 'Dance of the Devils,' in which troupes of dancing devils take over the streets.
Burial of the Sardine, Spain
It's a rather macabre way to signal the end of the Carnival festivities. But in Spain, revellers know the party's over when a giant sardine (not a real fish) is brought out as a symbolic figure, and buried or burned to represent rebirth, and the purging of vices in time for Lent.