Catalonia's parallel world runs into harsh Spanish reality
Catalonia's parallel world runs into harsh Spanish reality
Parallel worlds persisted in Barcelona on Monday, with Puigdemont styling himself head of the new sovereign state and the Spanish government beginning the process of reasserting control.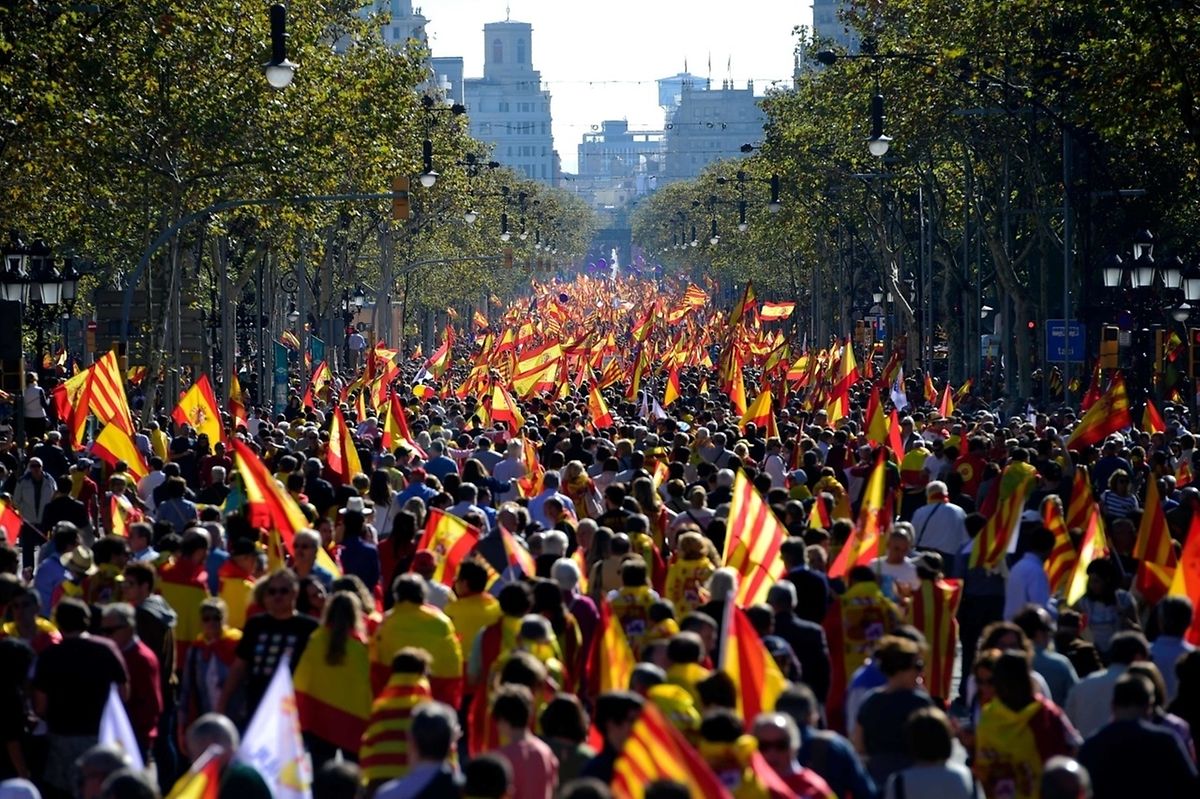 (Bloomberg) As children return to school and parents to their jobs, it could be like any other week in the Spanish region of Catalonia. But for those who support President Carles Puigdemont and his separatists, it's the first working day of Europe's newest republic.
Parallel worlds persisted in Barcelona on Monday, with Puigdemont styling himself head of the new sovereign state and the Spanish government beginning the process of reasserting control over the rebel region after its declaration of independence on Friday.
At 9:30am on Monday it still wasn't clear what Madrid's control would mean on the ground in Catalonia, with senior officials posting pictures of their arrival at work on social media.
"We continue to work," Carme Forcadell, the speaker of the dissolved Catalan Parliament, tweeted Monday. Puigdemont posted an undated picture from inside the regional government headquarters on Instagram on Monday morning.
The new head of the Catalan police force is in Madrid to meet with his new political masters at the Spanish interior ministry. Deputy Minister for Territorial Administration Roberto Bermudez de Castro will arrive at the regional government's headquarters on Monday to execute the central government's orders, El Periodico de Catalunya, a Barcelona-based daily reported. Spanish prosecutors meanwhile plan to start pressing rebellion charges against Puigdemont and his ousted government, the El Pais newspaper reported.
The spread between Spanish and German bonds 10-year bonds narrowed 5 basis points to 115 at 9:16am while Spain's benchmark stock index was up 1.2%, outperforming the rest of Europe.
The first stage of the takeover of the regional administration passed off smoothly on Saturday with a new chief installed in the Catalan police force. Over the coming days, many civil servants in Barcelona will also have to decide whether to follow the banished Catalan leaders' calls to resist their Spanish masters or acquiesce to the new regime.
"It's been a completely baffling weekend," Barcelona Mayor Ada Colau told La Sexta television on Sunday night. "Decrees aren't signed, the republic isn't proclaimed, the same flag continues to fly over the regional government's headquarters, and nobody says anything." Colau has defended Catalans' right to vote on their constitutional future, without calling for independence.
Puigdemont called for "democratic opposition" in a recorded television speech, while a leading activist, Jordi Sanchez, issued a statement from jail advocating "Gandhi-style resistance."
Defending Spain
Support for independence may be declining a Sigma Dos poll for El Mundo showed Monday. While 76% of Catalans said they want an official referendum, just 34% said they were in favour of breaking away from Spain. The survey was conducted between October 23 and October 26 -- before the declaration of independence last Friday.
Over the weekend, hundreds of thousands of Catalans flooded the center of Barcelona to protest against independence after Catalan lawmakers voted to set up an independent state Friday. Opposition lawmakers left the chamber for the vote in the regional parliament on Friday, complaining that the separatist majority has ridden roughshod over the rule of law since ramming through the framework for an illegal referendum on secession almost two months ago.
"The more moderate and pragmatic elements probably realise they're not going to get very far," said Caroline Gray, a lecturer in politics and Spanish at Aston University in the U.K. who specialises in nationalist movements. "The more radical elements, however, are in the parallel universe of the new republic -- and that disconnect worries me. The situation could turn unpredictable if Spain moves in to take control."
Prime Minister Mariano Rajoy on Friday unleashed the power of his Spanish authorities to set up a confrontation that will play out this week. He dissolved the Catalan government, placed its administration under direct control of his deputy, Soraya Saenz de Santamaria, and called elections in the region for December 21.
'Viva España'
Sunday's pro-Spain demonstration -- 1 million people estimated by the government, 300,000 by the local police -- saw protesters carrying Spanish, Catalan and European Union flags pour through the Barcelona streets. Three of Spain's four largest national parties -- Rajoy's People's Party, the Socialists and Ciudadanos -- took part in the demonstration.
Elderly people draped in Spanish flags and families with children were also among the crowds as helicopters flew overhead. Some shouted "Viva España" or "Puigdemont in prison." One moment of tension came when about 50 protesters circled around three vans of the Mossos d'Esquadra, the Catalan police, shouting, "You're not our police, you're Puigdemont's bodyguards. Get out."
Their chief, Josep Lluis Trapero, was fired over the weekend and is facing charges of sedition as part of an investigation into events surrounding the illegal referendum on October 1. The Mossos have been ordered to take down photos of Puigdemont from their police stations, Efe newswire reported.
Aside from the protest, it was business as usual in Barcelona: no visible show of force from authorities, shops were packed and tourists swarmed down the central artery of La Rambla. The red and gold Spanish flag flew from both City Hall and the Catalan regional government building.
Underdog's victory
Puigdemont spent at least part of his weekend in his home town of Girona, north east of the regional capital. The town's soccer team, playing in Spain's top division for the first time in its history this year, scored a surprise win over Real Madrid on Sunday.
"The victory over one of the world's great teams is a perfect example and a reference for many situations," Puigdemont tweeted, adding a winking emoji.
An opinion poll on Saturday projected the separatist bloc will lose its fragile majority in December's regional election. A survey by Sigma Dos for El Mundo newspaper showed the pro-independence groups winning 65 out of 135 seats in the regional assembly, down from 72 in 2015.
While the phalanx of pro-independence activists and is unlikely to give officials from Madrid an easy ride in the coming weeks, other Catalans are keen to put the political spectacle to one side and focus on their own challenges.
"I have bills to pay and two daughters," said Pere Garcia, 52, who mans a stall in the center of Barcelona. "Politics won't pay bills. I still have to go to work whether this is Spain or an independent republic."