Half a million evacuated as Cyclone Phailin lashes India
Half a million evacuated as Cyclone Phailin lashes India
India evacuated more than half a million people as massive Cyclone Phailin closed in on the impoverished east coast on Saturday, with winds uprooting trees and tearing into flimsy homes.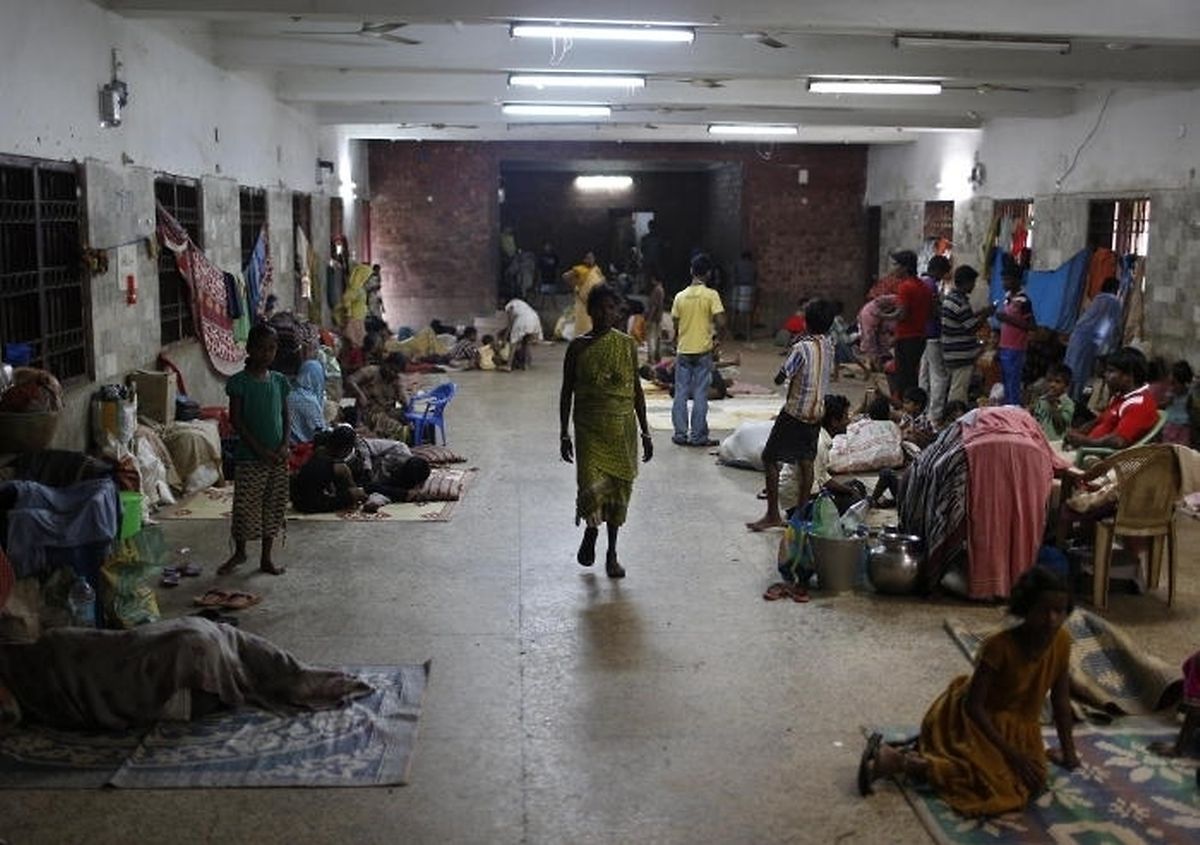 (AFP) India evacuated more than half a million people as massive Cyclone Phailin closed in on the impoverished east coast on Saturday, with winds uprooting trees and tearing into flimsy homes.
The storm packed gusts of up to 240 kilometres per hour (150 miles per hour) as it churned over the Bay of Bengal, making it potentially the most powerful cyclone to hit the area since 1999, when more than 8,000 died, the Indian weather office said.
Authorities said they expected a three-metre (10-foot) storm surge when the eye of the cyclone strikes around 8:00 pm (1430 GMT), with torrential rain also threatening floods in low-lying areas in the states of Orissa and Andhra Pradesh.
"I dread this Phailin. It's as if the world is coming to an end," 23-year-old student engineer Apurva Abhijeeta told AFP from the coastal town of Puri, 70 kilometres from Orissa's state capital Bhubaneswar.
Heavy waves pounded the coast as terrified locals made their way to solid buildings, cramming into packed rickshaws and buses as they travelled. Relief efforts were under way, with free food being served in shelters.
Food stockpiling began earlier in the week as Phailin gathered strength dramatically, with many shops stripped bare.
"Everyone's in trouble so I've kept my shop open to help them," said shopkeeper Susil Kumar Singh, the owner of one of the few stores still operating in Bhubaneswar.
"The storm's going to get really heavy soon. Right now, there's no drinking water and trees are falling down all around."
Further south in Visakhapatnam, fishermen frantically sought to secure their boats while farmers tethered their livestock in the afternoon. Others admired the rough surf as wave after wave crashed into the shore.
Large boats could be seen anchored out at sea, while the biggest port in Orissa, in Paradip, has shut down.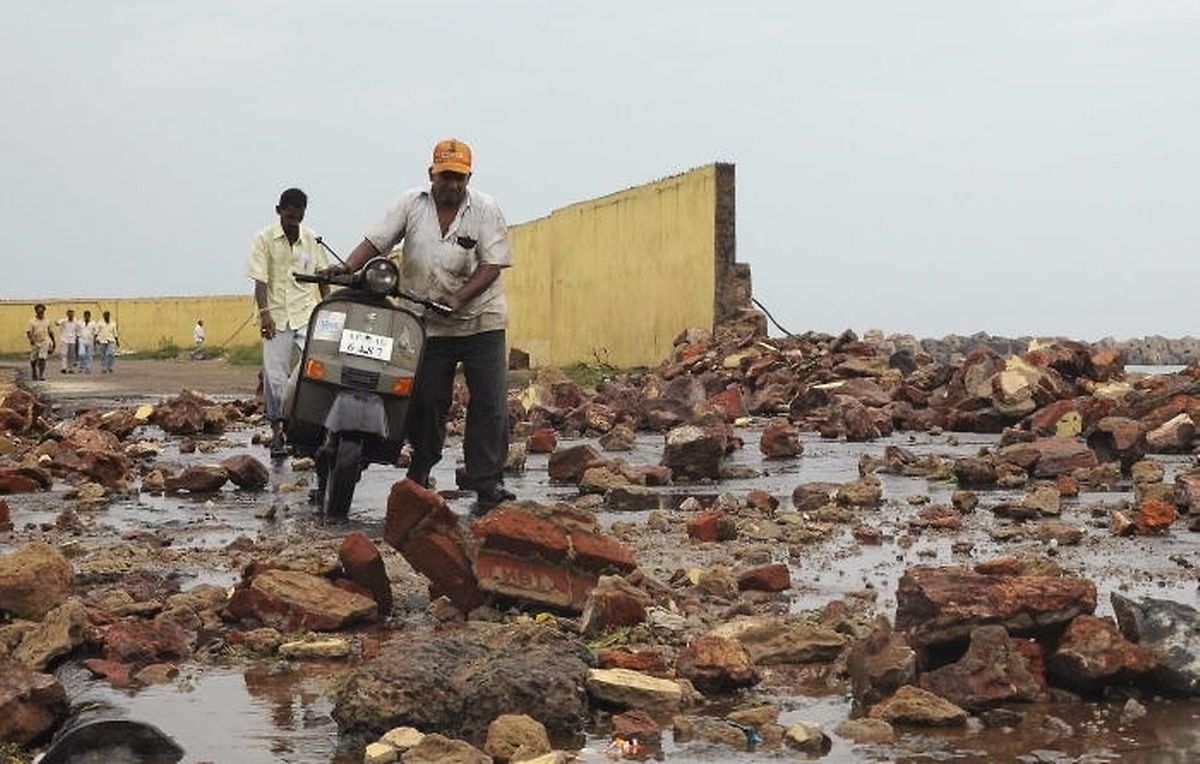 An AFP correspondent on the last flight to arrive in Bhubaneswar before the airport shut described how the plane aborted the first attempted landing in shearing winds and pounding rain.
Officials put the number of people who have been evacuated from the coastal areas of Orissa and Andhra Pradesh at more than half a million.
Home Minister Sushilkumar Shinde told reporters that 450,000 had been evacuated in Orissa and around 100,000 in Andhra Pradesh.
"Some people don't want to leave, they are resisting," said Shinde. "Officers are speaking to them... and getting them out."
Officials in the neighbouring state of West Bengal said hotels along the coast had been evacuated, while officials in Chhattisgarh state said authorities would empty some of their dams into rivers to avert possible flooding.
The army's National Disaster Response Force (NDRF) said 1,200 of its troops had been sent to Orissa and a further 500 to Andhra Pradesh.
"When the cyclone makes landfall it is unwise to be in open places -- as soon as the fury of the cyclone abates our boys will start their work," the NDRF's director general Krishna Chaudhary told reporters.
"The teams have medical first responders (for first aid), heavy cutting equipment, life-saving equipment that responds to breathing and even to warmth. In the case of cyclones there is a likelihood of collapsed buildings."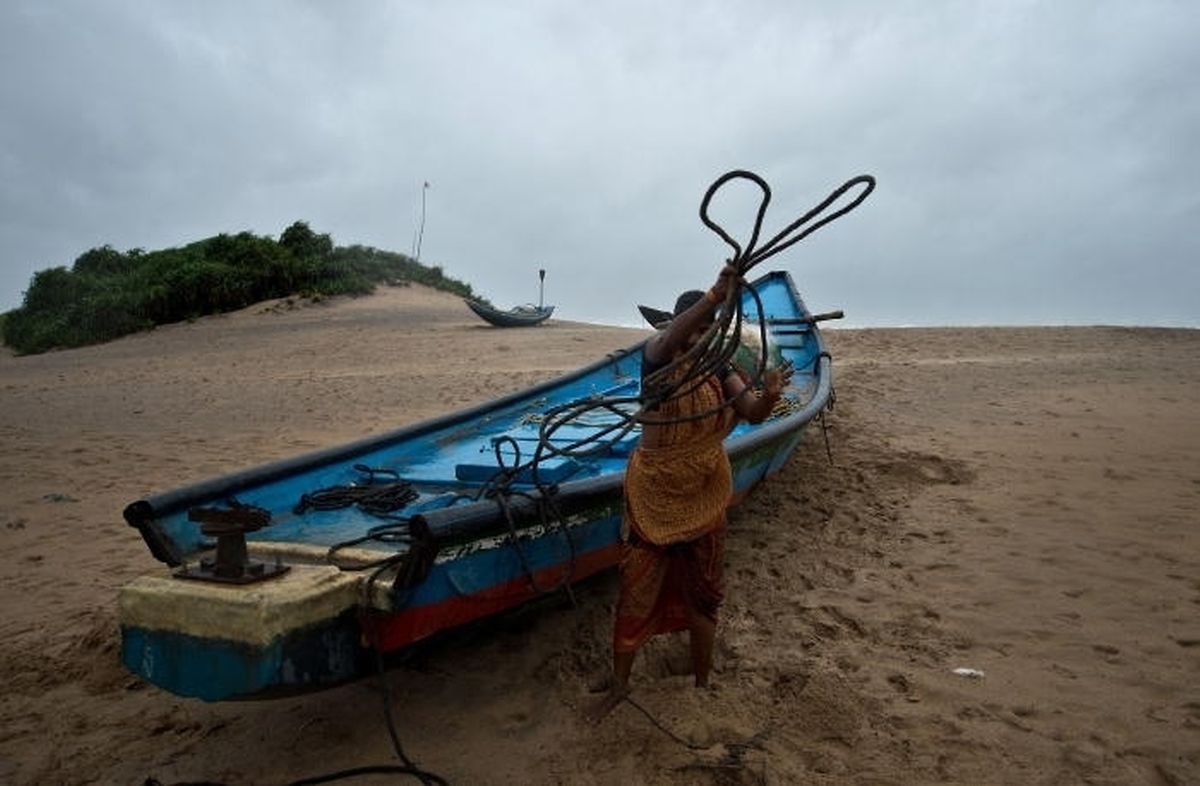 In the seaside town of Gopalpur, expected to be one of the worst affected areas, women and children were the first to pack into shelters, schools and public buildings, where they lay on mats.
The Indian Red Cross Society also had disaster response teams ready while the air force, fresh from helping evacuate thousands from floods in the Himalayas in June, flew food and medical supplies in to Bhubaneswar.
While the storm is still technically one notch below the most powerful category of "super cyclone", the India Meteorological Department sounded its highest "red alert" on Saturday.
Some foreign forecasters believe Phailin, which means "Sapphire" in Thai, is more intense than Indian experts are predicting.
The US Navy's Joint Typhoon Warning Center said gusts could reach as high as 315 kilometres an hour.
The cyclone is set to strike the same coastal area that was hit badly in 1999, a region mostly populated with fishermen and small-scale farmers who live in flimsy huts with thatched roofs or shanties.
A government report on the 1999 disaster put the death toll at 8,243, and said 445,000 livestock perished. It took years for crops yields to recover.
Authorities have said they are better prepared this time around. The Orissa government said it was setting a "zero casualty target" in the state of close to 40 million people.
Mahesh Palawat, chief meteorologist at Skymet, India's largest private weather forecaster, said authorities appeared better prepared this time.
"The devastation will be much less than the 1999 cyclone... They had three-four days at their disposal," he told AFP.
Some of the deadliest storms in history have formed in the Bay of Bengal, including one in 1970 that killed hundreds of thousands of people in modern-day Bangladesh.