Merkel clinches historic win in German elections
Merkel clinches historic win in German elections
Chancellor Angela Merkel captured a landslide victory in German elections Sunday for guiding Europe's top economy unharmed through the debt crisis, decisively winning a third term and nearing an absolute majority.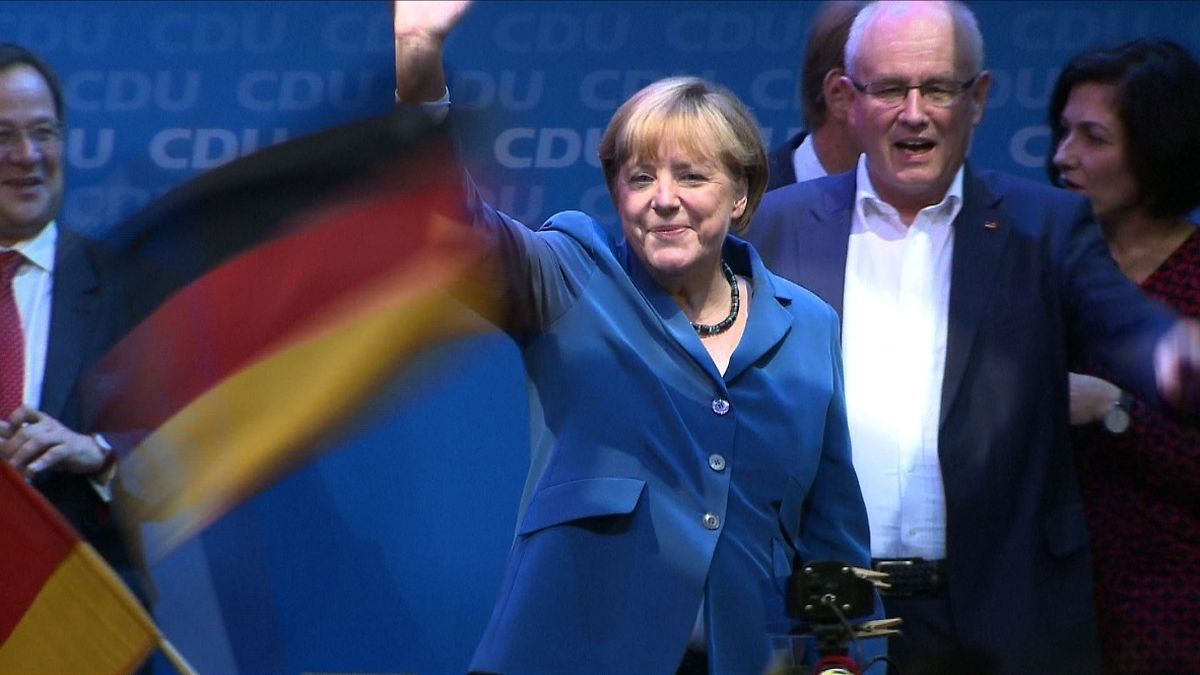 (AFP) Chancellor Angela Merkel captured a landslide victory in German elections Sunday for guiding Europe's top economy unharmed through the debt crisis, decisively winning a third term and nearing an absolute majority.
Merkel's triumphant conservative Christian Democrats (CDU) fell just a few seats short of their own majority with 41.5 percent of the vote, according to provisional final results.
The 59-year-old leader resoundingly clinched another four-year stint at the helm Europe's top economy, and looked poised to form a "grand coalition" with her chief rivals, the Social Democrats (SPD).
Voters turned out in droves to reward Merkel, often called the world's most powerful woman, for steering them unscathed through the debt turmoil that engulfed the eurozone's southern flank.
But they punished her pro-business junior partner, the Free Democrats (FDP), who have been plagued by power struggles, kicking them out of parliament for the first time since their founding after World War II.
Merkel's stunning score -- the conservatives' best result since the country's joyous reunification in 1990 -- meant that she nearly became the only chancellor to win an absolute majority since Germany's first post-war leader, Konrad Adenauer, 56 years ago.
"The party leadership will discuss everything when we have a final result but we can already celebrate tonight," a beaming Merkel told supporters, including her chemist husband Joachim Sauer, a music lover who so rarely appears in public he is nicknamed "The Phantom of the Opera".
Overall turnout was 73 percent, up more than two points from 2009.
An upstart anti-euro party, AfD, fell just short of the five-percent hurdle to representation with their bid to tap into anger over German contributions to bailout packages for stricken eurozone partners.
Merkel led a fractious grand coalition during her first term in 2005-2009, with the SPD's chancellor candidate this time around, Peer Steinbrueck, as her finance minister.
The Social Democrats scored under 26 percent -- their second worst result since the war -- and the FDP at 4.8 percent.
Political scientist Nils Diederich of Berlin's Free University said Merkel had a tendency to bleed her coalition partners dry.
"You can compare Ms Merkel to a spider that feeds on the flies it captures," he told AFP as the results rolled in.
"That is what she did to the Social Democrats in 2009 and that is what she is doing now with the FDP."
A physicist by training, Merkel is only the third person to win a third term in Germany after Adenauer and Helmut Kohl, the father of German unity.
News weekly Der Spiegel declared, "Germany has finally become Angela Merkel-Land."
If she serves at least until 2017, she will become Europe's longest serving female leader, besting Margaret Thatcher who was Britain's prime minister for 11 years.
While Merkel became Germany's most popular post-war chancellor, the eurozone crisis laid waste to the careers of leaders in hard-hit countries such as Ireland, Portugal, Italy, Greece, Spain and France.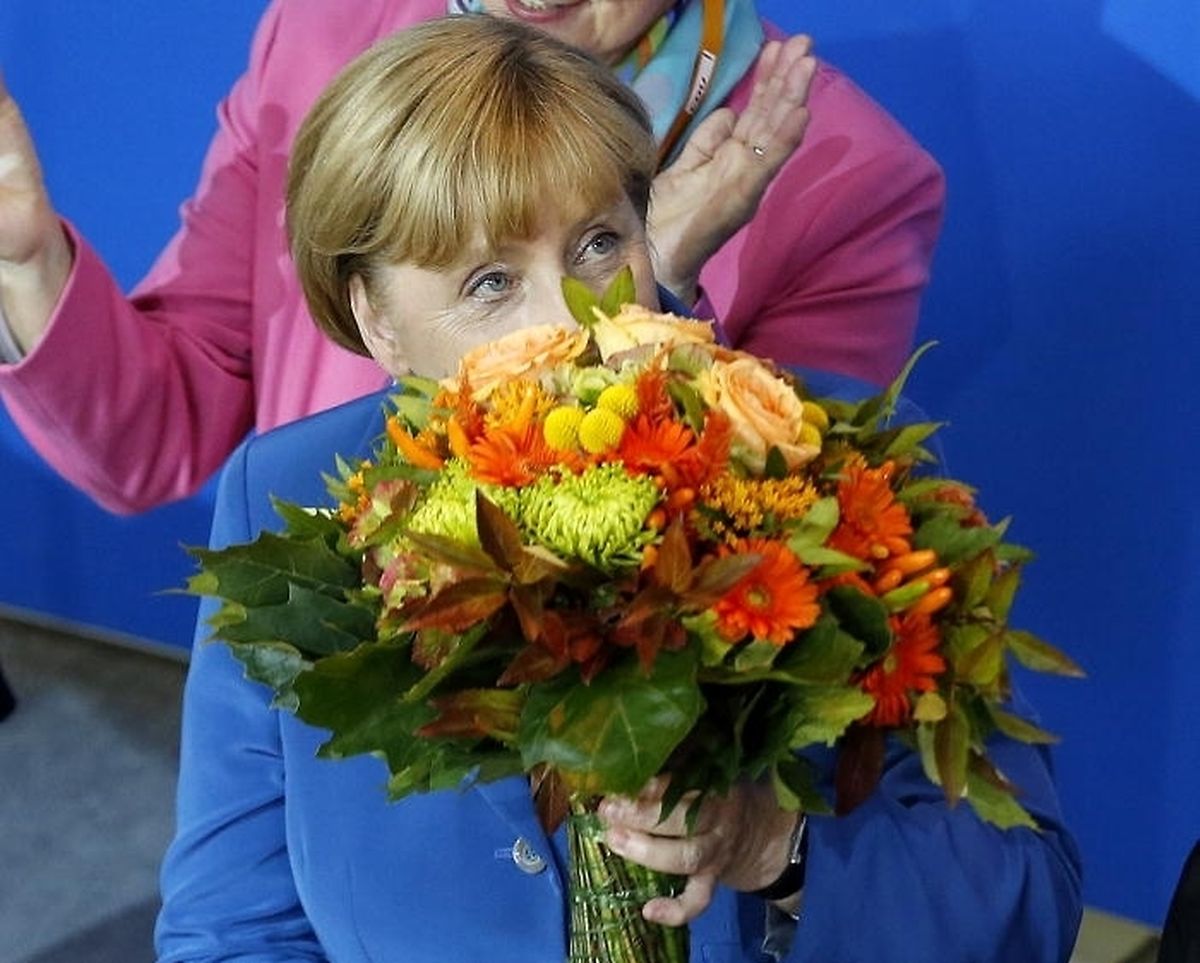 Aid-for-reforms in eurozone likely to continue
In contrast to Merkel's austerity-driven response to the eurozone crisis, the SPD has called for a bit more generosity and patience with nations as they pay off their debts.
However analysts say that even the inclusion of the centre-left in a Merkel government would do little to change her fundamental strategy of aid in exchange for biting reforms.
European Union president Herman Van Rompuy expressed confidence that Germany would remain committed to a "prosperous Europe".
French President Francois Hollande congratulated Merkel in a phone call in which both agreed "to continue their close cooperation to meet the challenges of the European project".
Britain's David Cameron said in a tweet that he was "looking forward to continuing to work closely" with Merkel.
Nearly 62 million people were called to the polls after a campaign many voters complained was largely superficial and personality-based.
Most said ahead of the poll that they hoped for a "grand coalition".
Economic growth is steady, unemployment at below seven percent -- its lowest level in two decades -- and the political culture is dominated by a long post-war tradition of consensus rather than red-blooded jousting.
That left few issues to separate the main candidates.
"I think we have a good standard of living in Europe, and for me, this must remain stable. So, to me, voting for the extremes, on the left or the right, isn't an answer," Sister Elisabeth Bauer, a nun, told AFP as she cast her ballot in Berlin.
The ecologist Greens party, the SPD's preferred coalition partner, scored a disappointing 8.4 percent.
The far-left Die Linke, which has roots in former East Germany's ruling communist party, also tallied 8.6 percent but the SPD repeatedly ruled out forming a coalition with it at the national level.
The brash, gaffe-prone Steinbrueck stumbled again in the home-stretch of the campaign with a front-page magazine photo of him making a surly middle-finger reply to a question on his limping candidacy.
"We did not achieve the result we wanted," he admitted Sunday.