Norway's poll winner faces uphill coalition struggle
Norway's poll winner faces uphill coalition struggle
Norway's election winner Erna Solberg on Tuesday faced an uphill struggle to cobble together a workable alliance set to include the anti-immigration right.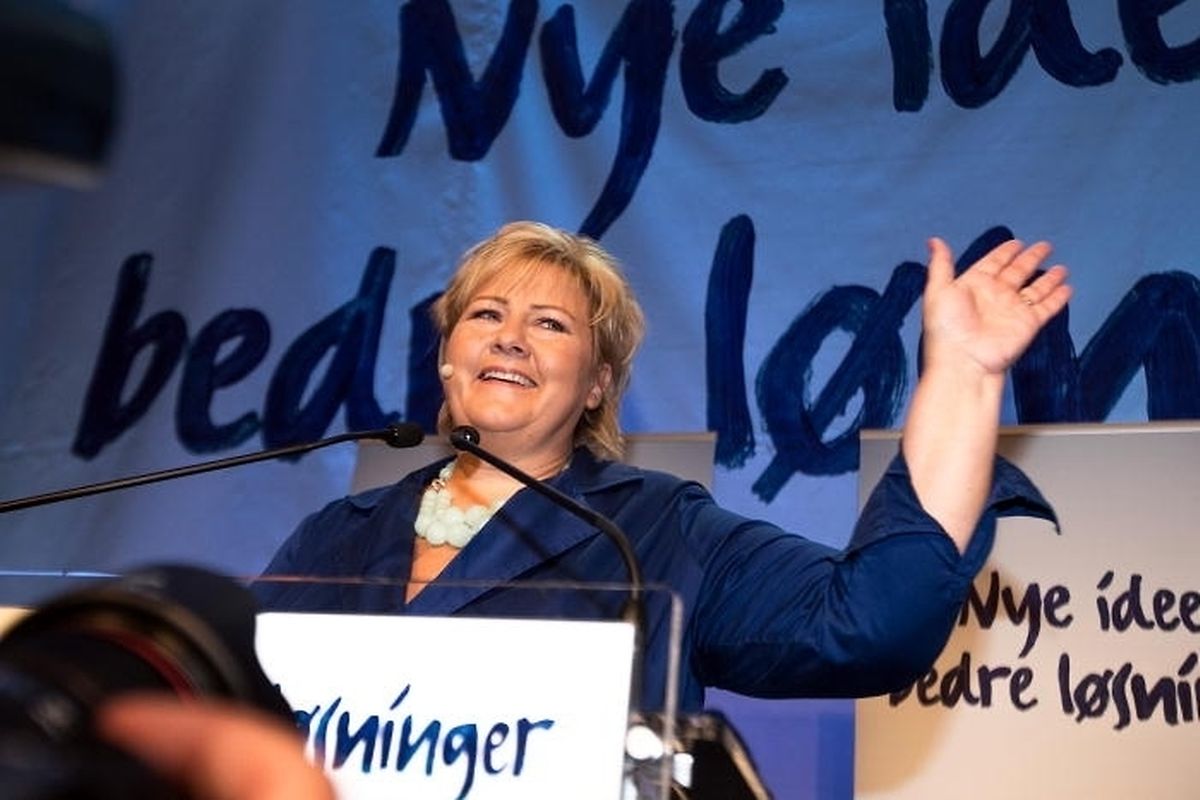 (AFP) Norway's election winner Erna Solberg on Tuesday faced an uphill struggle to cobble together a workable alliance set to include the anti-immigration right.
The 52-year-old career politician, also known as "Iron Erna", led her Conservative Party to victory in Monday's vote alongside three other centre-right parties, putting an end to eight years of centre-left rule.
"Everybody has understood that they won't get to implement their entire programme," Solberg told reporters Tuesday about the upcoming talks on forming a new government. "Everybody must negotiate. Everybody must give and take," she added.
A four-party centre-right bloc won 96 seats in the 169-seat parliament, while the incumbent three-party centre-left coalition ended up with 72 seats. The Anan independent environmental party got one seat.
Jens Stoltenberg, 54, Norway's prime minister since 2005, conceded defeat late Monday, telling supporters that he would seek his government's resignation in mid-October, after presenting the national budget for next year.
This will leave Solberg with the challenge of forging a government with the support of four parties that span the entire half of Norway's political spectrum from the moderate centre to the populist, immigration-sceptic right.
Losers will be winners?
"Erna Solberg has to reconcile the almost irreconcilable positions of very different parties," the daily Verdens Gang said in an editorial.
"She has to build trust and unity, not just among the four party leaders and their closest aides, but among party cultures that can come across as more or less incompatible."
The populist Progress Party may end up as a paradoxical beneficiary of the election despite losing 12 seats, ending up with 29, and dropping one spot to the third-largest party in parliament.
The Progress Party's participation is considered essential if the Conservatives are to form a government, giving it the chance of taking part in a cabinet for the first time in its 40-year history.
"We are going to negotiate a platform for the government, and we have said throughout the campaign that we wanted to have a serious footprint on the platform," said Progress Party leader Siv Jensen late Monday.
Or, as the Aftenposten daily said in a headline: "Election loser can become winner in government."
Meanwhile, the Christian Democrats and the Liberals, two small centrist parties, were expected to play some role in the formation of the new government.
A policy Kinder Egg
It was unclear early Tuesday if they would seek to become active participants in the government, or merely provide legislative support for the new government's policies.
With so much still up in the air, analysts were reluctant to predict what Norway's rightward shift might mean in terms of actual policy-making.
"We can expect that the Progress Party will be firm on the issue of immigration and will demand a certain tightening of policies in the area," said Johannes Bergh, an analyst at the Institute for Social Research in Oslo.
The centre-right group of parties had been widely expected to win the election, even though the Norwegian economy has fared exceptionally well under the centre-left government, keeping near-full employment and maintaining one of the world's highest living standards despite the global financial crisis.
The ouster of Stoltenberg's Labour-led coalition is seen as reflecting a desire to see new faces in power after eight years with centre-left rule - an unusually long tenure, even by the standards of Norway's stable political system.
Commentators said Tuesday the complex election result, necessitating cooperation across deep ideological gaps, could push Norwegian politics into territory where it has never been before.
"A more interesting political Kinder Egg has never before been opened in Norwegian politics," Aftenposten said in an editorial, referring to the chocolate eggs with surprise toys for children inside.