Putin urges formal talks with Trump amid 'crisis' in relations
Putin urges formal talks with Trump amid 'crisis' in relations
Russian President Vladimir Putin urged his counterpart in the US to find time for a formal meeting to talk through a crisis in relations between the two nations and called for a US investigation into Russian election meddling "nonsense."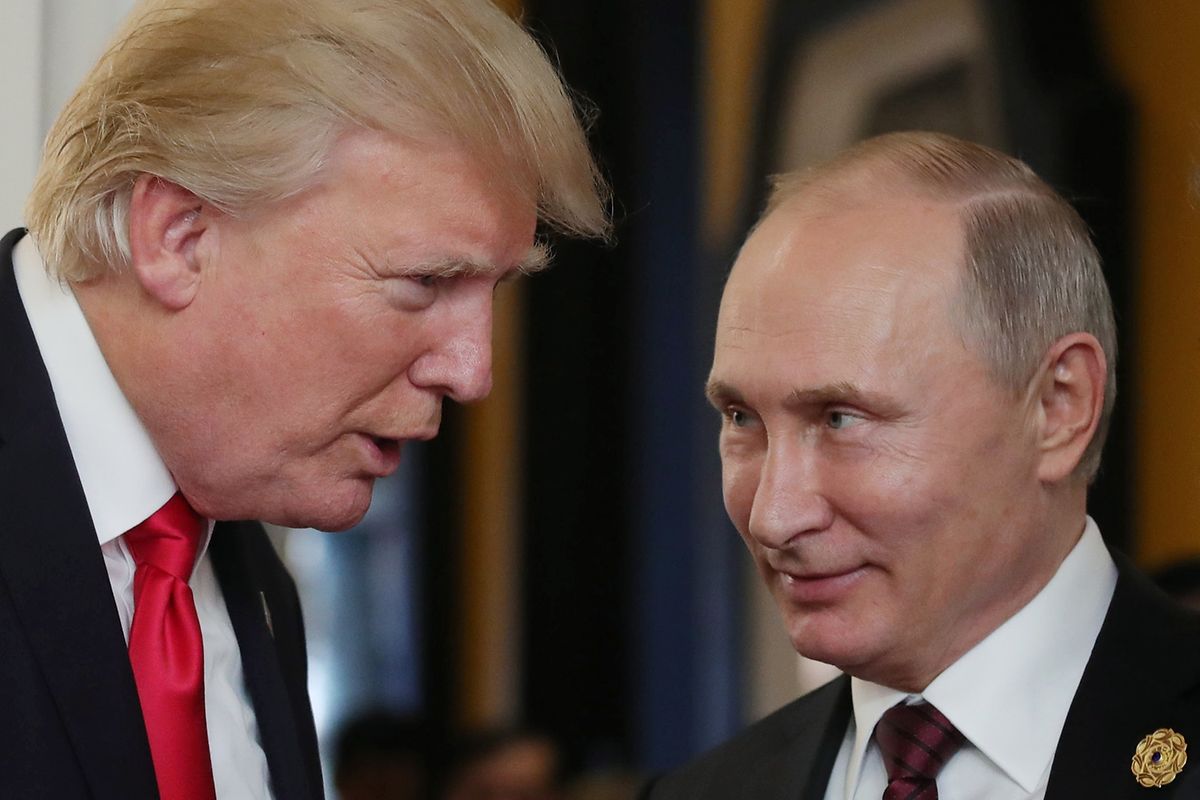 (Bloomberg) Russian President Vladimir Putin urged his counterpart in the US to find time for a formal meeting to talk through a crisis in relations between the two nations and called for a US investigation into Russian election meddling "nonsense."
And in separate comments, President Donald Trump told reporters of Putin, "We'll have a meeting. We have the potential to have a very good relationship." He offered no specific timetable.
The two men's comments came after Trump ducked out of holding a formal meeting at the Asia-Pacific Economic Cooperation Summit in Vietnam, allowing only a brief talk on the sidelines. Despite the snub, Putin said he has a "good rapport" with Trump.
"It's important that we find an opportunity, with our teams, to sit down at the level of presidents and talk through our complex relations," Putin told reporters in Danang. "Our relations are still in crisis. Russia is ready to turn the page and move on."
Despite Trump's campaign pledge to improve battered relations, ties between the two Cold War foes have worsened in his first year in office after the US tightened sanctions in response to alleged Russian election interference. Russia responded with US diplomatic expulsions and the sides have since struggled to make progress on most issues.
Trump echoed Putin's frustrations in comments to journalists aboard Air Force One after he had left the summit, saying that the election-meddling allegations are getting in the way of more important issues like Syria and Ukraine.
'Artificial Barrier'
"This is really an artificial barrier that's put in front of us for solving problems with Russia," he said. "I think it's a shame that something like this can destroy a very important potential relationship between two countries that are very important countries."
"Russia could really help us," he added, noting that Putin once again denied that Russia had meddled in the US campaign.
In his press conference, Putin dismissed the accusations as "political infighting" in the US. He said claims that Commerce Secretary Wilbur Ross has political links with Russia were speculation and said Trump's former campaign manager Paul Manafort "has nothing to do with us." He described a US order requiring state broadcaster RT to register as a foreign agent as an "attack on freedom of speech" and said Russia will retaliate.
Following the brief talks in Vietnam, Putin and Trump issued a joint statement in which they agreed to support a political reconciliation in Syria, while maintaining the existing two-nation communication channels used to fight Islamic State.