Snipers shoot at UN chemical weapons team in Syria
Snipers shoot at UN chemical weapons team in Syria
Snipers shot at a UN team set to inspect the site of a suspected deadly chemical weapons attack on Monday, further ratcheting up tensions as the West warned of possible military action against Damascus.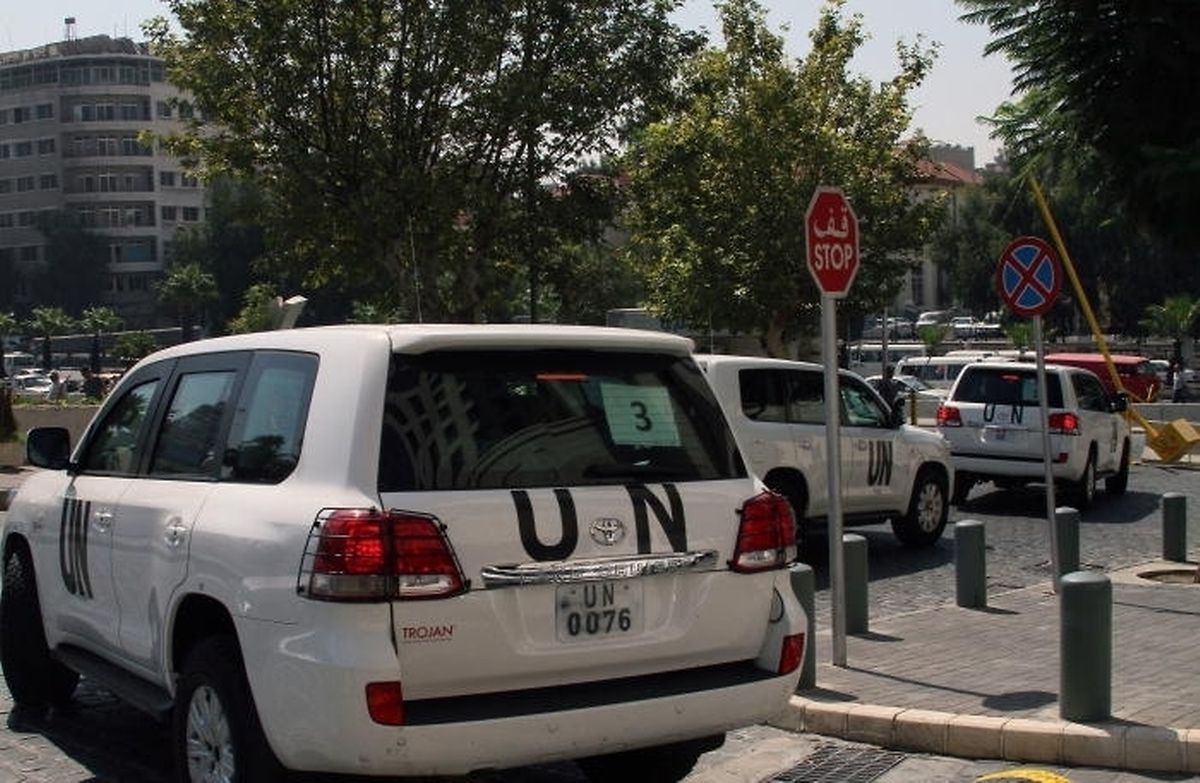 (AFP) Snipers shot at a UN team set to inspect the site of a suspected deadly chemical weapons attack on Monday, further ratcheting up tensions as the West warned of possible military action against Damascus.
A UN spokesman said unidentified snipers shot at the UN experts looking into allegations of a chemical attack near Damascus last week that the Syrian opposition claimed killed hundreds of civilians.
The attack forced them to suspend their inspection but no injuries were reported, said spokesman Martin Nesirky.
"The first vehicle of the chemical weapons investigation team was deliberately shot at multiple times by unidentified snipers," he said.
The attack came as the West appeared to be moving closer to launching a military response over last Wednesday's attack near Damascus, which shocked the world after grisly pictures emerged of dead children with horrific injuries.
Britain said the West could act even without full UN Security Council backing, with China and Moscow likely to boycott any resolution backing a military strike.
Washington and its allies have pointed the finger of blame at Syrian President Bashar al-Assad's regime for the alleged attack, the latest atrocity in a conflict that has claimed the lives of more than 100,000 people since March 2011.
Moscow warns of "dangerous consequences" of intervention
Assad, in an interview with a Russian newspaper published Monday, angrily denied the accusations as an "insult to common sense" and said any military action was doomed to failure.
"The United States faces failure just like in all the previous wars they waged," he said.
A senior Syrian security official told AFP the regime was ready to face "all scenarios."
"Western threats of strikes against Syria are part of the psychological and political pressure against Syria, but in any case we are ready to face all scenarios," the official said.
Russian Foreign Minister Sergei Lavrov warned his US counterpart John Kerry of the "extremely dangerous consequences of a possible new military intervention for the whole Middle East and North Africa region."
Syrian authorities had approved the UN inspection of the site in Ghouta east of Damascus on Sunday, but US officials said it was too little, too late, arguing that persistent shelling there in recent days had "corrupted" the site.
Mortar shells also hit a mosque in the centre of Damascus on Monday, the Syrian news agency SANA said, blaming "terrorists", its term for rebel fighters.
France, UK say action without UN resolution possible
The international community has long been divided over how to respond to the conflict, with Russia and China repeatedly blocking UN Security Council resolutions.
The latest allegations have driven a new wedge between Russia and the West, with Moscow saying the suspected attack was a rebel ploy to discredit the Assad regime. China has backed a UN investigation into the charges, but urged a "cautious" response.
US President Barack Obama has been loath to order US military action to protect civilians in Syria, fearing being drawn into a vicious civil war, soon after he extracted US troops from Iraq.
But revulsion over video footage and gruesome photographs of dead children blanketing the world's media has seen mounting pressure on the international community.
"Is it possible to respond to chemical weapons without complete unity on the UN Security Council? I would argue yes," British Foreign Secretary William Hague told the BBC, refusing to rule out a military strike this week.
France said the West would decide in the coming days on a response."The only option that I do not envisage is to do nothing," Foreign Minister Laurent Fabius said on French radio.
Turkey, a vehement opponent of the Assad regime, said it would join an international coalition against Syria even if the Security Council fails to reach consensus on the issue, while Germany said there would have to be "consequences" for the regime if the accusations against it are confirmed.
Range of military options
US officials said that Obama, who had said a year ago that the use of chemical weapons by Assad's forces was a "red line" that could trigger Western intervention, would make an "informed decision" about how to respond.
Experts believe the most likely US action would see sea-launched cruise missiles target Syrian military installations and artillery batteries deemed complicit in the chemical weapons attack.
Weapons fired from US planes outside the country could also be used, to minimise the risk to US or allied pilots from Syrian air defences.
US Defence Secretary Chuck Hagel said commanders had prepared a range of military options and were positioning their forces for "whatever the president might choose."
He did not elaborate, but a defence official said the US Navy would expand its presence in the Mediterranean with a fourth warship armed with cruise missiles.
Washington would likely seek to act with a broad coalition of European and Gulf allies as Russia is seen as sure to veto any attempt to mandate action against its ally.
Senior military officers from Western and Muslim countries, including the US chief of staff, were also gathered in Jordan Monday to discuss the regional impact of the war.