South Sudan celebrates birth with raising of flag
South Sudan celebrates birth with raising of flag
South Sudan celebrated its first day as an independent nation on Saturday, raising its flag before tens of thousands of cheering citizens elated to reach the end of a 50-year struggle.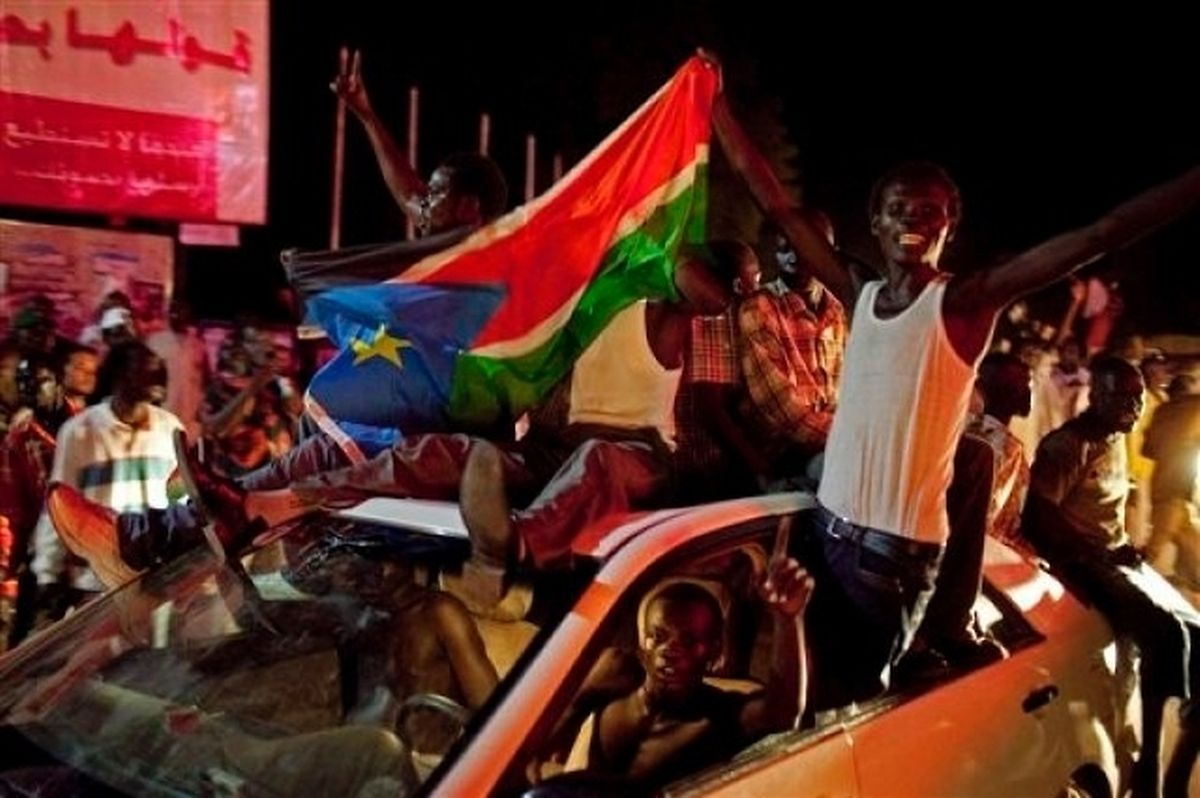 South Sudan celebrated its first day as an independent nation on Saturday, raising its flag before tens of thousands of cheering citizens elated to reach the end of a 50-year struggle.
U.S. President Barack Obama called the day a new dawn after the darkness of war, while visiting dignitaries offered both congratulations and prodding for South Sudan and its former ruler, Sudan, to avoid a return to conflict over serious and unresolved disagreements.
"The eyes of the world are now on us," said South Sudan President Salva Kiir, who was inaugurated during a scorching midday ceremony. Kiir stressed that the people of South Sudan must advance their country together, and unite as countrymen first, casting aside allegiances to the dozens of tribes that reside here.
Saturday meant that South Sudan and its black tribesmen would for the first time be linked politically with sub-Saharan Africa. Kenya and Uganda are already laying strong economic ties with their northern neighbor, an oil-rich country that may one day ship its oil to a Kenyan port, instead of through the pipelines controlled by Khartoum.
"From today our identity is southern and African, not Arabic and Muslim," read a hand-painted sign that one man carried as he walked through the crowds.
South Sudan first celebrated its new status with a a raucous street party at midnight. At a packed midday ceremony, the speaker of parliament read a proclamation of independence as the flag of Sudan was lowered and the flag of South Sudan was raised, sparking wild cheers from a crowd tens of thousands strong.
"Hallelujah!" one resident yelled, as other onlookers wiped away tears.
The U.S. and Britain, among others, announced their recognition of South Sudan as a sovereign nation.
"A proud flag flies over Juba and the map of the world has been redrawn," Obama said in a statement. "These symbols speak to the blood that has been spilled, the tears that have been shed, the ballots that have been cast, and the hopes that have been realized by so many millions of people."
Sudan President Omar al-Bashir, a deeply unpopular man in Juba, arrived to a mixture of boos and murmurs. He stood beside Kiir and smiled during the ceremony, and said in a speech that he respected the south's choice to secede, even as he prodded Obama "to meet his promsie and lift the sanctions imposed on Sudan."
The U.S. has promised economic and political rewards to Khartoum if it allows the south to secede peacefully, but military standoffs in the contested border region of Abyei and new fighting in South Kordofan — a state in Sudan with many south-supporting residents — risk new north-south conflict. The U.S. has indicated that those issues need to be resolved before normalization of relations occur.
Obama said that South Sudan and Sudan must recognize that they will be more secure and prosperous if they move beyond past differences peacefully. He said the 2005 peace deal must be full implemented and the status of Abyei resolved.
In Khartoum, the former capital of the south, newspaper headlines bid goodbye, with one saying: "Time to Let Go."
"Today we have decided it is time to move forward toward the future," wrote Adil Al-Baz, the editor of Al-Ahdath independent daily. "Great people make use of big events to create new opportunities."
The black African tribes of South Sudan and the mainly Arab north battled two civil wars over more than five decades, and some 2 million died in the latest war, from 1983-2005. It culminated in a 2005 peace deal that led to Saturday's independence declaration.
Thousands of South Sudanese poured into the ceremonial arena when gates opened. Traditional dancers drummed in the streets as residents waved tiny flags. Activists from the western Sudan region of Darfur, which has suffered heavy violence the past decades, held up a sign that said "Bashir is wanted dead or alive." Bashir has been indicted by the International Criminal Court for war crimes in Darfur.
"Wow, this is a great day for me because it's a day that reflects the suffering that all southerners have had for almost 50 years," said David Aleu, a 24-year-old medical student.
Susan Rice, the U.S. ambassador to the U.N. and the American envoy at Saturday's celebration, urged South Sudan residents and leaders to build a country worthy of the sacrifice of all the lives lost during the five decades of conflict.
"Independence was not a gift you were given. Independence is a prize you have won," she said. "Yet even on this day of jubilee we remain mindful of the challenges that await us. No true friend would offer false comfort. The path ahead will be steep ... but the Republic of South Sudan is being born amid great hopes."
U.N. Secretary-General Ban Ki-moon pointedly noted that Sudan and South Sudan have not yet resolved the status of Abyei, where northern and southern troops are standing off. He called for consultations in South Kordofan, where northern troops are attacking southern supporters.
"Let their differences be resolved around the negotiating table," Ban said.
South Sudan is expected to become the 193rd country recognized by the United Nations next week and the 54th U.N. member state in Africa.
It follows on the heels of East Timor in 2002 and Montenegro in 2006 which quickly became full-fledged members of the United Nations after being recognized by the vast majority of the international community within a few weeks or months of independence. Kosovo, however, declared its independence in 2008 and is recognized by 76 nations, but is still waiting to be recognized by the U.N.
Though Saturday was a day of celebration, residents of South Sudan must soon face many challenges. Their country is oil-rich but is one of the poorest and least-developed on Earth. The 1,300-mile (2,100-kilometer) north-south border is disputed in five areas, several of which are being illegally occupied by either northern or southern troops.
The young government must also begin delivering basic needs such as education, health services, water and electricity to its more than 8 million citizens. While South Sudan is now expected to control of more than 75 percent of what was Sudan's daily oil production, it has no refineries and southern oil must flow through the north's pipelines to reach market.
But for Saturday, at least, those problems lay on the back burner. Smiles, singing and dancing instead took precedence.
"I'm very grateful to see many people from other countries," said 22-year-old Adut Monica Joseph. "I'm appreciating that they have come to celebrate with us. I hope when we have independence we shall have freedom and education for women."
___