Tales emerge of missing and dead in ship disaster
Tales emerge of missing and dead in ship disaster
An Italian dad and his 5-year-old daughter. A retired American couple treating themselves after putting 4 children through college. A Hungarian musician who helped crying children into lifejackets, then disappeared while trying to retrieve his beloved violin from his cabin....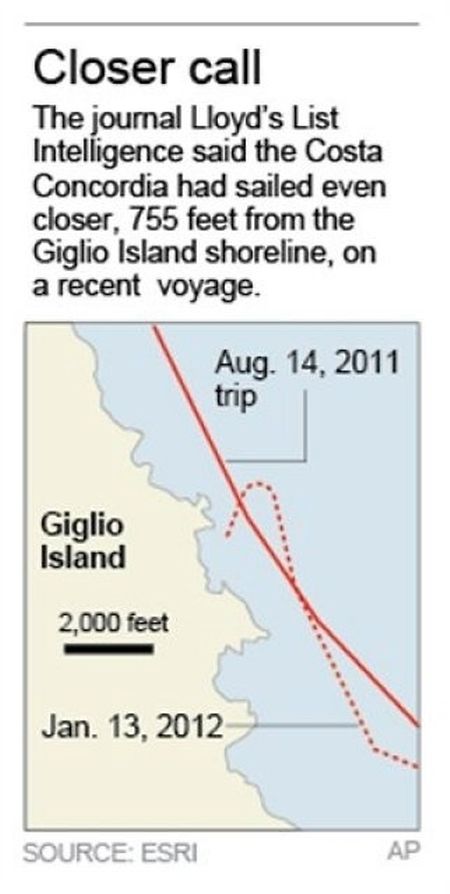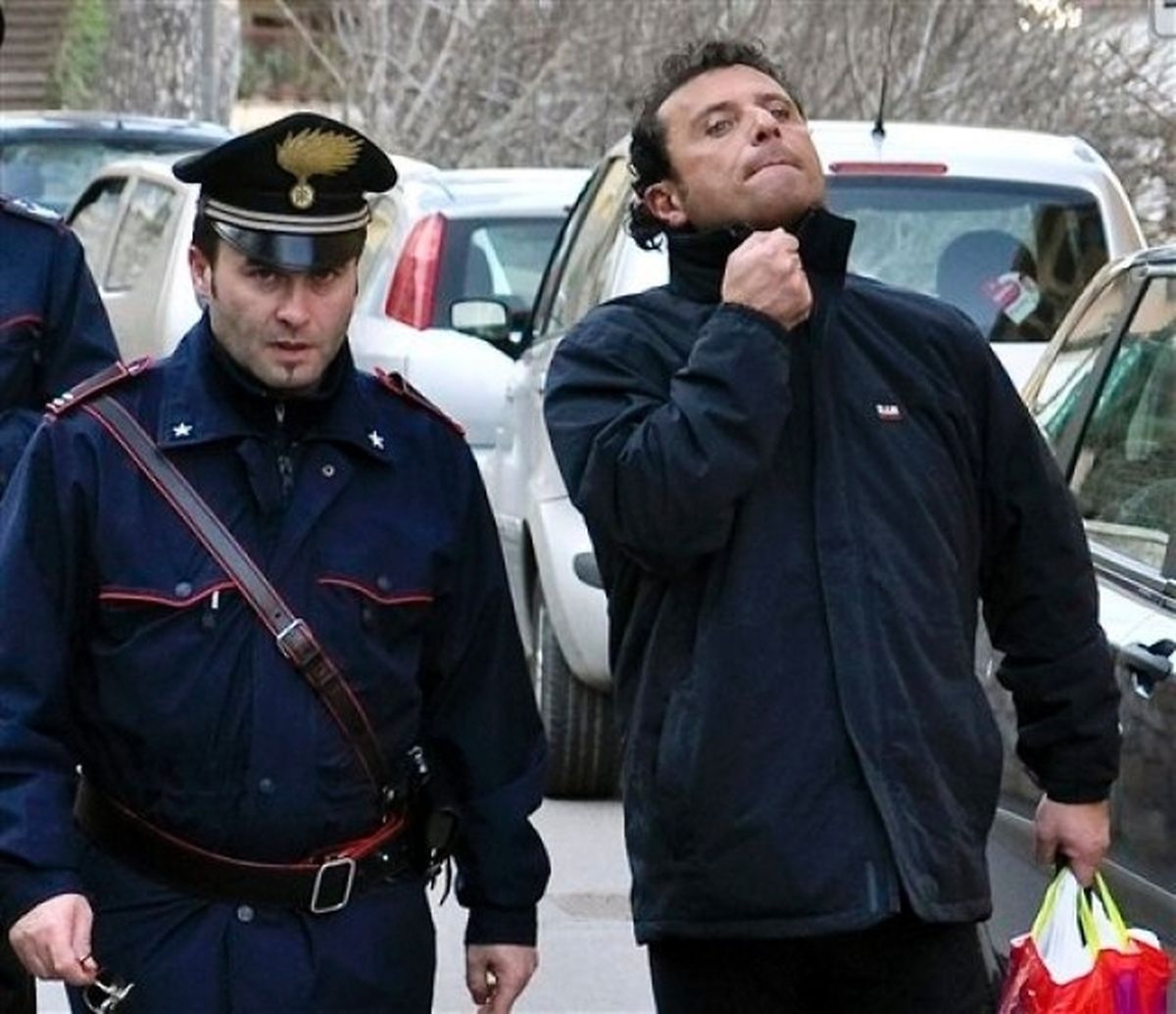 (AP) An Italian dad and his 5-year-old daughter. A retired American couple treating themselves after putting four children through college. A Hungarian musician who helped crying children into lifejackets, then disappeared while trying to retrieve his beloved violin from his cabin.
As details emerged Wednesday about the missing and the dead in the grounding of the Costa Concordia, the captain was quoted as saying he tripped and fell into the water from the listing vessel and never intended to abandon his passengers.
The search for the 21 people still unaccounted for in the disaster ground to a halt after the cruise liner shifted again on its rocky perch off the Tuscan island of Giglio, making it too dangerous for divers to continue. Rough seas were forecast for the next few days.
The bad weather also postponed the start of the week-long operation to extract the half-million gallons of fuel on board the vessel, as Italy's environment minister warned Parliament of the ecological implications if the ship sinks.
The €350 million Costa Concordia was carrying more than 4,200 passengers and crew when it slammed into a reef and capsized Friday after the captain made an unauthorized diversion from his programmed route and strayed into the perilous waters.
Captain Francesco Schettino, who was jailed after he left the ship before everyone was safely evacuated, was placed under house arrest Tuesday, facing possible charges of manslaughter, causing a shipwreck and abandoning his ship.
The ship's operator, Crociere Costa SpA, has accused Schettino of causing the wreck by making the unapproved detour, and the captain has acknowledged carrying out what he called a "tourist navigation" that brought the ship closer to Giglio. Costa has said such a navigational "fly by" was done last Aug. 9-10, after being approved by the company and Giglio port authorities.
However, Lloyd's List Intelligence, a leading maritime publication, said Wednesday its tracking of the ship's August route showed it actually took the Concordia slightly closer to Giglio than the course that caused Friday's disaster.
"This is not a black-and-white case," Richard Meade, editor of Lloyd's List, said in a statement.
"Our data suggests that both routes took the vessel within 200 metres of the impact point and that the authorised route was actually closer to shore."
New audio of Schettino's communications with the coast guard during the crisis emerged Wednesday, with the captain claiming he ended up in a life raft after he tripped and fell into the water.
"I did not abandon a ship with 100 people on board, the ship suddenly listed and we were thrown into the water," Schettino said, according to a transcript published Wednesday in the Corriere della Sera paper.
Initial audio of Schettino's conversations made headlines on Tuesday, showing an increasingly exasperated coast guard officer ordering Schettino back on board to direct the evacuation, and the captain resisting, saying it was too dark and the ship was tipping.
The officer's order, "Get back on board, (expletive!)" has entered the Italian lexicon, becoming a Twitter hashtag and adorning T-shirts.
Eleven people have been confirmed dead so far, and 21 are missing. Italian officials have only released 27 names so far, including two Americans, 12 Germans, six Italians, four French, and one person each from Hungary, India and Peru.
The Hungarian victim was identified Wednesday as 38-year-old Sandor Feher, who had been working as an entertainer on the stricken cruise ship. His body was found inside the wreck and identified by his mother, who had traveled to the Italian city of Grosseto, according to Hungary's foreign ministry.
Jozsef Balog, a pianist who worked with Feher on the ship, told the Blikk newspaper that Feher was wearing a lifejacket when he decided to return to his cabin to retrieve his violin. Feher was last seen on deck en route to the area where he was supposed to board a lifeboat.
According to Balog, Feher helped put lifejackets on several crying children before returning to his cabin.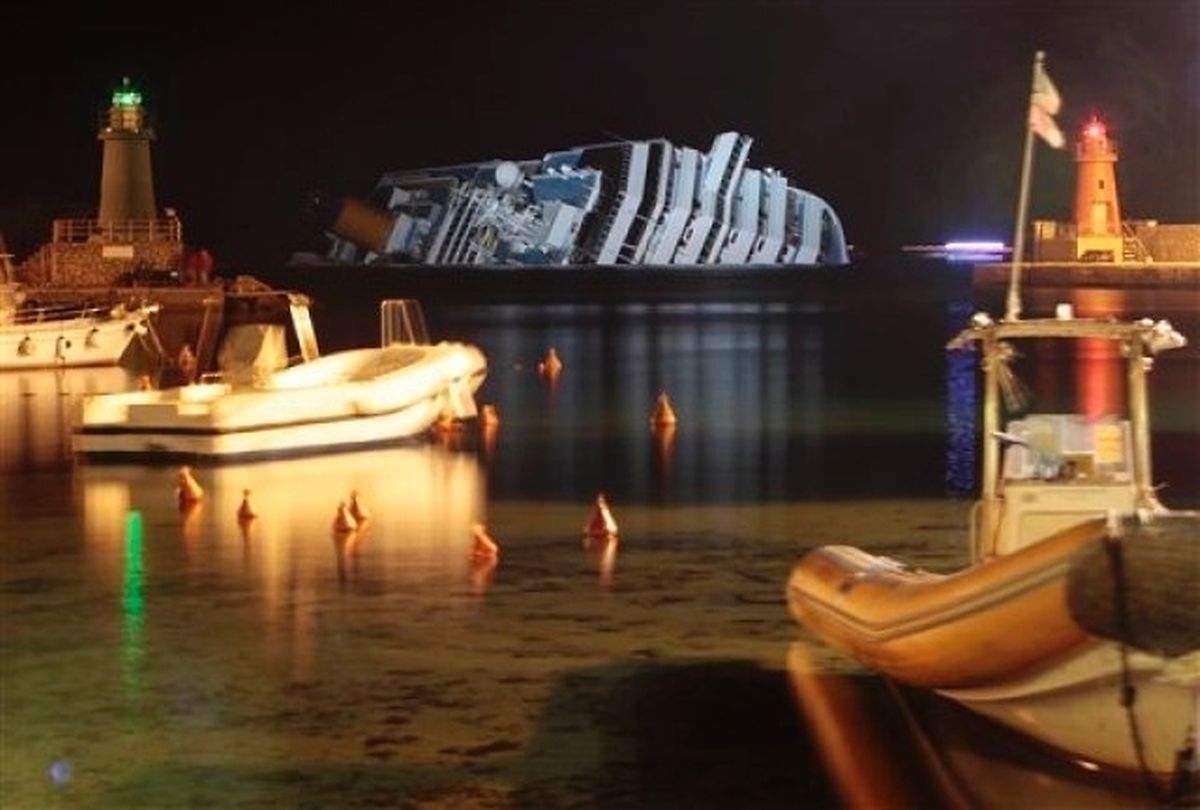 Others among the missing include 5-year-old Dayana Arlotti and her father, William Arlotti, who were on the cruise with the father's girlfriend. The girl's parents separated three years ago.
The girl's mother, Susy Albertini, said she has been desperately calling police, port officials and the cruise company for days for news of her daughter and estranged husband.
"I last heard from her on Thursday," when she waved goodbye at school, Albertini, 28, told the La Voce di Romagna newspaper.
"The absurd thing is that no one can tell me anything, and what little I know is from the newspapers," she said. "Sometimes they ask absurd questions, like if my daughter knows how to swim. Do they understand she is 5 years old? What kind of question is that?"
William Arlotti, 36, had gone on the cruise with his girlfriend, Michela Marconcelli, who survived. She reported seeing Dayana, who was wearing a lifejacket, slide into the water when the boat shifted, but said someone helped retrieve her, the newspaper reported.
Marconcelli said she was pushed forward onto the life raft, and lost track of her companion and his daughter.
Others missing include retirees Jerry and Barbara Heil of White Bear Lake, Minn.
Sarah Heil, their daughter, told WBBM radio in Chicago that her parents had been looking forward to the 16-day cruise after raising four kids and sending them all off to college.
"They never had any money," she said. "So when they retired, they went travelling. And this was to be a big deal — a 16-day trip. They were really excited about it."
The Heil children said in a blog post Wednesday that their parents were not among the passengers whose bodies were recently recovered, and they were praying that weather conditions would improve so authorities could resume search operations.
A U.S. congressional committee announced Wednesday that it will hold a hearing next month on the safety implications of the Costa Concordia accident, saying U.S. and international maritime organisations need to ensure standards are in place to protect passengers' safety on cruise ships.
Passengers have complained vocally about the chaotic evacuation and poor treatment by Costa officials once they got on land, with some saying they were provided only a single night of hotel accommodations and denied help getting to their embassies to get new passports.
Costa owner, Miami-based Carnival Corp., responded Wednesday, saying it was offering assistance and counselling to passengers and crew and was trying to take stock of lost possessions.
"Costa has also begun the process of refunding all voyage costs including both passenger cruise fares and all costs incurred while on board," Carnival said in a statement. "Our senior management teams are working together to determine additional support."
Rescue operations were suspended early Wednesday after instruments attached to the ship detected it had shifted, raising concerns for the safety of rescuers. By evening, officials still did not have enough data to assure the ship had stopped resettling and it was unclear when the search would resume.
Environment Minister Corrado Clini, who has warned of an environmental catastrophe in the waters around Giglio, a sanctuary for marine mammals, briefed Parliament on the effort to extract the half-million gallons of fuel. He said the ship risked sinking if it slips off its rocky perch.
Schettino was questioned by a judge for three hours Tuesday, then ordered held under house arrest rather than jailed — a decision that federal prosecutors plan to challenge.
The judge, in her reasoning released Wednesday, said Schettino didn't represent a flight risk since he had stayed near the ship even after abandoning it, the ANSA news agency reported.
Schettino's lawyer, Bruno Leporatti, told reporters house arrest made sense.
"He never left the scene," the lawyer said. "There has never been a danger of flight."
Leporatti added that Schettino was upset by the accident, contrary to depictions in the Italian media that he did not appear to show regret.
"He is a deeply shaken man, not only for the loss of his ship, which for a captain is a grave thing, but above all for what happened and the loss of human life," Leporatti said.
Criminal charges including manslaughter and abandoning ship are expected to be filed by prosecutors shortly. Schettino faces a possible 12 years in prison on the abandoning ship charge alone.