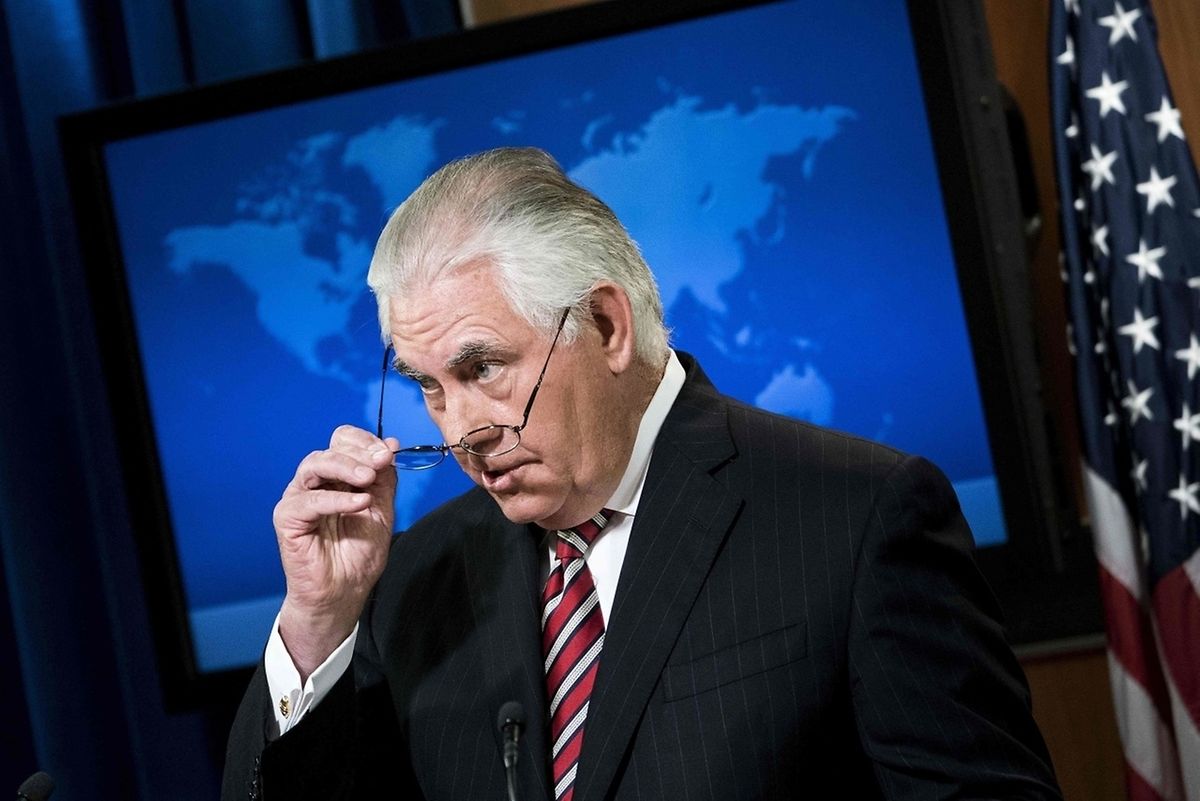 (Bloomberg) Despite North Korea's "provocative" firing of three missiles, the US will continue to push for negotiations to deescalate nuclear tensions on the Korean peninsula, Secretary of State Rex Tillerson said on Sunday.
"We're going to continue our peaceful pressure campaign, as I have described it, working with allies, working with China as well, to see if we can bring the regime in Pyongyang to the negotiating table with a view to begin a dialog on a different future for Korean peninsula and North Korea," Tillerson said on "Fox News Sunday."
North Korea fired three short-range ballistic missiles on Saturday morning after Kim Jong Un's regime strongly criticized US-South Korea joint military drills. US Pacific Command said two missiles flew 250 kilometers while the other appeared to have blown up immediately. Military authorities said they didn't pose a threat to North America or Guam.
"We do view it as a provocative act—a provocative act against the United States and its allies," Tillerson said, calling the firing "a violation of UN Security Council resolutions." He added that Kim's regime was "clearly" sending the message "that they are not prepared to completely back away from their position."
The missile tests came shortly after Tillerson praised North Korea for showing restraint and suggested that dialogue could take place soon. While the launch violates UN resolutions, short-range rockets are generally seen as less provocative than tests of intercontinental ballistic missiles that could deliver a nuclear weapon to the continental US.
"I don't know that we're wrong," Tillerson said of his earlier assessment. "I think it's going to take some time to tell."
North Korea has conducted more than a dozen missile tests this year, including two using ICBMs, sparking a war of words earlier this month between President Donald Trump and Kim's regime that rattled global markets. Tensions cooled in recent weeks after Kim didn't follow through with threats to launch missiles toward Guam, with Trump saying Tuesday that Kim was "starting to respect" the US.
Earlier this month, the UN Security Council voted unanimously to tighten sanctions on North Korea, targeting about a third of the nation's roughly $3 billion (€2.5 billion) in exports. Kim's regime has said it won't give up its nuclear weapons and missile program until the US drops its "hostile" policies.
Tillerson also distanced the State Department and the US government from the president's response to a white nationalist rally in Charlottesville, Virginia, in which Trump blamed "both sides" for one death and 19 injuries there.
"The president speaks for himself," Tillerson said.
A UN panel said on Aug. 25 that it was "disturbed by the failure at the highest political level of the United States of America to unequivocally reject and condemn the racist violent events" and urged officials to foster unity and "unequivocally and unconditionally reject and condemn racist hate speech and racist crimes in Charlottesville and throughout the country."
"I don't believe anyone doubts the American people's values or the commitment of the American government or the government's agencies to advancing those values and defending those values," Tillerson said.
(€1=$1.17)