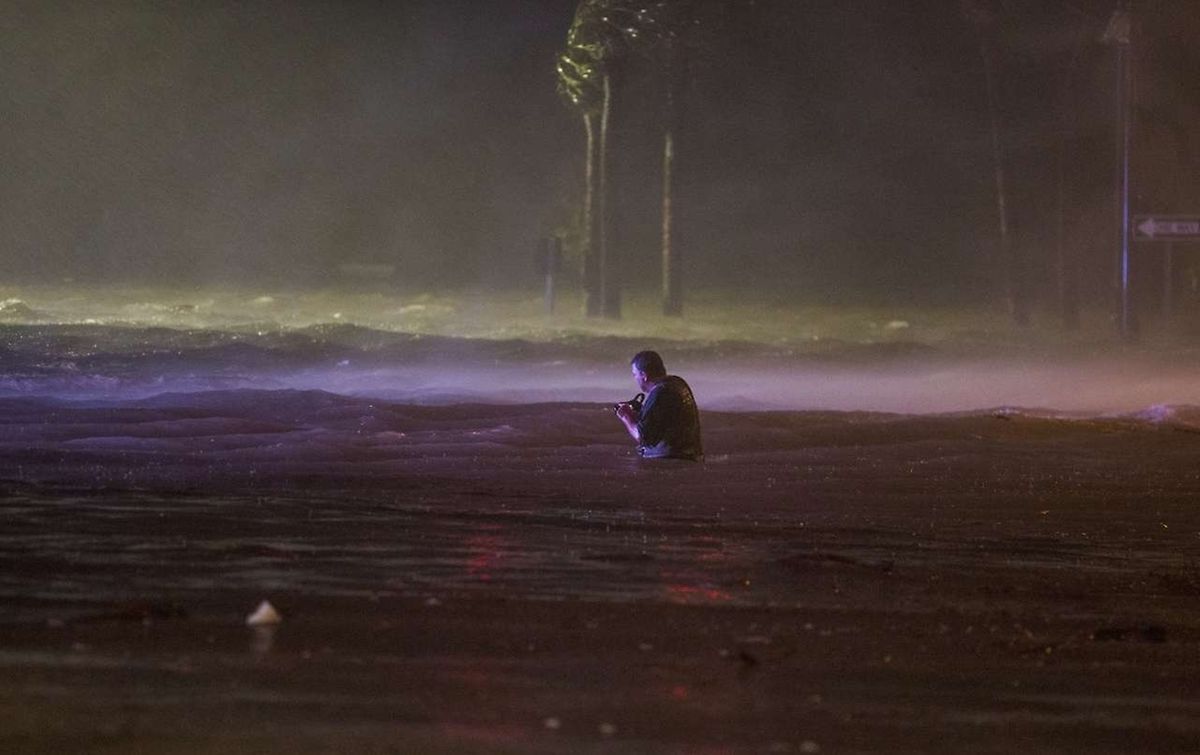 (Bloomberg) Tropical Storm Nate is rapidly weakening over the southern US even as flooding from storm surges continues along the Mississippi-Alabama coast. Thousands were without power early Sunday, and storm-related losses could reach about $2.5 billion (€2.1 billion) .
Nate's top winds fell to 45 miles (72 kilometers) per hour from 70 in just three hours as it moved north-northeast at 23 mph, and was about 50 miles south-southeast of Meridian, Mississippi, the US National Hurricane Center said in advisory at 8:00 New York time. The storm made its final landfall near Biloxi, Mississippi, as a Category 1 hurricane early Sunday.
"This morning's after-landfall estimate is $2.5 billion, that shouldn't change much going forward," said Chuck Watson, a disaster modeler with Enki Research in Savannah, Georgia. "The intensity crashed at landfall; the left side collapsed."
The lack of power on the left, or west, side of the storm meant New Orleans was spared Nate's flooding rains. That lowered damage estimates that had been as high as $4 billion (€3.4 billion) when the storm was still gaining strength in the Gulf of Mexico on Saturday, he said.
The region's oil and natural gas operators mostly shuttered production ahead of Nate's arrival. About 92 percent of U.S. Gulf oil production and 77 percent of natural gas output was taken off-line, the Bureau of Safety and Environmental Enforcement said in a notice. The U.S. Coast Guard suspended marine traffic and closed ports on Saturday, while Magellan Midstream Partners reduced operations at its Marrero, Louisiana, petroleum storage terminal.
According to Colonial Pipeline Co. spokeswoman Malesia Dunn, the storm has had "no impact" on the company's operations.
At least 67,000 customers were without power in Alabama and Mississippi, with the majority of those in Mobile, according to statements from local utilities.
Flooding and landslides caused by Nate earlier killed more than 20 people across Central America.
The storm will continue to lose power as it moves north and is eventually absorbed by another weather system moving across the US, said Rob Miller, a meteorologist at AccuWeather Inc. in State College, Pennsylvania.
"Winds are less of a factor now across Alabama and the Southeast states," Miller said. "It is mostly transitioning into a rain threat."
It's possible that rains from Nate, along with a frontal system moving across the US, could combine to bring heavy rain into Pennsylvania, New York and New Jersey by Monday.
In the next five days, close to 9 inches of rain could fall across parts of the southern Appalachian Mountains, while a swath from eastern Ohio through upstate New York into northern New England could get close to 3 inches, the US Weather Prediction Center said.
Busy Storm Season
All told, 14 storms have formed across the Atlantic this season, killing hundreds in the U.S., Mexico and the Caribbean and causing an estimated $300 billion (€255 bilion) in damage. Accumulated cyclone energy, a measure of storm power and longevity, set a record in September. Hurricane Maria slammed into Puerto Rico in September at Category 4 strength, while Hurricane Irma earlier battered Florida with 130 mph winds.
Including Nate, six storms will have hit the US this year, said Dennis Feltgen, a spokesman for the hurricane center.
Until Harvey struck Texas on August 25, it had been 12 years since a major hurricane, Category 3 or stronger, had struck the US. Irma and then Maria followed. The three alone have caused an estimated $170 billion (€144 billion) in damage in the US, according to Enki Research.
Harvey temporarily shut about 25 percent of oil and natural gas production in the Gulf of Mexico, while Irma subjected Florida's citrus groves to fruit losses that have wiped out some farmers.