US & Britain say 'increasing signs' Syria behind attack
US & Britain say 'increasing signs' Syria behind attack
US President Barack Obama and British Prime Minister David Cameron inched closer Saturday to attributing blame for a massive chemical weapons attack near Damascus to Bashar al-Assad's armed forces.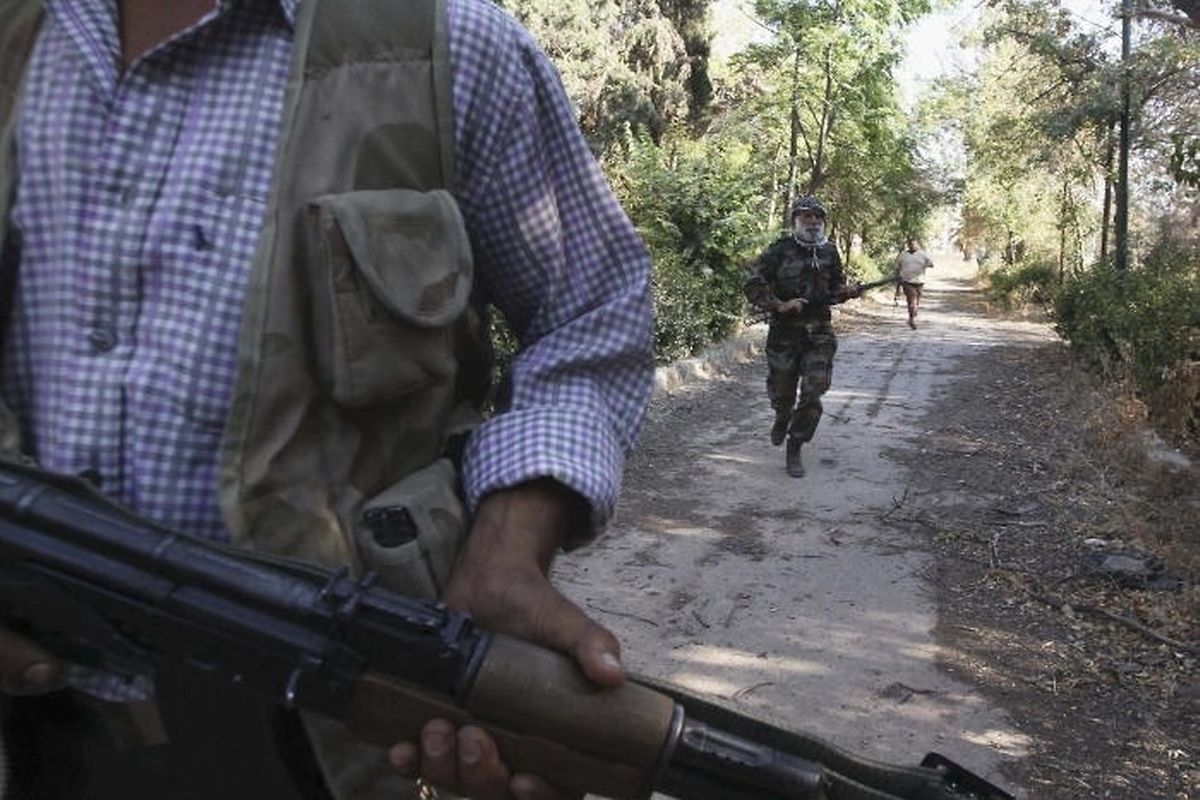 (AFP) US President Barack Obama and British Prime Minister David Cameron inched closer Saturday to attributing blame for a massive chemical weapons attack near Damascus to Bashar al-Assad's armed forces.
A Downing Street statement said the US and British leaders "are both gravely concerned by... increasing signs that this was a significant chemical weapons attack carried out by the Syrian regime against its own people."
"The fact that President Assad has failed to cooperate with the UN suggests that the regime has something to hide," it added, noting that "significant use of chemical weapons would merit a serious response from the international community."
Obama and Cameron spoke by phone and will "continue to consult closely" regarding the reported massacre, a more circumspect White House statement said, after the US president met with his top security aides.
The Syrian government and its foes, meanwhile, accused each other of using chemical weapons, as Doctors Without Borders said 355 people had died of "neurotoxic" symptoms stemming from Wednesday's incident, with thousands more being treated in hospital.
If confirmed, the attack would be the deadliest use of chemical agents since Saddam Hussein gassed Iranian troops and Kurdish rebel areas in northern Iraq in the 1980s.
Obama's talks with security advisers came a day after Defense Secretary Chuck Hagel said the Pentagon had presented options to the president and strongly suggested US forces were being moved ahead of any possible decision on taking action in Syria.
So far, despite the reports of Wednesday's chemical attack on rebel-held areas near Damascus, Obama has continued to voice caution, warning that a hasty military response could have unforeseen consequences, including embroiling the United States in another prolonged Middle East conflict.
"The president has directed the intelligence community to gather facts and evidence so that we can determine what occurred in Syria. Once we ascertain the facts, the president will make an informed decision about how to respond," a White House official said earlier Saturday.
"We have a range of options available, and we are going to act very deliberately so that we're making decisions consistent with our national interest as well as our assessment of what can advance our objectives in Syria."
Syrian opposition groups say the attack killed as many as 1,300 people and US Secretary of State John Kerry also entered the international search for an explanation from Damascus, after it emerged that he spoke to Syrian Foreign Minister Walid al-Muallem on Thursday about the incident.
Kerry sought "to make clear that if, as they claimed, the Syrian regime has nothing to hide, it should have allowed immediate and unimpeded access to the site rather than continuing to attack the affected area to block access and destroy evidence," a senior US State Department official said Saturday.
The Syrian government has denied using chemical weapons, and state television said Saturday that soldiers entering a rebel-held area had "suffocated" on poison gases deployed by "terrorists."
Obama warned a year ago that the use of chemical weapons by Assad's forces was a "red line" that could bring about a more strident Western intervention in the two-year-old civil war.
The New York Times cited a senior US administration official as saying Washington was looking at NATO's air war over Kosovo in 1999 as a blueprint for strikes on Syria without a UN mandate.
Russia, which has had a close military alliance with Damascus going back decades, has blocked UN action on Syria since the uprising against Assad erupted in March 2011.
Iran, another close ally of the Syrian government, on Saturday blamed rebels for the chemical weapons attack and warned the West against any kind of intervention.
Previous reports of the use of chemical weapons on a small scale led Washington to announce in June that it would provide military aid to the rebels, but it is still unclear what that entails.
In an interview with CNN broadcast Friday, Obama said the alleged chemical attack appeared to have been a "big event, of grave concern," but remained cautious about any US military response.
"Sometimes what we've seen is folks will call for immediate action, jumping into stuff that does not turn out well, gets us mired in very difficult situations," said Obama, who has spent much of his presidency winding down unpopular wars in Iraq and Afghanistan.
He warned that America could get "drawn into very expensive, difficult, costly interventions that actually breed more resentment in the region."