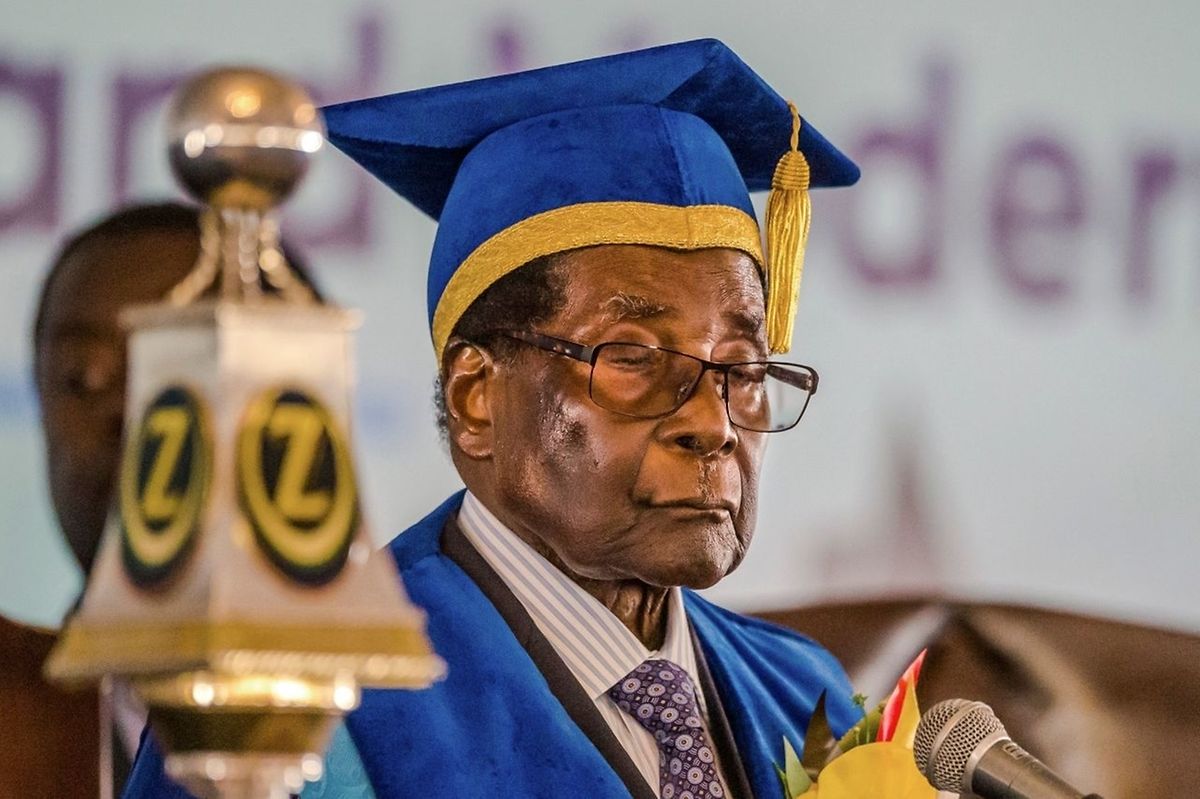 Zimbabwe's President Robert Mugabe delivers a speech during a graduation ceremony at the Zimbabwe Open University in Harare.
(Bloomberg) Zimbabwean President Robert Mugabe could be impeached if he refuses to bow to pressure to resign, according to four officials close to mediation efforts aimed at ending a political standoff in the southern African nation.
The military placed the 93-year-old Mugabe under house arrest early on Wednesday and detained top officials who'd backed his wife, Grace, to succeed him. Mugabe has been made aware he could be impeached but he initially dismissed the possibility, according to the people. He made his first public appearance on Friday after the military relaxed restrictions on his movements, attending a university graduation ceremony in Harare. He uttered a few cursory comments.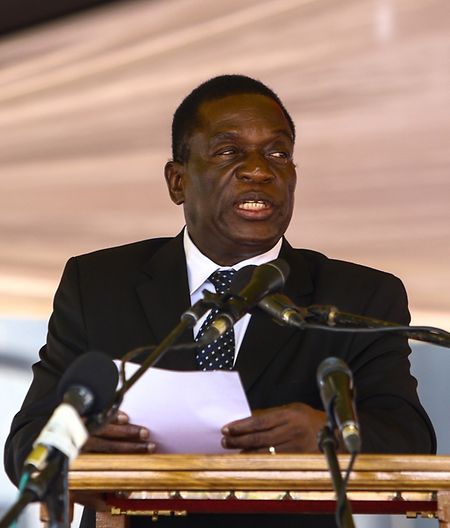 The impeachment threat was the latest pressure tactic against Mugabe, who has been in power since 1980 and is the world's oldest-serving leader. He's insisted that he remains the country's legally elected chief and refused to quit or to reinstate his fired deputy, Emmerson Mnangagwa. Defense force commander Constantino Chiwenga also has refused to yield ground, according to the officials who asked not to be identified because they weren't authorised to comment.
"This is a man who, for nearly four decades did whatever he liked," said Eldred Masunungure, a political-science professor at the University of Zimbabwe. "We have to understand the psychological trauma this must be for him. But his time is definitely up. It's not about if, but when. He knows with the loss of military support there is no way he can hang on to power."
The state-controlled Herald newspaper published photos on Thursday of some of the participants in the negotiations, showing Mugabe meeting Chiwenga at State House in the capital, Harare. Father Fidelis Mukonori, a Catholic priest and friend of Mugabe's, is mediating in the talks, while officials from neighbouring South Africa also attended.
On Mugabe's watch, Zimbabwe's economy has imploded, leaving an estimated 95% of the workforce unemployed and forcing as many as three million people into exile. The stalled talks have hindered Chiwenga's plan to swiftly install a transitional government to oversee the country until elections can be held and raised the risk of a protracted dispute that could deepen its impoverishment.
'Gucci Grace'
The military intervention followed a week-long political crisis sparked by Mugabe's decision to fire his long-time ally Mnangagwa as vice president in a move that paved the way for his 52-year-old wife and her supporters to gain effective control over the ruling party. Nicknamed 'Gucci Grace' in Zimbabwe for her extravagant lifestyle, she said on November 5 that she would be prepared to succeed her husband. The military denies having orchestrated a coup and says it is only targeting criminals close to the president who are damaging the country.
The possibility of impeaching Mugabe was discussed on Friday by lawmakers who are loyal to Mnangagwa. The grounds could include the apparent wealth accumulated by Mugabe's family, his tolerance toward corruption among his wife's closest allies and the abuse of executive authority, according to the officials. The collapse of Zimbabwe's economy, which has shrunk to half the size it was in 2000, could also be cited as a reason to dismiss him, they said.
Armed-forces generals had been planning their action for weeks but decided to speed up the timetable after Mnangagwa's dismissal, according to two people familiar with the situation and who asked not to be identified. Opposition leaders and political allies Angola and China were given some warning about the move, they said.
Mnangagwa, the fired deputy, is a leading contender to head the transitional government, which may include opposition figures, according to the people.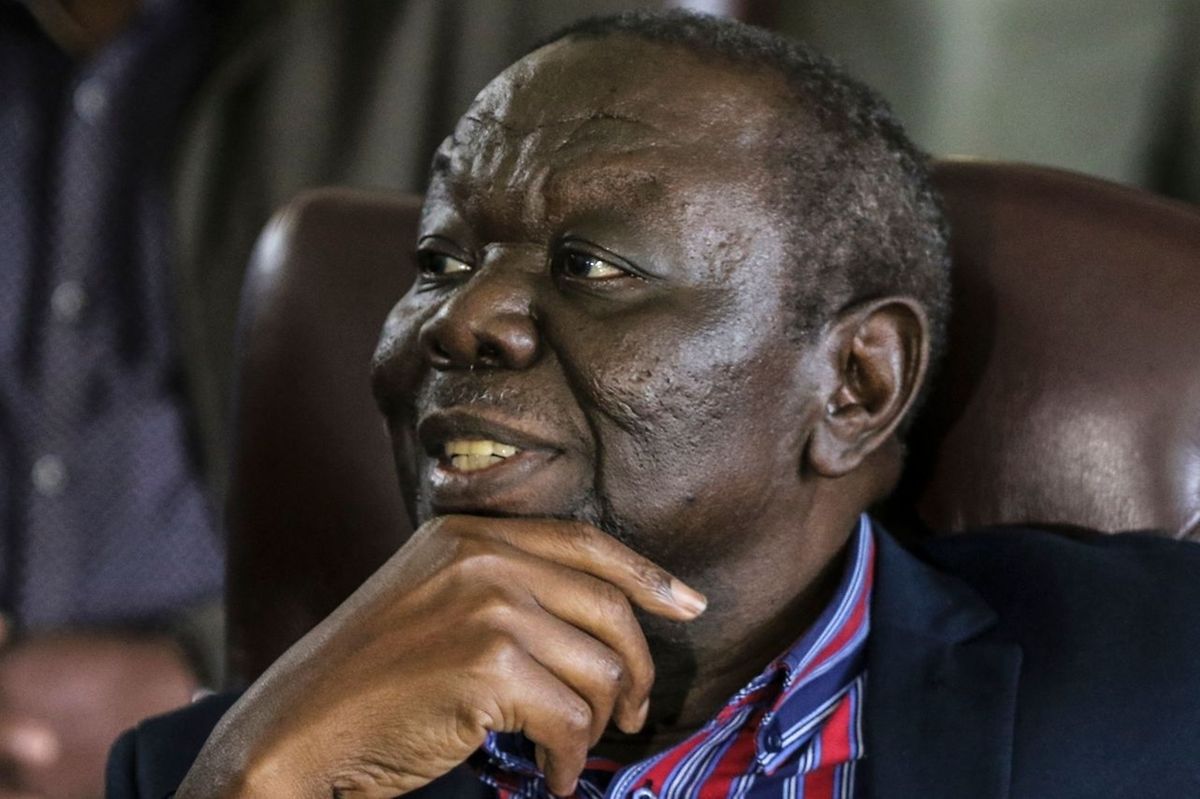 Zimbabwe's Movement for Democratic Change leader Morgan Tsvangirai.
Opposition leader Morgan Tsvangirai said he hadn't been approached by the military rulers for talks on a transitional government, adding that he's prepared to hold discussions with them.
"If we're approached, we'll participate in that, but for now nothing has been initiated," he told reporters on Thursday in Harare.
Arrest and evasion
The police and secret service, where Mugabe has allies, were excluded from the plans of leaders of the 35,000-member military, the people familiar with the situation said. A number of senior ruling-party officials, including the head of the police and the deputy director of the Central Intelligence Organisation, have been either arrested or are evading the military, the Harare-based Newsday newspaper said on Thursday morning, citing unidentified people.
Colonel Oversin Mugwisi, a military spokesman, refused to comment on the names of those arrested.
"It's clear that the Mnangagwa faction needs to get Mugabe to vacate office as soon as possible" to keep his faction from regrouping, said Daniel Silke, director of Political Futures Consultancy in Cape Town. "The pressure will be on Mugabe to announce his resignation from the top job as soon as possible.