A month with a BMW iX: "I'm considering going electric now"
A month with a BMW iX: "I'm considering going electric now"
What happened when a car lover swapped their combustion engine car for a 100% electric BMW?. Nicolas, a Luxembourg resident had use of a new BMW iX in February and told us what he thinks.
It's a good job that Nicolas loves driving, because he clocks up more than 3,000 kilometres every month. He maintained this level for a month-long test drive, including going on a family holiday to the mountains, a trip which featured driving on everything from motorways to twisting mountain roads. A motor sport enthusiast and a competition driver in his younger days, he has strong, well informed opinions on the many cars he gets to drives for his company.

Electric car? Yes. Recharging network? Could do better.
Although he was pleasantly surprised by the car (which he really grew to like), Nicolas was disappointed that the network of charging stations could be better. "Unfortunately, the world is not yet perfect," he noted. It's not so much the availability of charging points (even if in some countries it is not ideal), but the main challenge is the power of the charging points and the lack of services on site. "It isn't fun waiting for your car to charge, especially when the location offers few comforts or options for work or relaxation," he said.
Nevertheless, he has a good overall impression of the car. "Not only does the car looks impressive at first sight, but it is easy to get used to. The iX is very comfortable and is almost completely silent," he said.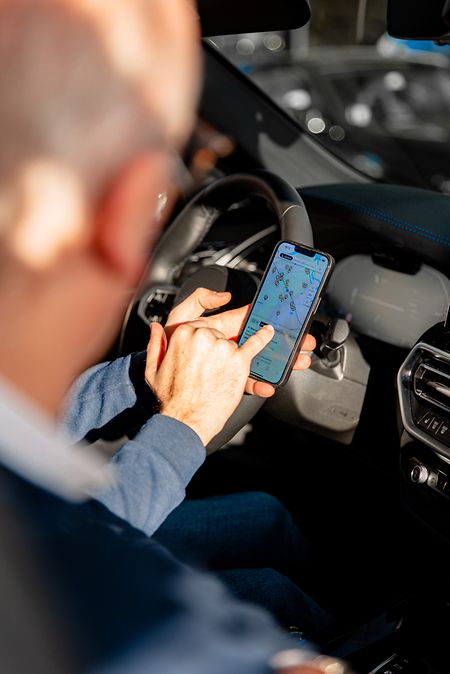 Top comfort and technology
Accustomed to the seats with side bolsters he enjoys in his BMW X5, he was delighted to find that even on winding mountain roads the BMW iX is just as comfortable and supportive. The dashboard and the digital display suited him, even if it is more sober than in his normal car.
He was particularly surprised by the quality of the lights and lighting, which made the car pleasant to drive at night and kept him from becoming tired. As well, he found that the direction control system gave an experience close to that of automatic driving, and the high quality air conditioning system with well positioned air vents was also a major plus that added to the overall comfort.
Just right for the whole family
Both his wife and children are now convinced of this electric car's benefits. "Even though my wife is used to the smaller turning circle of her Mini, she adapted quickly, enjoying the driving experience and comfort. She even said that it reminded her of being in a train without the occasional jolts," he said.
The test drive experience was also a hit with the children. "They didn't get car-sick, which still happens quite regularly in other cars, they had a lot of legroom (their knees didn't hit the front seats), and above all they had a whole range of connectivity options, which is of course important for today's youngsters."
Shall we do it again?
Nicolas is grateful to BMW for giving him a clear idea of what electric driving is all about, and giving him the opportunity to now be able to talk about it in an informed manner. At the beginning he was sceptical about electric, but after a month in a BMW iX he is ready to have a rethink "Previously, I had a generally negative attitude towards EVs. But after a month in the iX, I would be ready to switch from a combustion engine. However, I might need a model with more range, as I often make business trips of more than 300 km."
Find out for yourself about the pleasure of electric driving in your own BMW iX. See here for more information, or visit your local BMW dealer.