Your personal holiday desires will be met by Italy's coastline, lakes and rivers. Whether you are a lover of luxury, an explorer seeking out-of-the-way authenticity, or just someone wanting a beautiful place to relax, the choices are endless. This is waiting for you just a few hours drive from Luxembourg.
With 7,500km of coastline and dozens of lakes fed by fresh mountain water, Italy's landscape is shaped by water. Inland and offshore gulfs, coves and inlets, ports, as well as large and small beaches offer relaxation, or an attractive partner to a day's exploration on foot or in the saddle. Sun and water also come together to create the conditions the flavoursome ingredients that drive of Italy's unique culinary tradition.
Characterful coastline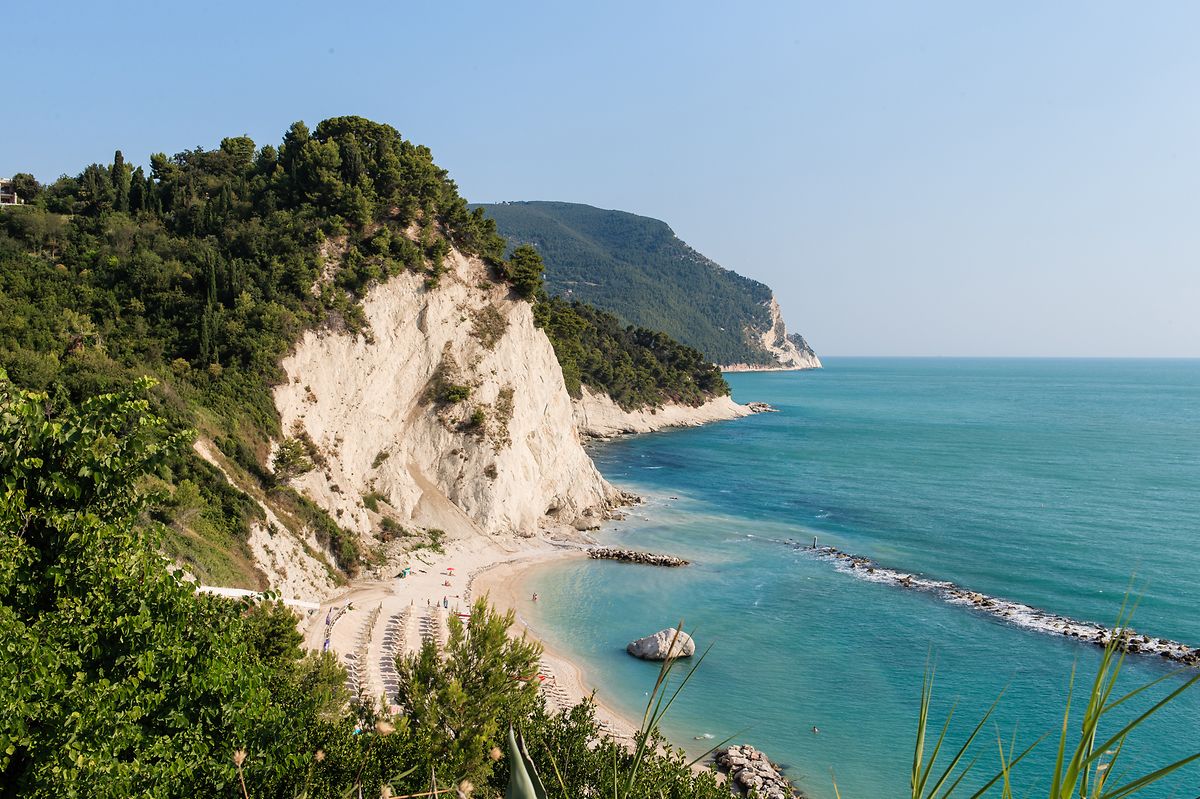 Unique coastal delights on the Conero Riveria
Conero Riviera, Marche - ©Regione Marche, Open Library ENIT
Characterful, occasionally wild coastline enriched by cultural gems await in the Conero Riviera, on Emilia-Romagna's Adriatic coast. You'll find the beauty, relaxation and uniqueness you are looking for in the dozens of pebble beaches with their unique rock formations and luxuriant vegetation. Some are accessible by road, others only by boat or footpath. Nearby are coastal villages with their unique Italian mix of history, artistic and architectural heritage, atmosphere and culinary delights. This all located just south of the town of Ancona, the ideal base from which to explore the region.

You'll need to take a boat to access Due Sorelle beach named after the "two sisters" of rock which characterize this unique location. Alternatively enjoy the charm of Portonovo, an enchanting little town with its gorgeous Romanesque church dating to the 11th century, with nearby access to characterful beaches surrounded by lush vegetation.
Siorolo's stunning location perched over-looking the sea has attracted visitors for thousands of years. Plunge into this medieval gem with its churches, piazzas and winding streets in a unique coastal setting. Nearby Numana has the Antiquarium Statale museum with its collection of treasures from the ancient world and more. There are dozens of places for you to explore and discover, including the Regional Park of Mount Conero.
Umbrian lakeland
Lake Trasimeno is your place for aquatic sports such as kitesurfing, canoeing, water skiing and sailing, and its banks are laced with footpaths, plus bike and horse trails. Located near Perugia in Umbria, on the border with Tuscany, it is the fourth largest lake in Italy. Lord Byron compared it to a "silver veil" and he is not the first poet, painter and traveler to be charmed by the location over the centuries.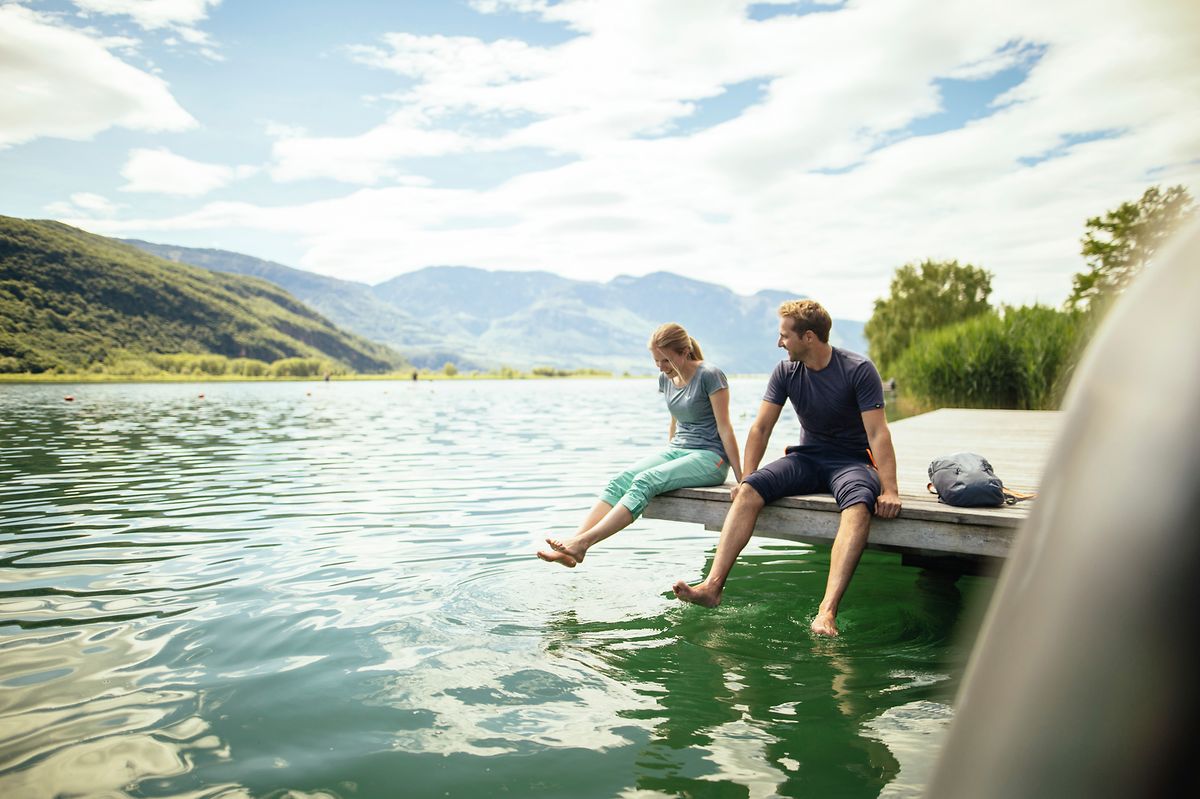 Find yourself by an Italian lake
South Tyrol - ©IDM Suedtirol, Kaltern_Benjamin Pfitscher
This natural resource has sustained towns, villages and farmland for centuries, resulting in architectural delights and lived history. Visit numerous locations on the lake side or overlooking the water from the surrounding hills. Maggiore and Polvese islands can also be visited by boat year-round.

A particular delight is to enjoy lake-fished produce, to accompany the bountiful local produce, including the region's own unique bean preparation Fagiolina del lago. Learn more about how nature and humanity have lived in harmony for centuries at the San Feliciano Fishing Museum, with the related boat museum in Passignano. There is also the Trasimeno Hills Wine Route to enjoy.
Como for luxury and more
Lake Como is synonymous with Alpine lakeside luxury and breath taking views. This Y-shaped lake is about 50km from Milan. Charming villages and towns dot the perimeter, with Bellagio, Varenna and Como itself being the most popular destinations. Interspersed between these are innumerable grand historical villas which are now feature everything from luxury hotels, museums, event locations, gardens and more. Larger and small beaches also attract those looking to relax or enjoy watersports.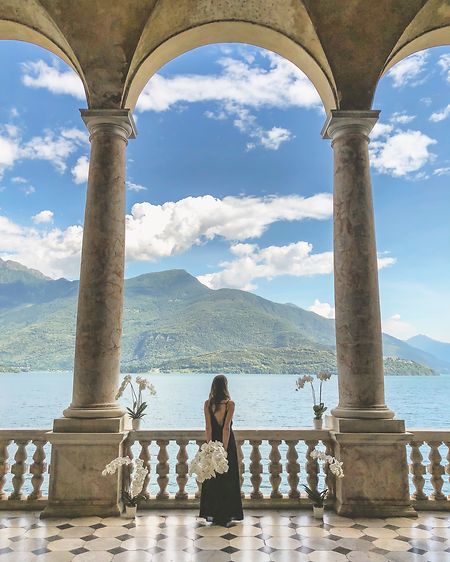 Lake Como: synomymous wth luxury
Lake Como, Gravedona Palazzo Gallio - ©Provincia di Como
Of course these landscapes have inspired their own culinary delights. Risotto and perch are combined skilfully by local chefs. The asparagus of Rogaro and Drezzo are particular favourites as is the missoltino which is based on salted, dried and flattened alosa agone fish marinated with vinegar and oil.

Go up into the nearby mountains to enjoy the views, either on foot, on mountain bike, or horseback. For the more adventurous hang gliding, paragliding, and gliding options are there. Golfers have numerous stunning courses to chose from. In Como, discover the history of luxury textile-making at the Silk Museum
Breathtaking villas, one after the other, encircle the lake. It's scenery made for boat trips as a way to access these jewels in a relaxed fashion. To the north is Ossuccio with the lake's only island Isola Comacina, with the Sacro Monte di Ossuccio, recognized as a UNESCO World Heritage Site.
South Tyrol alpine paradise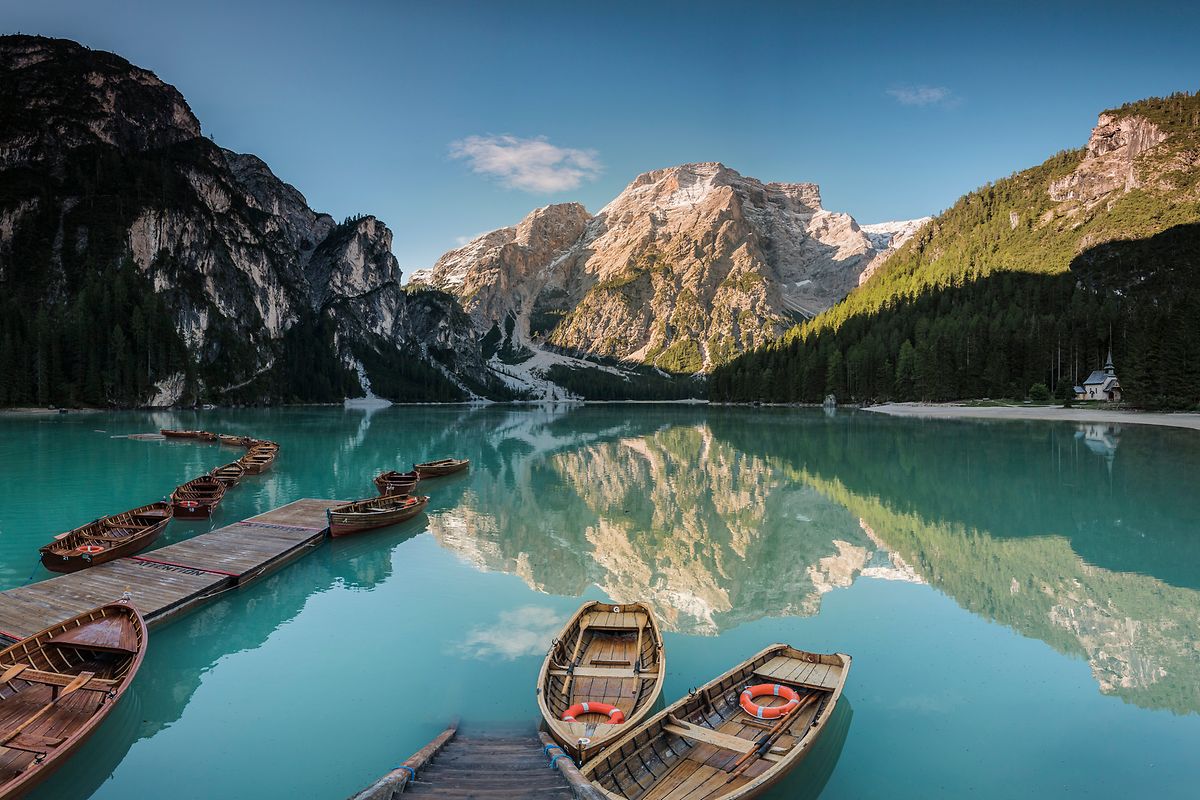 Alpine charm of Lake Braies in South Tyrol
Lake Braies in South Tyrol -©IDM Südtirol, ph. Harald Wisthaler
The South Tyrol alpine lakes offer unexpected delights as off the beaten track destinations that are easy to reach. For example the water in Lake Braies is stunningly blue, the scenery truly epic and with traditional local wooden boats for hire adding a note of charm. In the Venosta Valley you'll find a solitary church steeple emerging from the clear waters Resia Lake, against the majestic background of the wild Langtaufers Valley.

It's an area blessed with dramatic waterfalls. The 100m Parcines Waterfall is located in the Val Venosta, and can be reached by road or mountain pathway. Alternatively the Riva Waterfalls form three spectacular cascades, the first two of which are around 50 meters high. After taking walking there, why not take a zip line down in to the valley.
There is no better way to enjoy the scenery than on foot, with walks in the valleys to tours of the Alpine pastures. It's also the ideal destination for cyclists of all types: whether you fancy a relaxed trip along the valley floor or a sporty trip into the Alps.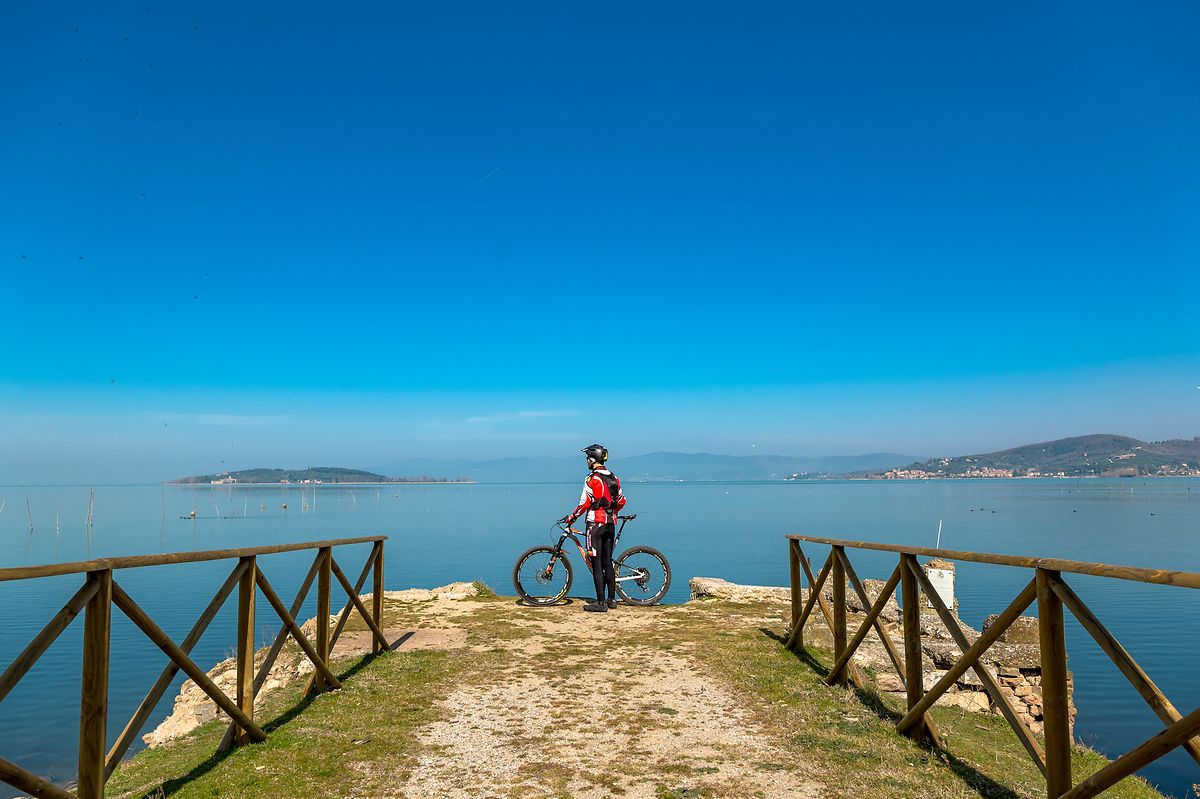 Discover your own path
Lago Trasimeno - ©Regione Umbria
For more information about Italy, see: www.italia.it and https://www.facebook.com/be.italia.it