Generation Z and how they bank.
Generation Z and how they bank.
Not every member of Generation Z is the environment-focused, digital native of the popular imagination, but this cohort does tend to be more demanding in these areas than their elders, explained Claude Hirtzig, the Head of the Retail & Professional Banking Department at Spuerkeess. Bankers have had to adjust.
Born between the late 1990s and the early 2010s, Generation Z (also known as Zoomers) are coming of age in an era when expectations about client service have never been higher. If movies, music and contact with friends can be instantly available via a mobile device, there is an expectation that financial services should be delivered as easily and as quickly.
Interest rate novelty
Explaining why life is not so simple is complicated, not least because young and old alike tend to lack basic knowledge about finance. Yet there are unique challenges when talking to someone aged 25 or less about finance. For a start, this cohort have only just started to experience rising prices and how banks pay and charge meaningful rates of interest.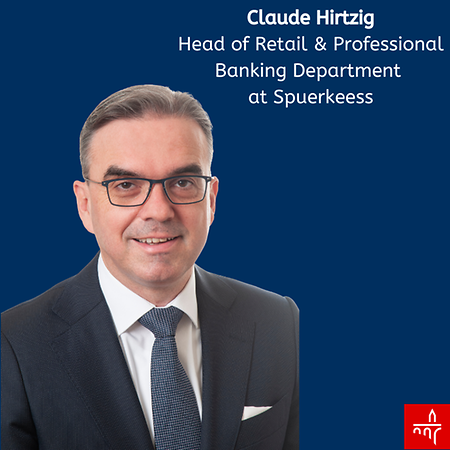 "Our advisors have noticed in recent months Zoomers questioning how it is possible that they can receive interest on their savings," said Mr Hirtzig.
Hence the amount of work to bring Zoomers up to speed is quite considerable. "This age group expects to be provided with tools that can help them manage their money and their budgets, but this also has to go with education to explain the different possibilities," he said. This is particularly the case when discussing sustainable investing options.
Demanding on sustainability
"With older generations, when they want a sustainable product and they are offered a green fund by their advisor, normally that recommendation will be enough. However, for Gen Z they tend to want more," said Mr Hirtzig. This requires a process of explaining the goal of each product, and the bank being challenged on how this is put into action. There is sensitivity to charges of "greenwashed" financial services: that is, the perception of products being fraudulently labeled as being sustainable. Ideas of green investing are very often highly personal, and this requires quite deep conversations about different strategies.
It is beneficial to start this educational journey at an early stage. Prospective parents in Luxembourg know about the Spuerkeess' "Savings Box" that is available to all newborns. It features €50 credited to a blocked savings account, €50 put into the insurance company lalux's Study Cover policy, and a further €50 lodged to an S-Invest saving account. Kids under 12 can also have a "Tweenz" savings account opened for them.
Banking proper starts at the age of 12 (that is, currently at the borderline of the Gen Z cohort) with the Spuerkeess' Axxess package. This features options for those at school, for university students and for the under 30s starting their careers. As well as preferential interest rates and lower banking fees, clients receive a range of offers from selected partners, including providers of language courses and leisure activities, the Luxembourg Automobile Club, and popular restaurant chains.
Becoming accustomed
These products help to accustom younger people with basic banking concepts, which opens their minds to conversations about more sophisticated products when they are older. "When clients turn 18, we invite them into our branches, offer explanations and invite questions," said Mr Hirtzig. Generation Z are not the only ones who can find concepts around finance somewhat confusing, but this group tends to have a unique outlook that bankers are working hard to be in tune with.