Reforestation partnership to fight climate change
Reforestation partnership to fight climate change
Fighting climate change in a collaborative effort has become a long-term commitment and contributes to reforestation efforts in Luxembourg and Bangladesh.
Through the partnership between Banque Raiffeisen, the foundation Hëllef fir d'Natur and Friendship Luxembourg, planting trees to offset CO2 emissions and engage local communities has become a collaborative effort in a common goal: combat climate change.
In partnership with the foundation Hëllef fir d'Natur from natur&ëmwelt and the NGO Friendship Luxembourg, Banque Raiffeisen has implemented a reforestation project linked to its sustainable Visa credit cards - a first on the Luxembourgish market. For each 200 transactions, a tree or mangrove is planted. By either planting mangroves in Bangladesh or trees in different areas of Luxembourg, the project advocates a long-term solution to strengthen forest ecosystems and preserve biodiversity which is in line with the bank's ESG commitments.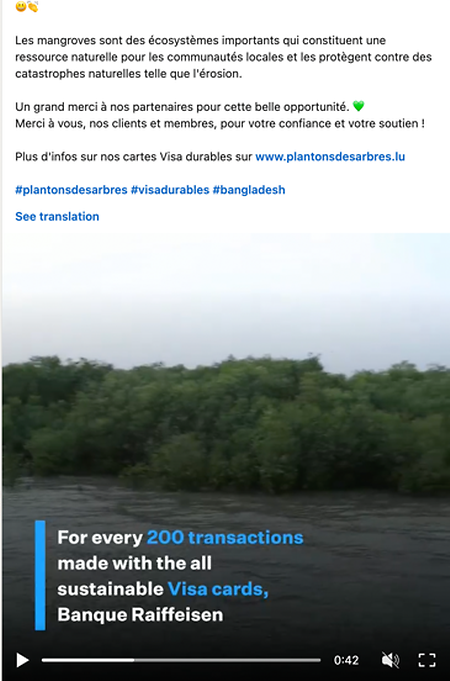 The International Day for the Conservation of the Mangrove Ecosystem raises awareness of the importance of mangrove ecosystems to support biodiversity and protect coastal communities.
https://www.linkedin.com/feed/update/urn:li:activity:6957677223717785601

The partnership that Banque Raiffeisen has established with Friendship Luxembourg and the foundation Hëllef fir d'Natur has an impact on several levels. By promoting the unique Raiffeisen visa cards launched in March 2021, they manage to raise awareness of the lack of biodiversity in spruce forests, actively combat forest damage linked to pests like the dreaded bark beetle in Luxembourg and improve soil stability in Bangladesh to protect from sea water. The partnership supports an objective that cannot be solely achieved without the intervention of the government and other actors in the market. Therefore, an additional goal is to demonstrate ways to contribute to combating the negative effects of global warming to other companies and citizens.
By taking a pioneering position, the bank and its partners have managed to prove that working on long-term solutions to combat climate change and global warming can go beyond reducing the ecological impact of a company. The campaign, initiated by Banque Raiffeisen in March 2021, has since then permitted the planting of more than 35.000 trees (by end of November 2022) in Luxembourg and Bangladesh, meaning that the objective of planting 15.000 trees per year has already been surpassed.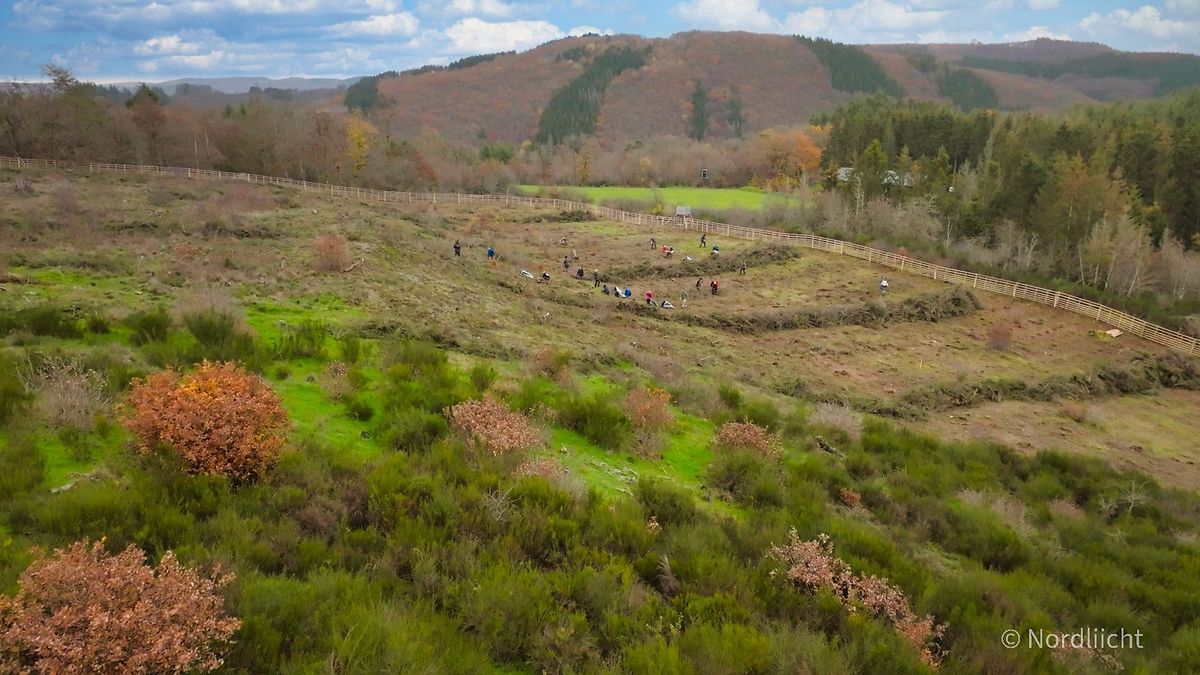 A group of Raiffeisen employees recently planted around 1.000 new trees on a plot of land near Wilwerwiltz, Luxembourg.
Photo: Sammy Pissinger
Foundation Hëllef fir d'Natur from natur&ëmwelt
The foundation Hëllef fir d'Natur is a public utility organisation, created in 1982. Its aim is to preserve biodiversity in a varied natural and cultural landscape by supporting nature conservation in Luxembourg.
Friendship Luxembourg
As one of the 20 best-practice examples of Forest and Landscape Restoration (FLR) in the Asia-Pacific, Friendship enables local communities to plant mangroves as part of their afforestation projects. The steady erosion that is linked to rising sea levels and cyclones requires new plantations to protect embankments and communities from tidal waves and storm surges.
"It was a unique experience to team up with my colleagues and our partner foundation to actively contribute to the reforestation efforts in Luxembourg. Trees give off the oxygen that we need to breathe and help to prevent the worst impacts of today's climate change.", says Sarah Melcher, Head of Retail and Corporate Communication at Banque Raiffeisen and in charge of the coordination of the communication of this project.

The visa cards that plant trees – only available at Banque Raiffeisen