A tale of three Portuguese cities
A tale of three Portuguese cities
You can fly direct and, in less than three hours, be in Portugal's capital, Lisbon, historic Porto, or Faro in the Algarve
Lisbon, set between seven hills on the atlantic coast combines city and beach life
Portugal has long had historic ties with Luxembourg, not least due to the number of Portuguese migrants who, decades ago, made the Grand Duchy their home. We take a look at three coastal city destinations you can fly to direct, for some sun, seafood and stunning architecture.
Lisbon
Set amongst seven hills, Portugal's capital is filled with colourful buildings, architectural icons and museums, with a lovely dock area for an aperitif and a train that runs to numerous Atlantic coast beaches and pretty coastal towns from Cascais to Estoril.
You can get there in 2 hours and 40/55 minutes, three days a week with Ryanair, daily with Luxair. Easyjet flies four times a week from Findel too and TAP has regular flights.
The imposing São Jorge Castle offers stunning views of the city. A Moorish castle, it was altered later, and operated as a royal palace from the 13th to 16th centuries. From its bastions, viewers can gaze upon the terracotta tiles of Lisbon, and the streets around the castle make for a pretty stroll down to Lisbon's Se Cathedral with its imposing twin bell towers.
A national monument since 1910, and the oldest church in the city, the cathedral was built in 1147, although it has been renovated and modified several times. Medieval statues, gothic arches, vaulted ceilings, and ancient cloisters await the visitor. Another religious site worth visiting is the Church of São Vicente, which was rebuilt in the 1750s after being devastated by an earthquake. Whilst the church contains the tombs of a number of Portuguese rulers, the cloisters next door have azulejos (hand-painted and glazed tiles) that cover the walls and a mausoleum containing the tombs of crusaders.
Whilst alive, the kings lived in the baroque National Palace, which also pays homage to sea-faring local hero, Vasco da Gamma. The domed roof has great views, and you'll also get even better ones from the panoramic gardens at the São Pedro de Alcãntara mirador.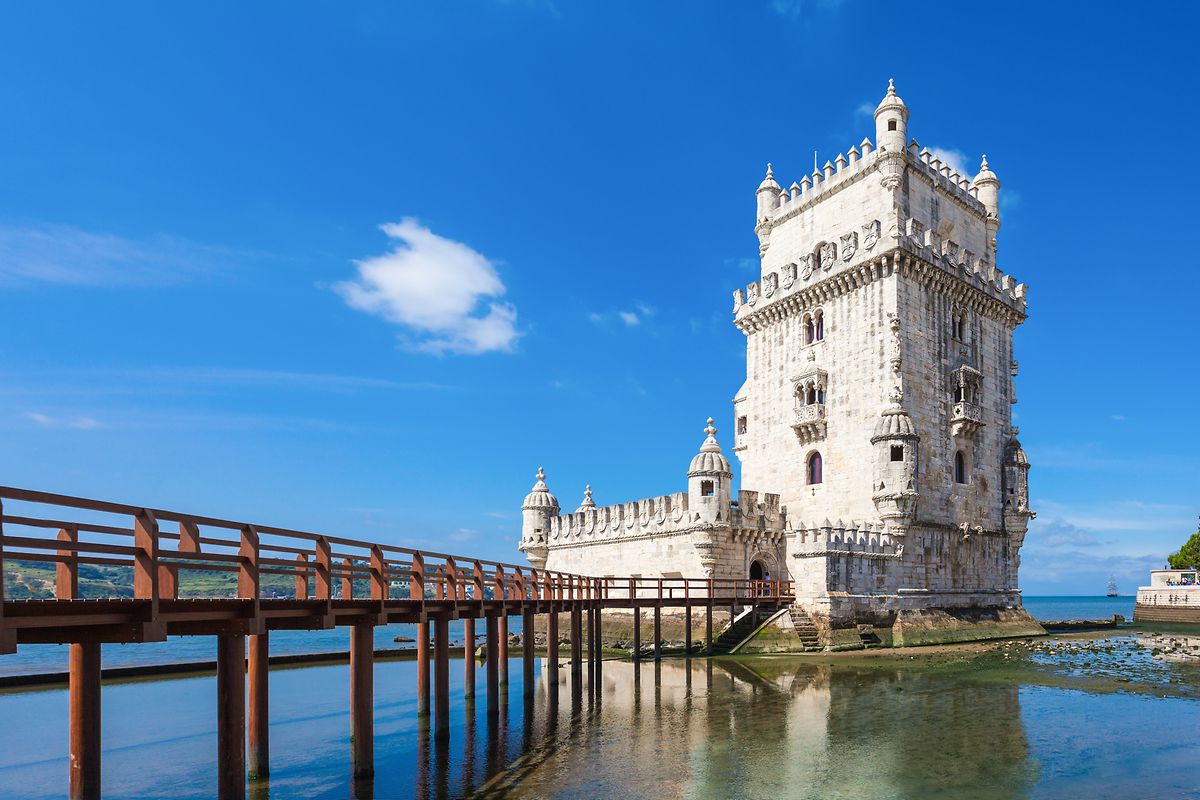 The Belem Tower, Lisbon
Photo: Shutterstock
Vasco da Gamma is buried at the gothic Jeronimos Monastery, a world heritage site that is truly spectacular to view at sunset (when the carved exterior is bathed in pink light). It's close to the Belem Tower, on the banks of the River Tagus, and views of the Ponte 25 de Abri bridge (not unlike the Golden Gate bridge). Art lovers will enjoy the Coleção Berardo modern art museum, also in Belem, with works from Picasso, Duchamp, Miro, and Warhol.
You can travel about Portugal on the tram and metro. The Expo district, Parque das Nações, has some great places for families, including the Lisbon Oceanarium, the largest indoor aquarium in Europe, and the interactive Pavilion of Knowledge, a science museum, which includes a trapeze bicycle.
Fado is a must for music lovers – and you can catch a night of Fado at a local restaurant in the Bairro Alto.
A popular day trip is to Sintra, which is home to King Ferdinand II's very flamboyant summer palace, which mixes Gothic, Moorish and Renaissance decorative styles, also a UNESCO world heritage listing. Sintra's old town is filled with narrow stairways and cobbled streets and unusual little restaurants and cafes.
Porto
Though smaller than Lisbon, Porto has plenty to do from a culture perspective and it's close to some fabulous beaches.
You can fly direct every day of the week with Luxair, Ryanair, Easyjet and TAP. Flights take about 2.5 hours.
The Ribeira district is a UNESCO world heritage site, filled with beautiful bridges, museums, churches and sculptures. You can follow the River Douro next to the Bacalhoeiros Wall, and it's in this district you'll find the Casa do Infante (Prince's house), named after an important figure to the "age of discovery", Prince Henry the Navigator, who was born in Porto in 1394. Today it's a museum and archaeological site with mosaic floors.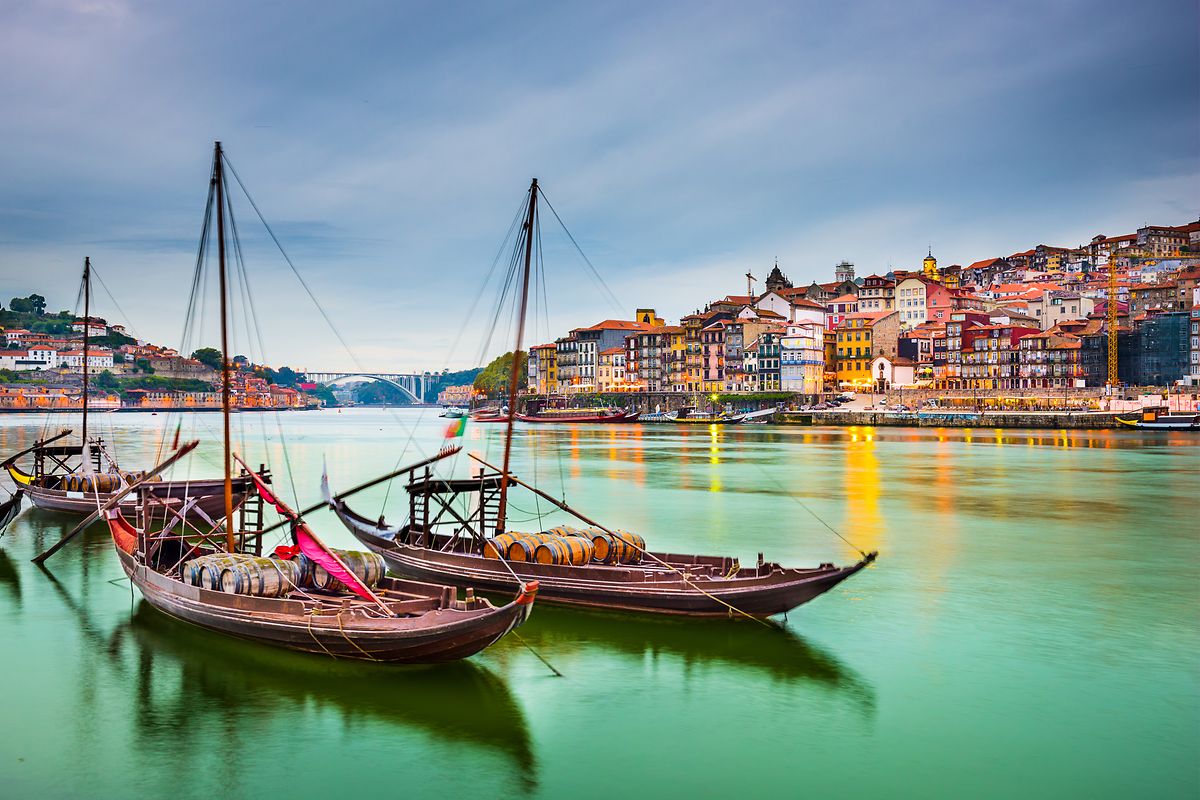 Traditional Rabelo boats with casks of port on the River Douro
Photo: Shutterstock
Foz was a 19th century seaside resort, and today still has several blue flag beaches, and lovely beachside cafes if you fancy a day sunbathing. Castelo do Queijo, or castle of cheese, is built on a huge round granite stone (hence the name). With a drawbridge, watchtowers and cannons, it's the perfect place for children to explore. In this area you'll also find the 19th century granite and hexagonal Felgueiras lighthouse that juts out into the sea and is an ideal place for a sunset photo.
Mares tidal pool in Leça da Palmeira, is an architectural feat built into the rocks that divide the land from the ocean, and filled with salt water. There are also numerous parks and gardens, including a botanical one, and the splendid Crystal Palace park which has great views across the river.
Porto's main cathedral, also a Se, was built in the 12-13th centuries with gothic cloisters, chapel frescoes and a medieval portrait of Our Lady of Vandoma, the city's patron. You'll find it in the heart of Porto's historic district. In the same area you'll find the 75m bell tower and the city's icon, Clérigos Tower. Check out the baroque motifs which date back to the 1760s, and climb the 225 steps for great panoramic views of the city.
For something a little quirkier, visit the Livraria Lello, known for its stained glass skylight and fabulous red staircase, art nouveau and gothic details. A century old bookstore, said to have inspired JK Rowling's Hogwarts.
Cross the Douro and you'll find yourself in Gaia, which in addition to lovely beaches, is famous for its port wine cellars. You can take guided tours of the Sandeman Cellars, as well as numerous other well-known port makers.
Faro
Think whitewashed stone buildings and fishing villages, and you can picture Faro. The capital of the Algarve (well-known for its beaches and golf courses), Faro is home to seafood (literally in that shellfish are farmed here), and its lagoon with a maze of waterways and islands.

You can fly to Faro five days a week (not Tuesday and Friday) with Luxair. Ryanair flies twice a week and TAP also has flights . Direct flights are between 2 hours 45 or 55 minutes.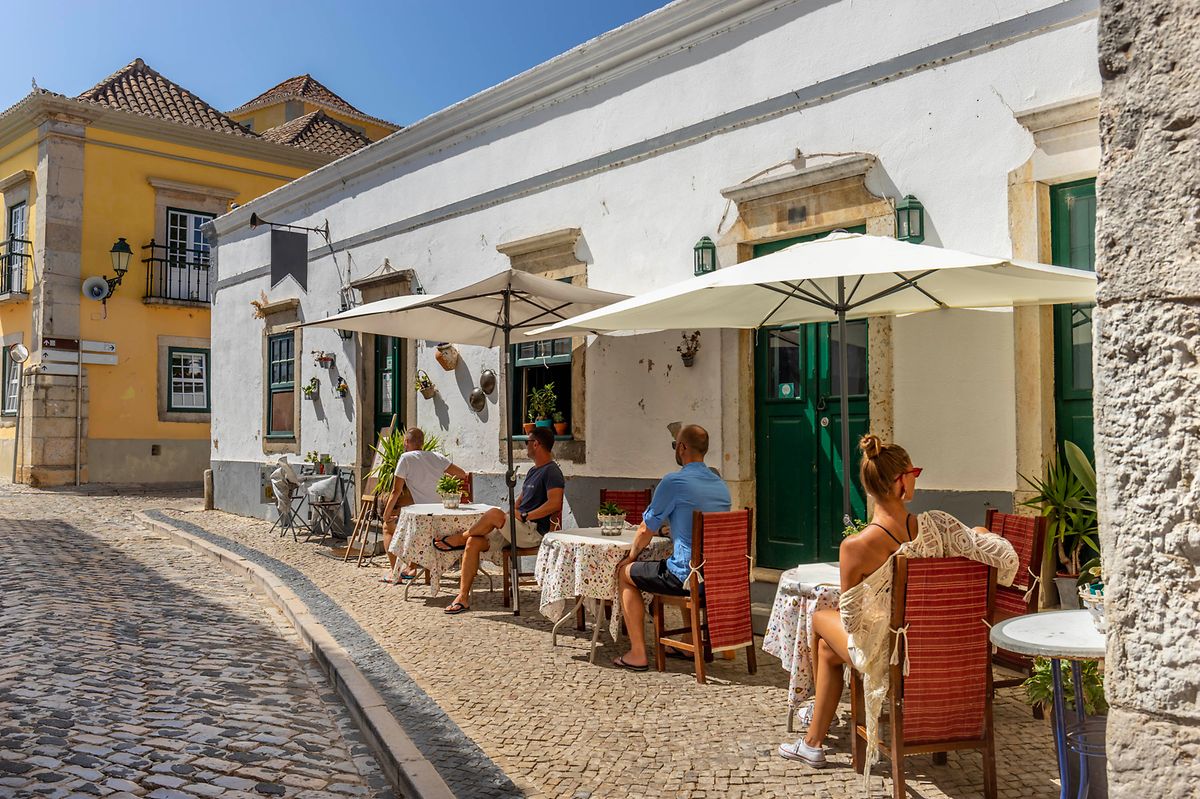 Faro's old town of white-washed houses is a lovely setting for a seafood lunch
Photo: Shutterstock
The narrow streets of Faro's old town are filled with white-washed houses, terracotta roofs, and lovely little squares. It's also where you'll find Faro's cathedral, which was built in the 13th century, although the version you see today was rebuilt in the 17th and 18th centuries. It is almost fort-like, with its gothic tower and austere white structure. Inside, you'll find a golden altar and many multi-coloured azulejos.
The Igreja do Carmo is an 18th century historical monument, with baroque architecture and gilded woodwork. The church's ossuary, Chapel of the Bones, displays the bones of more than 1,200 monks from the Carmelite cemetery, which line the walls and the vaults. You can still see the old city walls, originally Roman then fortified by the Moors, and several artefacts are on display from these times in the municipal museum.
For a glimpse of local wildlife you can take a cruise on the Ria Formosa to spot flamingos, osprey, and storks, and the farms that cultivate mussels, oysters and clams.
The lagoon's outer islands have some great sandy beaches, which can only be reached by boat. Elsewhere, many beaches can be reached by bus. Expect golden sands but rougher waves.
---
The Luxembourg Times has a new mobile app, download here! Get the Luxembourg Times delivered to your inbox twice a day. Sign up for your free newsletters here.
---