Madrid's ghost subway and Milan's canal-side bars
Madrid's ghost subway and Milan's canal-side bars
There's more than just museums to see in Madrid and Milan. Here's what you can do on a city break, plus entry requirements, what's open, and flight times
Milan's Naviglio Grande is home to multiple canal-side bars and cafes, perfect for watching the sunset
If you fancy a city break, to explore art and architecture or culinary delights, Madrid and Milan offer plenty of these, but also some hidden gems, including a ghost train station (and a tropical garden one) in Madrid. In da Vinci's town, you can follow up The Last Supper with a drink in the world's smallest bar, alongside a canal designed with help from the great man himself.
Madrid
Art and architecture buffs, and food lovers will be in heaven wandering the tree-lined boulevards of Madrid, whilst food lovers can sample an mouth-watering array of tapas.
Covid - entry requirements
You can find requirements for entry including vaccination or recovery certificates or rapid antigen/PCR tests here. Children under the age of 12 years are exempt.
All passengers arriving in Spain must fill in an FCS health control form. When you complete the form, you will be issued with a personal non-transferrable QR code which you must show at the airport health control on arrival. You may be asked to show your negative result in paper or electronic format.
What can I do?
Facemasks must be worn in all public spaces indoor and outdoor, with the exception of children under 6 years. You may not have to wear a mask if you are in a nature park or on the beach so long as the 1.5m distance can be observed.
Restaurants, cafes and night clubs are open without curfews, as are shopping malls, markets, cinemas, theatres, museums nd galleries. Sports venues have a reduced capacity.
Flights from Luxembourg with Luxair leave three times a week in February, and five to six times a week from mid March. The journey time is just under two and a half hours. Ryanair also flies direct from Luxembourg to Madrid three times a week.
Things to see and do
Famous artworks
No visit to Madrid is complete without a trip to the Prado Museum, home to Velàzquez' "Las Meninas" and Goya's "Third of May", plus works from Titian, Bosch and several Flemish and Italian masterpieces.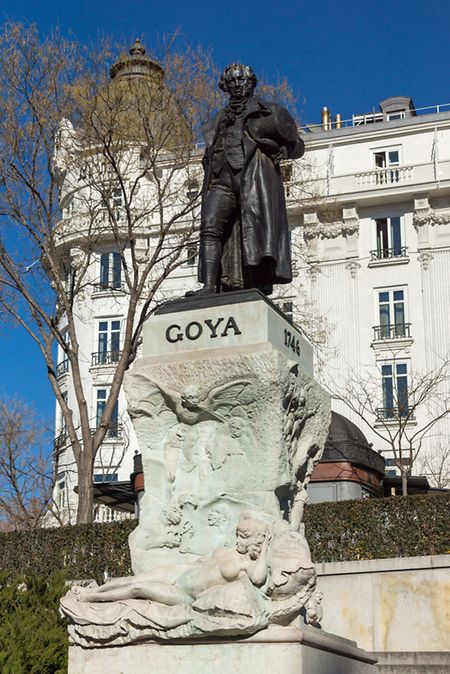 Goya's paintings are on display in the Prado Museum
Photo: Shutterstock
You'll need at least half a day to explore it, and another for Thyssen-Bornemisza, which exhibits works by Caravaggio, Van Gogh, Gauguin, Dali and Georgia O'Keefe. If contemporary art is more to your taste, then the Reina Sofia as more than 22,000 works including ones by Miró, and Picasso's famous Guernica.
Parks and quarters
If you want to relax between art critiquing, you can do so at Retiro Park or the Botanical gardens, or stop for a coffee and tapas in the Barrio de las Letras or Plaza Mayor.
Architecture
Plaza de Oriente is home to Madrid's iconic Royal palace and Teatro Real, plus the nearby Temple of Debod, reconstructed after being donated to Spain during the construction of Egypt's Aswan Dam (you can read more about this in our article on Francis Firth, currently exhibiting at the National Library of Luxembourg). All across the city you'll come across astounding architecture tucked into squares, as at the Plaza de Toros or on resplendent view such as the Cibeles Palace.
Cuisine
Near the Latina district you'll find the San Miguel Market which is lined with stalls and old taverns offering sharing tapas (raciones). You can try tapas from across Spain, including the Basque region and Galacia, but also local ones such as chickpea stew, cocido, or if you're feeling brave, tripe stewed in tomato with paprika and chorizo, in a dish called callos.
Kids
If you're travelling with younger children, Madrid still has plenty for a mini-break. The Zoo, in Caso del Campo (on the metro) has animals from five continents, whilst Faunia has some 4,000 animals in four dedicated eco-zones. For a bit of stargazing, the Planetarium has daily shows and workshops, whilst Aquopolis water park has 12 water attractions.
Something unusual
For something a bit more off the beaten track, then two of Madrid's train stations have been transformed.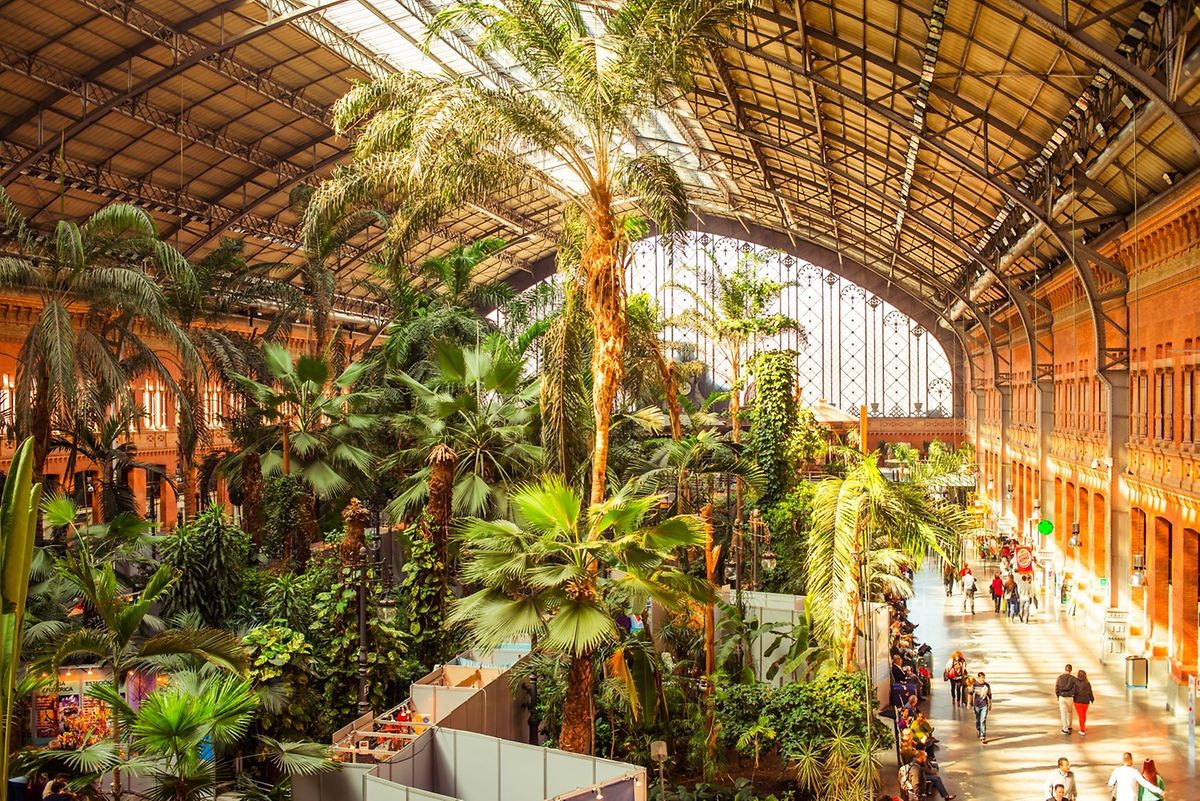 Tropical gardens inside Atocha railway station
Photo: Shutterstock
The Atocha covered train station seems more like a tropical garden than a commuter zone, where a section no longer in use now contains a garden of 7,000 plants.
The capital's first metro station Chamberi (between the Bilbao and Iglesia stops) was abandoned. Now a museum dedicated to the history of Madrid Metro, its platform zero has old ticket offices, turnstiles and maps, and all the original advertising of 1919, composed of coloured tiles.
A bronze statue of a bear on its hind legs snuffling at a tree can be found at Puerta del Sol. The bear has been a symbol of Madrid since the 13th century, although these days the real-life ones can only be found in northern Spain. Head to the Casino Gran Madrid to find a giant frog sculpture on the pavement outside. Under Franco's regime, gambling was forbidden, so to mark a return to the tables, the casino gifted the city this lucky frog.
Milan
Perhaps best-known for the city where da Vinci painted the Last Supper, as much as an international fashion capital, Milan has a lot more to offer including grand architecture, canal-side cycle routes and, of course, the famous Milanese veal cutlet.
Covid – entry requirements
Before you leave you must fill in the Passenger Locator Form before entering Italy. You can download the printed version of the Passenger Locator Form.
All full vaccinated (and boosted) EU arrivals must also present a negative antigen test (24 hours) or PCR test (48 hours), although not children under 12 years. You must also fill in a self-declaration form regardless of vaccination status. Unvaccinated arrivals must quarantine for five days and test negative before ending this quarantine. You must wear a FFP2 type mask on the flight and on public transport.
Although Milan is in the yellow zone, it's mandatory to wear a mask in public places indoors and outdoors and entry to most museums, hotels, shops and restaurants requires a vaccination where the second or third dose was administered less than 6 months earlier. Children under 12 years are exempt.
The Italian's refer to this as the Super Green Pass, but EU digital vaccination certificates are recognised. If you were vaccinated outside the EU you can check using this app.
What can I do?
Museums and other cultural institutions are open but cinemas and theatres are operating at 50% capacity. Theme parks are open but nightclubs are not.

In the summer months you can visit beaches that are a 2 hour journey from Milan, but beach resorts may require a reservation. Loungers and deckchairs must have a minimum of 1.5m between them. Swimming and surfing are allowed. Outdoor swimming pools are open but tickets must be reserved.

Flights from Luxembourg, run daily with Luxair to Malpensa Airport and take about an hour and a quarter. Easyjet fly to the same airport daily. Ryanair fly 2-3 times a week to Bergamo.
Things to do and see
Art & Architecture
The city's Duomo stands in the heart of Milan, a Gothic, 14th century cathedral, with a rooftop giving magnificient views of the city's skyline with the Alps in the background (thought to have inspired the Paramount Pictures logo). The exterior is heavily decorated and features many statues including two boxers wrestling.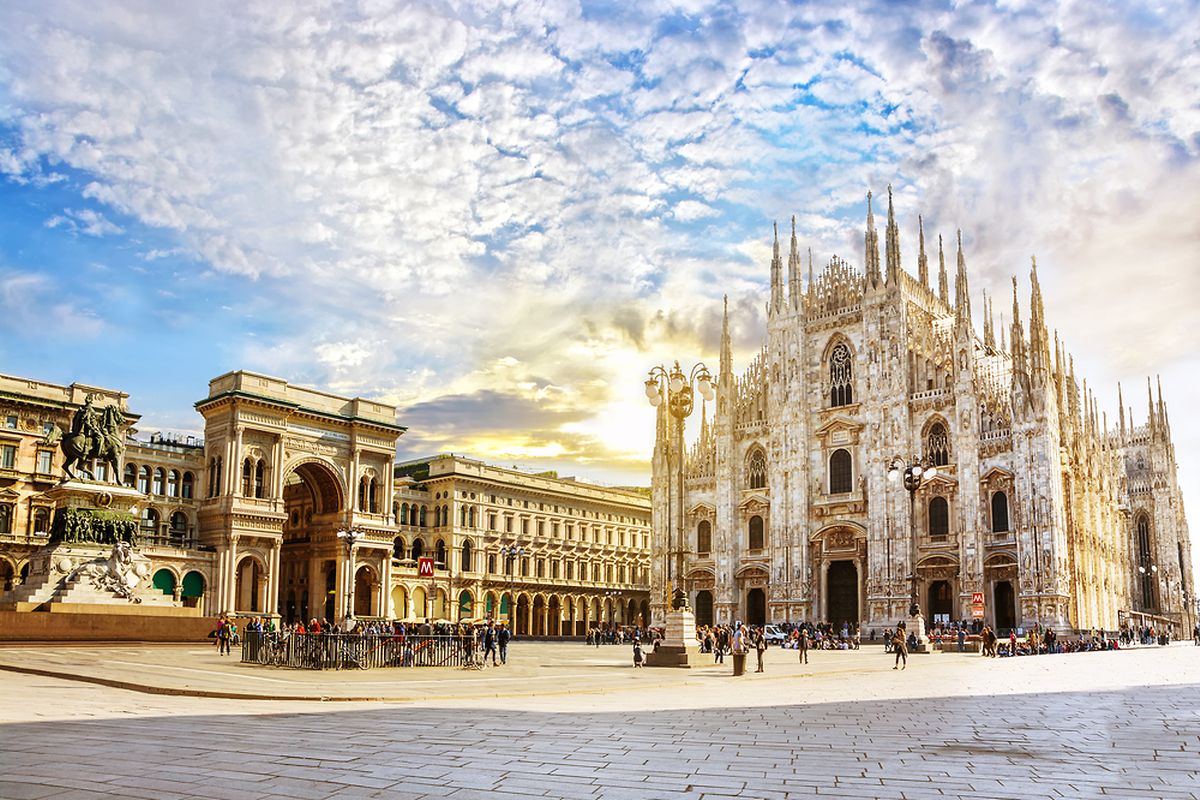 Intricately decorated, Milan's Duomo
Photo: Shutterstock
For da Vinci fans the Santa Maria delle Grazie is a must, to see The Last Supper mural, which unlike a fresco, was painted in the 16th century on a dry wall giving it greater luminosity. Unfortunately this method means it's now peeling away, and may not be here for future generations.
Flanked by a spectacular fountain, Sforzesco Castle, also in town, was built in the 15th century and houses a number of museums and artworks. The nearby Sempione Park is a good place for a stroll or break from sightseeing.
Canal life and street art
Venice is not the only city of water in Italy, as Milan had a system of navigable canals designed with input from da Vinci. Today the Naviglio Grande and Pavese are the most visited, mostly because they are filled with canal-side bars, restaurants and cafés (including the allegedly smallest bar in the world, Backdoor 43). You can also take boat tours. For some street art painted onto the facades of buildings, Port Nuova is the place to head.
Cuisine
Local delicacies include polenta and risotto with braised veal shank and Milanese-style veal cutlets. Milan also has a thriving Chinatown serving up local oriental delicacies. If you fancy a bit of exercise before you eat, you can cycle the scenic route along the canal Naviglio della Martesana, north-east of the city, past farms until you reach Gorgonzola, famed for that pungent blue cheese. There are numerous bike hire/ bike share places in town.
Nearby lakes and beaches
Lake Garda is a one-hour train journey from Milan. Italy's largest lake, fed by glaciers, you can visit the monastery founded by St Francis of Assisi on one of its islands. It's also a great place for hiking, climbing, and even windsurfing, or just relaxing in a sulphur spring.
You can drive to Bergeggi beach (a free-entry beach), known for its clear, blue water in just over two hours. If you prefer to take a train, the fishing village of Boccadasse is two hours away.
---
The Luxembourg Times has a new mobile app, download here! Get the Luxembourg Times delivered to your inbox twice a day. Sign up for your free newsletters here.
---