Two new city destinations with direct flights
Two new city destinations with direct flights
The ABBA museum or Mozart's home – discover Stockholm's archipelago and Salzburg's UNESCO baroque architecture, with direct flights from Findel
The imposing Hohensalzburg Castle is open once more to visitors to Salzburg
As flights from Luxembourg resume, this summer might be the time to discover a new destination. You can now fly direct to Stockholm and will be able to reach Salzburg in less than one-and-a-half hours from 4 July. Read on, to find out which is your ideal city destination.
Covid-19 airport measures
Special measures have been put in place at Findel Airport, including deep cleaning and social distancing reminders. New requirements include the need to fill out a notification of health status prior to boarding and public health passenger locator forms. Expect check-in and boarding times to take longer, but hopefully your holiday will be worth the wait. You can find full details of all additional measures here.
Restrictions within other countries
Remember also to check the status of arrivals to any destination, in case there are quarantine rules or additional safety measures of which you should be aware. In addition, travel within a country may be restricted, and of course, not all tourist attractions may be open.
Entry to and vacation information for Stockholm.
Entry to and vacation information for Salzburg.
Stockholm
Sweden opted not to lock down in the same way as Luxembourg, so risk of infection could be higher, although fatality rates per 1000 people due to Covid-19 remain lower than in the UK, Italy and Spain.
There were some restrictions put in place and you will find that certain museums and sights are still closed, including the Vasa museum, the Royal Palace (although you can take a drink on the terraces) and the famous Gröna Lund amusement park.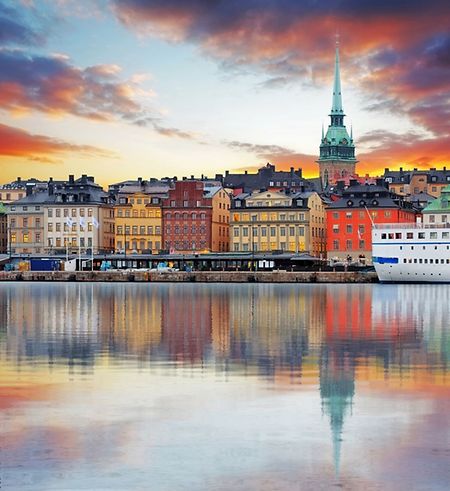 Boat tours are operating under special conditions and museums are opened, many with timed tickets Photo: Shutterstock
However there's still plenty to see and do. The Modern Art Museum reopens on 16 June and temporary exhibitions like Walid Raad's "Let's be honest, the weather helped" can be viewed (social distancing rules apply) whilst children's activities are held outside. Permanent exhibits include works by Picasso, Matisse and Dali.
Located on the island of Skeppsholmen, the museum restaurant overlooks the Djurgarden. Not far away, you'll find the Nordic Museum, also open, which provides a full cultural history of Sweden from the 16th century on, including traditional costumes and exhibits on Sweden's indigenous people, the Sami.
If you're feeling nostalgic for the 1970s, then the ABBA museum is open. You must purchase tickets online, and you can download audio guides to your mobile. It's only open at weekends from 11.00 to 16.30, but it's full of the band's memorabilia including Benny Andersson's piano and an exhibit that allows you to relive ABBA's 1974 Eurovision song contest win with "Waterloo".
The waterside area of Södermalm is home to the Fotografiska museum. Located in an old wharf, the photography museum is open from Thursday to Sunday 10.00 until 23.00. Groups of 25 people at a time will be able to visit for up to 90 minutes. You can book your slot online. Current exhibitions include Lauren Greenfield's "Generation Wealth," and a photographic journey through space and time with the Hubble Telescope. Across from the museum you can take a coastal path that provides fantastic views of the city.
You can take a self-guided tour on foot of Stockholm's medieval centre, Gamla Stan, which covers three islands (two are very small). The space is filled with shops and cafes and the eastern area of the old town still retains its cobblestone lanes. If you can squeeze through the passageway Marten Trotzig Grand, which at it's narrowest point is just 90 cm wide, you've survived lockdown without too much weight gain.
The Stockholm Archipelago consists of some 24,000 islands and there are boat tour providers who can take you to some that are uninhabited wilderness. Birch Island was an important trading place for Vikings and the city of Birka is a UNESCO World Heritage Site. You can take a tour of it and learn about Viking traditions and daily life.
Boat tours are operating under health guidelines. You can find more information on which tours are operating and book tickets online here.
Direct flights with Luxair go to Stockholm four times a week and take about 2 hours 45 minutes of flight time.
Salzburg
Mozart's city has one of the best-preserved old towns in Europe filled with baroque architecture. That makes it, like Lux City, a UNESCO World Heritage Site.
Hohensalzburg Castle, with its baroque towers, is an impressive fortress that sits atop Festungsberg Hill and has been a seat of rulers for more than ten centuries. You can visit it, so long as you ensure you wear a mask or cover your nose and mouth with a scarf. Tickets vary in price depending on whether you want to see the marionette museum and magic theatre (an electronically animated historical exhibition) contained inside, and if you choose to take the short funicular ride to the entrance or go by foot (20 minute walk up hill).
The old town area is filled with historical buildings, squares and side-streets, exhibiting magnificent medieval and baroque styles of architecture. If you're passing by Makartplatz, consider a visit to Mozart's residence (not the place he was born, which you can also visit). A reconstruction of the original, which was destroyed during the Second World War, it's now a fantastic museum giving a detailed insight into the great composer's life and family. In June, it's open Friday to Sunday, but in July and August it's open daily.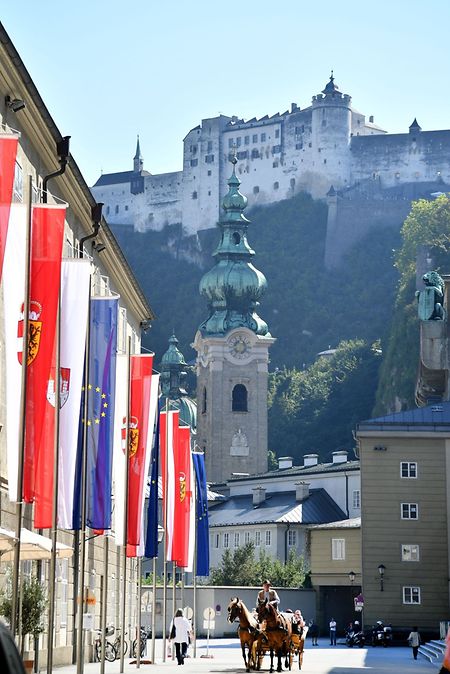 Take a carriage ride to appreciate Salzburg's baroque architecture Photo: AFP
A must see is Domplatz, where you'll find the domed Salzburg Cathedral and St Peter's Abbey. The early baroque building, flanked with two bell towers, is made from Untersberg marble. Joseph Mohr (who wrote the famous Silent Night carol) and Mozart were both baptised here, and you'll find a museum full of art treasures from the 14th century onward. Admission is free or you can opt for a ticketed guided tour. St Peter's Abbey holds the oldest library in Austria, and originates from 696. Today's building is in Romanesque and Renaissance style, ornately decorated and filled with paintings.
For something different, try the Sound of Music museum (which is due to re-open on 3 July), which exhibits photos of the shooting of the film plus the true story of the von Trapp family. The Toy Museum takes a historical look at games and toys through the centuries and decades. There is a hands-on area to this museum, but check in advance that it is open.
You can find a full list of museums that are open already, and those that will be opening soon, together with re-opening dates, here.
Out of town near Hellbrunn is the Salzburg Zoo, home to 140 species of animals including red pandas, rhinos, lions, snow leopards and two-toed sloths. The play areas are also open, but parents are expected to wipe down or disinfect equipment themselves. Bus line 25 takes you there from Salzburg's main bus station.
Direct flights will start operating to Salzburg from 4 July on Wednesdays and Saturdays, with a flight time of approximately 1 hour 25 minutes (Luxair). You also can fly with Lufthansa, with a stop at Frankfurt (Lufthansa flights are due to resume from Findel on 15 June).
---
Get the Luxembourg Times delivered to your inbox twice a day. Sign up for your free newsletters here.
---