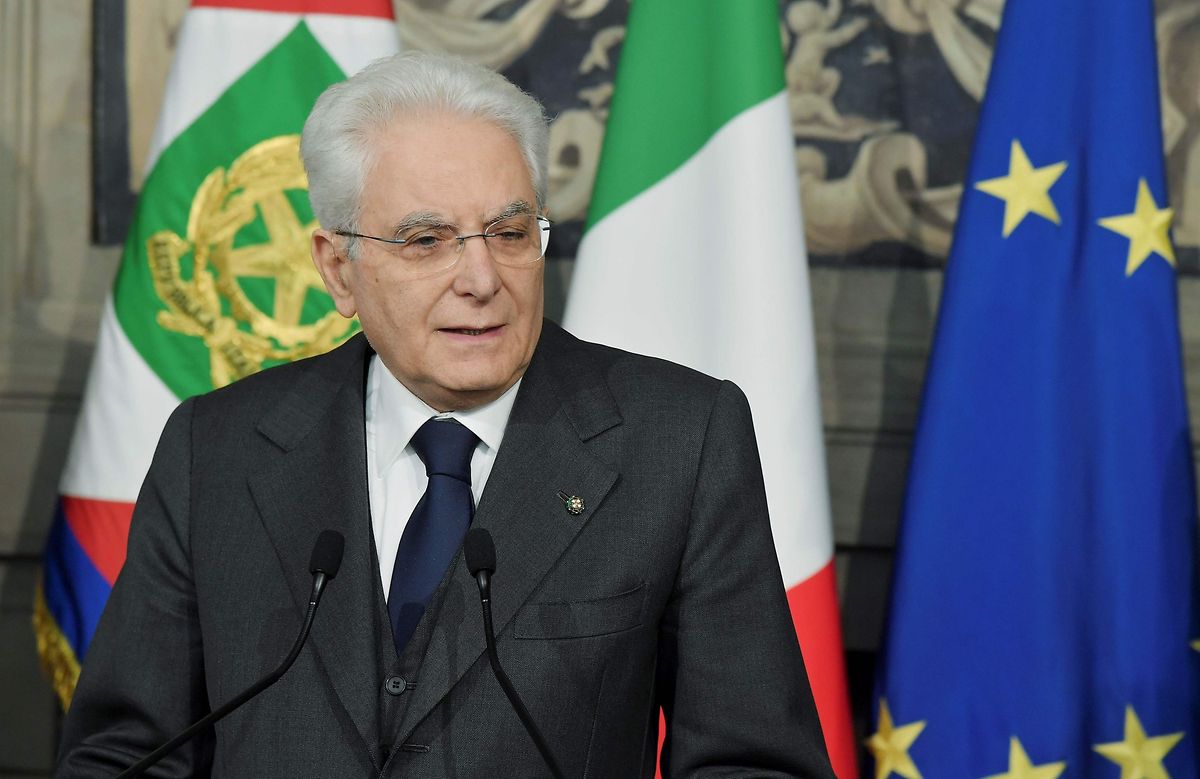 Seven weeks after general elections, President Sergio Mattarella is expected to announce his next move as early as Monday (AFP)
Billionaire ex-premier Silvio Berlusconi flew in by helicopter, twice in a week.
His less affluent allies and rivals took to their cars to brave the roads of the mountainous southern Molise area – it doesn't have a motorway.
Italy's political leaders, from Matteo Salvini of the eurosceptic League to Luigi Di Maio of the anti-establishment Five Star Movement, have been making a beeline for tiny Molise on the campaign trail for Sunday's regional elections.
Never has Italy's second-smallest region seen so many leaders devote so much time to it.
Party leaders are banking on victory there, and in the northern Friuli-Venezia Giulia region on 29 April, to strengthen their hand in the government talks dragging on at national level.
"Let it be clear to everyone, that if we win in Friuli and in Molise, within 15 days we'll have a government," Salvini proclaimed to applause at a rally in Molise on 16 April.
Newspaper Corriere della Sera headlined that Molise was Italy's Ohio, as if it was a vital swing state.
The political pilgrimages are an indication of the paralysis, even desperation, of efforts to tease a government out of a hung parliament back in Rome.
Seven weeks after general elections, President Sergio Mattarella is expected to announce his next move as early as Monday with Salvini and Berlusconi at odds over working with Five Star, and Five Star refusing to talk to Berlusconi.
Bronze bells
Locals in the hilltop town of Agnone (population: 5,000), a three-hour drive southeast of Rome, are not impressed by the visitors.
"The politicians are putting Molise on the map, which is good, but we're a small area, it's an exaggeration to claim victory here will help them form a government," said Paola Patriarca, 53, who has worked since the age of 20 in the town's claim to fame – the Pontifical Marinelli Foundry, Italy's oldest family business, which has been making bronze bells since around the year 1,000.
"The politicians are playing for time, they should focus on getting a government going," added Patriarca, who makes wax decorations for the bells, melting the wax over a medieval-like charcoal brazier.
She'll be voting for the centre-right on Sunday, but only because a cousin is a candidate; she spoiled her ballot in the last elections because no party inspired her.
A motorway
Her husband Armando Marinelli, 57, who owns the foundry with his brother Pasquale, will vote centre-right because he wants better roads – including a motorway – lower taxes and less bureaucracy to boost small businesses like his.
The population of Molise has fallen by a quarter since the 1950s to just over 300,000 people as towns and villages lose especially their young; youth unemployment is just under 50%.
Gross domestic product per head, at about €19,000, is almost a third below the national average.
In the Piazza Plebiscito in Agnone's historic center, a B&B, a restaurant and a tobacconist's have all closed since the start of the year.
"The parties want clear victories in Molise and Friuli to give them more clout in the government talks," said Fabio Bordignon, a political science professor at the University of Urbino.
"Salvini's hoping not only the centre-right will win, but also that his League party will eclipse Berlusconi's Forza Italia. For Five Star, Molise would be their first region."
Tight race
Five Star won with 45% of the vote in Molise in the 4 March general elections, but opinion polls ahead of the regional ballot show the centre-right neck-and-neck with Five Star.
Business accountant Donato Toma, 60, the centre-right candidate, heads an alliance of no fewer than 12 parties since Five Star doesn't join electoral alliances, either at local or national level.
Toma's programme includes better spending of state and European Union subsidies, boosting female employment and curbs on immigration.
"Berlusconi and Salvini are just exploiting us," said Five Star candidate Andrea Greco, 32, who was born in Agnone. "They've never given a moment's thought to my region before. Never."
His priorities are to cut the salaries and privileges of regional officials by €4 million a year and use the funds to lend money to struggling firms and boost public health services.
At the Komby Irish pub on the high street, owner Mario Catolino, a 44-year-old former police officer, has given up on Berlusconi – "he only worked for entrepreneurs and ignored the rest of the country" – and now backs Five Star.
"Five Star are the only ones who want to change the politics of corruption, of jobs for the boys," he said.