Comey: Trump 'morally unfit' to be president
Comey: Trump 'morally unfit' to be president
Excerpts of James Comey's book already widely reported, prompt president Donald Trump and his conservative allies to launch furious attack on Comey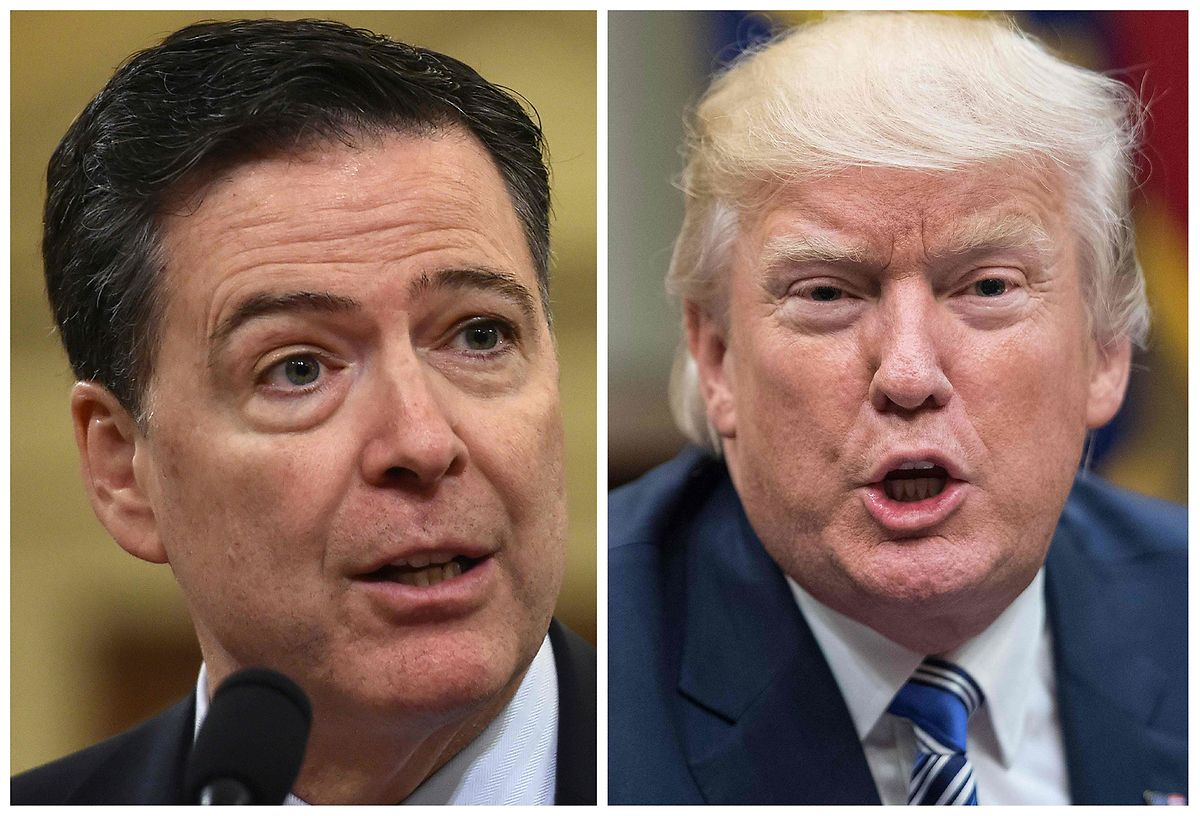 Former FBI Director James Comey and US President Donald Trump (AFP)
Donald Trump is "morally unfit" to be president, former FBI Director James Comey said in a highly anticipated prime-time interview Sunday, adding that he couldn't rule out the possibility that the Russian government has incriminating information about the president.
"I think it's possible. I don't know," Comey said in the ABC News interview when asked whether Trump has been "compromised" by the Russians. "These are more words I never thought I'd utter about a president of the United States, but it's possible."
Comey said that he had concluded during the presidential campaign that Trump was dishonest. Americans should be united, he said, in the idea that "our president must embody respect and adhere to the values that are at the core of this country. The most important being truth."
"This president is not able to do that. He is morally unfit to be president."
The comments were made in Comey's first interview since writing his book, "A Higher Loyalty: Truth, Lies and Leadership," which is scheduled for release Tuesday.
Excerpts have already been widely reported, prompting President Donald Trump and his conservative allies to launch a furious attack on Comey.
"Slippery James Comey, a man who always ends up badly and out of whack (he is not smart!), will go down as the WORST FBI Director in history, by far!" Trump said on Twitter early Sunday.
Trump fired Comey in May, an action that helped lead to the appointment of Special Counsel Robert Mueller. The investigation by Mueller into Russian interference in the 2016 election is reviewing whether Trump obstructed justice by firing Comey, and through other actions.
Comey, who ran the Federal Bureau of Investigation for almost four years, portrays the president in the book as a liar, dumb and rude, and he compares elements of Trump's behaviour to that of a Mafia boss.
Encounters with the president, Comey wrote, gave him "flashbacks to my earlier career as a prosecutor against the mob. The silent circle of assent. The boss in complete control. The loyalty oaths. The us-versus-them worldview. The lying about all things, large and small, in service to some code of loyalty that put the organisation above morality and above the truth."
Comey also said that he doesn't know if some salacious accusations in a controversial dossier on Trump are true. He said Trump repeatedly asked about its unverified allegation that Russians had video footage of a 2013 encounter with prostitutes in Moscow.
The thought of having dinner alone with Trump at the White House made Comey "deeply uncomfortable," he wrote, because he feared that the president wanted to compromise the FBI's integrity and independence and was waging "an effort to establish a patronage relationship" with him.
The Republican National Committee has started an effort to discredit Comey on social media, in digital advertising, and through a website, lyincomey.com.
House Judiciary Chairman Bob Goodlatte, a Virginia Republican, said on Fox News Channel on Sunday that Comey was "out for reveng" against Trump.
But House Speaker Paul Ryan said Sunday that Comey was a man of integrity "as far as I know," while adding that "I don't know the guy."
Asked whether Comey is someone he would describe as a "slime ball" -- a term Trump has used twice in tweets -- Ryan said in an interview broadcast Sunday on NBC's "Meet the Press" that "I don't speak like that. I don't use words like that".