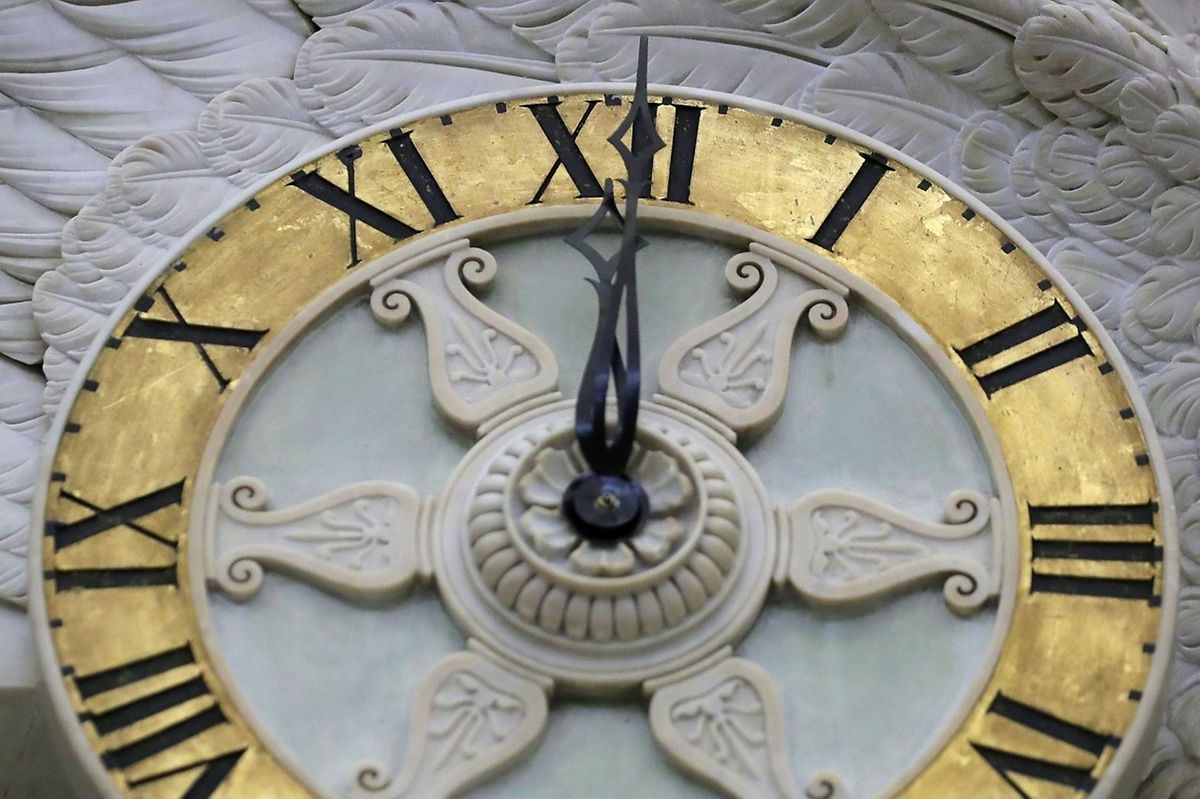 The office of management and budget said in a statement it was preparing for a lapse in appropriations (AFP)
The US government entered a partial shutdown as Congress missed a midnight deadline to pass spending legislation because of a Republican senator's objections, but the lapse may last only a few hours as the House and Senate plan votes early Friday morning.
There still are risks because of opposition in the House from conservative Republicans and some Democrats to the two-year budget agreement, which will allow an additional $300 billion (€244 billion) in spending for the next two years. The bill also would fund the government on a short-term basis until 23 March, and would suspend the federal debt limit until March 2019.
The shutdown drama played out on the same day that the US stock market tumbled — with the S&P 500 losses of 10% since a 26 January high signaling a correction. But if there were fears that a US government shutdown, however brief, could contribute to volatility in the market, they weren't enough to persuade GOP Senator Rand Paul or a sizable number of House Republicans and Democrats to say they would vote for a plan to keep the government open.
The Senate was waiting until 1am to take a procedural vote because Paul denied the unanimous consent needed to act sooner. The Senate then could pass the bill at about 2am, and the House plans to follow sometime between 3 and 6am, if not earlier.
The office of management and budget had said in a statement on Thursday evening that it was preparing for a lapse in appropriations. If the House keeps to its schedule, funding could be restored by the time government workers arrive at their jobs and financial markets open.
"The outcome will not be any different" than if the Senate had voted during the day Thursday, second-ranking Republican John Cornyn of Texas said on Senate floor Thursday after Paul rejected his effort to move the vote up.
Paul kept the Senate tied up for hours, arguing against lifting limits on defense and non-defense spending.
Deficit concerns
"If you were against President Obama's deficits and now you're for the Republican deficits, isn't that the very definition of hypocrisy?" he said.
In the House, speaker Paul Ryan emphasised the agreement's increased funding for the Pentagon to assuage the concerns of Republicans who've said they'll vote no because it also raises spending on domestic programs. Ryan's intention to bring up an immigration bill "that the president will sign" fell short of demands from Democrats for an open debate on competing proposals.
"We must pass this budget agreement first, though, so that we can get on to that," Ryan said of immigration legislation. "So please know that we are committed to getting this done."
Democratic votes
Although Republicans have a 238 to 193 majority in the House, the Freedom Caucus, which numbers about three dozen Republicans, announced they would oppose the accord. That means Ryan and his allies likely will have to rely on support from some Democrats.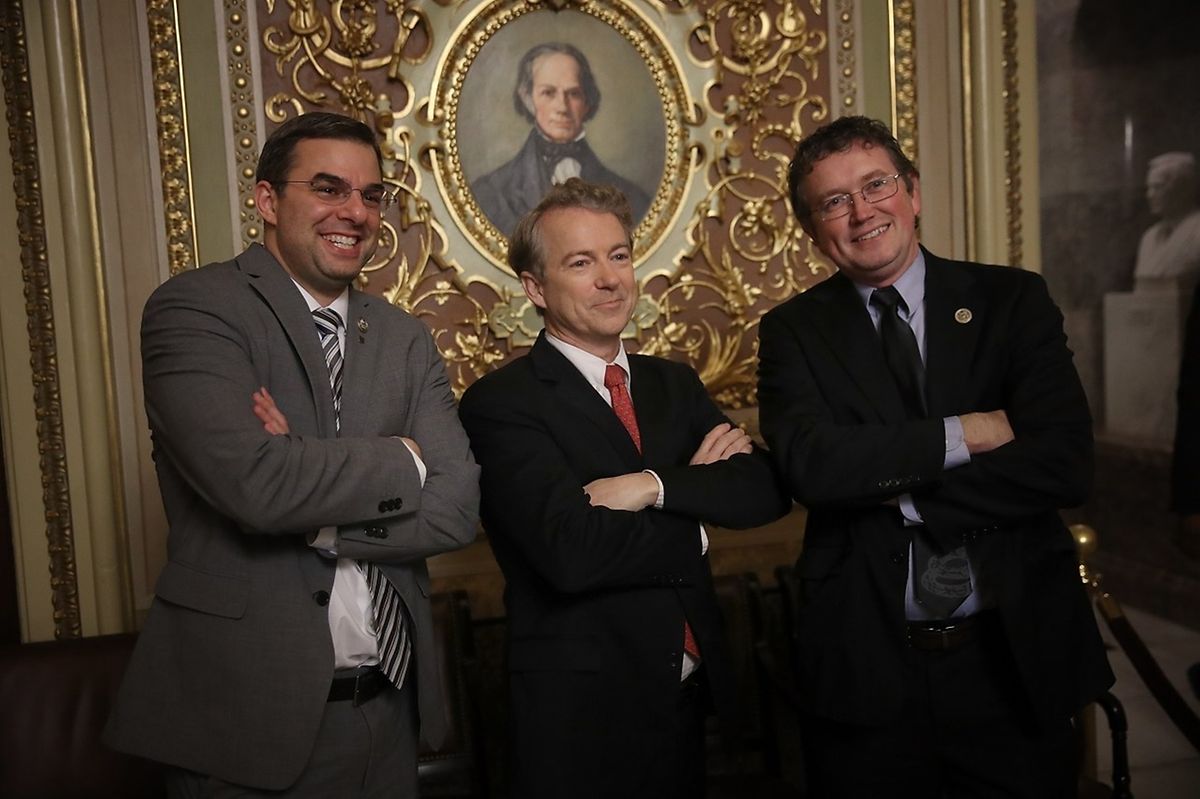 Senator Rand Paul (C) takes a brief break from the floor (AFP)
Democratic leader Nancy Pelosi, who emphasised her opposition with an unprecedented eight-hour address on the House floor on Wednesday, said she won't vote for the budget deal without a firm commitment from Ryan on immigration. Nonetheless, she called it "a good bill".
"Im pleased with the product, I'm not pleased with the process," she said on Thursday at a news conference. Asked whether she's pressing House Democrats to vote against it, Pelosi said, "I'm just telling people why I'm voting the way I'm voting."
The House Democratic leadership team sent a notice to members, obtained by Bloomberg News, saying that the deal fails to provide a path to legislation that would protect young undocumented people from deportation and urging them to vote against it.
Senate unity
Lawmakers from both parties will be picking over the agreement with an eye on how it might play in congressional elections coming in November. President Donald Trump backed the deal, which may give cover to Republicans concerned about adding to the budget deficit in an election year.
It's filled with long-stalled or long-sought priorities for both sides. Republican defense hawks get more funds for the military, while Democrats get extra money for domestic priorities like combating opioid addiction, the National Institutes of Health budget and community health centers. The agreement also repeals a piece of Obamacare – a Medicare cost-cutting board aimed at ensuring the program's long-term solvency. And it would provide $90 billion in disaster assistance for California, Texas, Florida, Puerto Rico and the US Virgin Islands.
The bill authorises the sale of 100 million barrels from the Strategic Oil Reserve to pay for some of the new spending, and raises customs and airport security fees in the next decade. It also renews a number of expired tax breaks for calendar 2017 including for cellulosic biofuel, while extending a nuclear power tax credit that was scheduled to expire so that it is available after 2020.
The measure would temporarily finance the government at current levels through 23 March while lawmakers fill in the details on longer-term spending.
Although Pelosi was part of the bipartisan negotiations that led to the agreement, she said she wants from Ryan what Senate Majority Leader Mitch McConnell promised Democratic leader Chuck Schumer: an open process for immigration legislation, particularly protections for so-called dreamers, the young immigrants covered under the Deferred Action for Childhood Arrivals program that Trump is ending.
It was unclear how many Democrats would support the spending bill without such a promise from Ryan, but Representative Mark Meadows of North Carolina, the Freedom Caucus chairman, estimated that about 50 may be needed to make up for GOP defections and ensure passage.
Immigration demands
Representative Luis Gutierrez, an Illinois Democrat urging his party to kill the bill unless it includes a solution for dreamers, said party leaders weren't making an all-out effort to withhold Democratic votes. But he said that if it passes, "all the leverage is gone" to force a DACA fix.
Republican Representative Charlie Dent of Pennsylvania said the fight to keep the government funded shouldn't turn on immigration.
"I support getting DACA done too but people should vote for it based what's in the deal, not what's not in the deal," he said. "The pragmatic members of both conferences should support this."