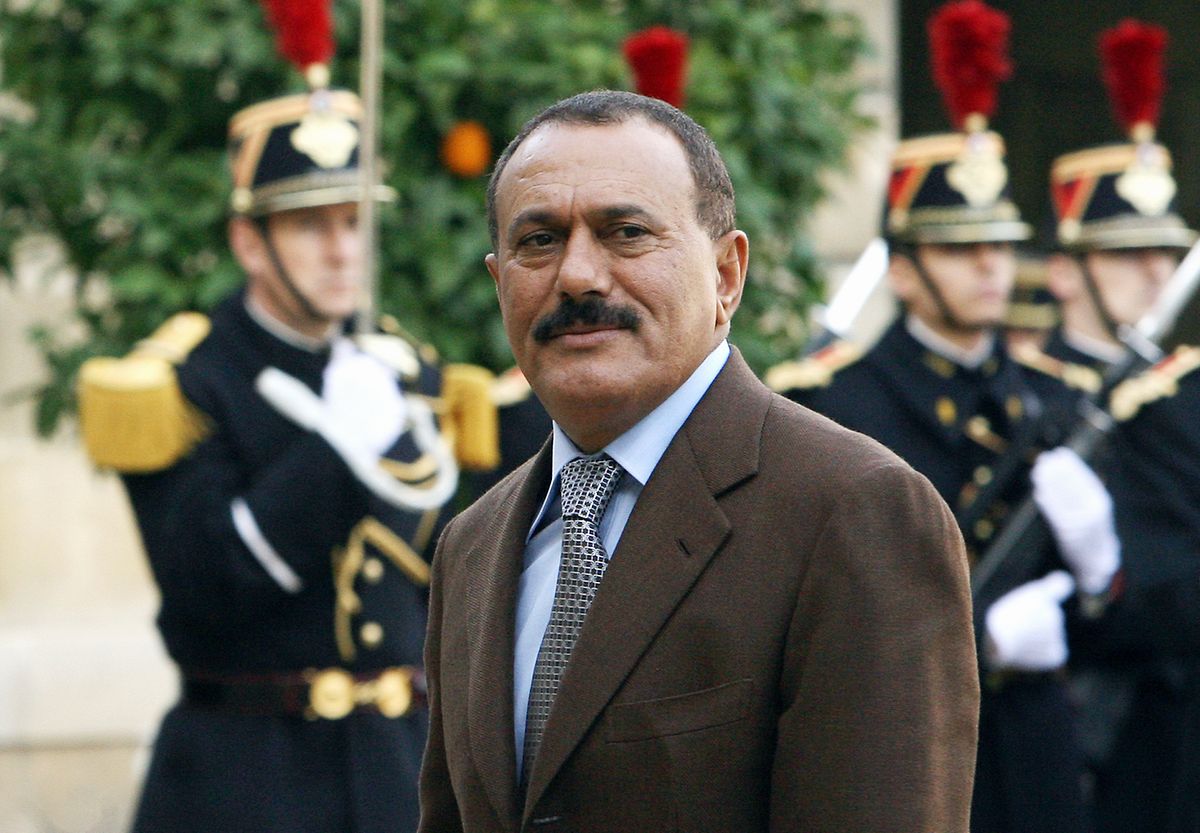 Former Yemeni president Ali Abdullah Saleh (AFP)
Yemen's Houthi rebels said they killed former Yemeni President Ali Abdullah Saleh, after their partnership against a Saudi-led military coalition collapsed. Saleh has been a dominant figure in Yemeni politics for decades, enjoying the support of many factions, and his killing may intensify a war of almost three years that has created a humanitarian catastrophe.
The former president's death has not yet been confirmed, but pictures and a video purportedly showing his corpse have surfaced on social media.
Below, seven analysts react to the news:
Peter Salisbury, Chatham House
"Saleh is such a towering figure in Yemeni politics, and he was always the person best able to speak to absolutely everyone, that it's difficult to see anyone else being able to fill his shoes," said Peter Salisbury, senior research fellow at Chatham House's Middle East & North Africa Program.
Saleh's death would deprive the Saudi-led alliance of the one person they could have struck a deal with – because he was able to rally other factions behind him, Salisbury said. For the Saudis "the gloves are off," he said. "They will do everything possible now to destroy the Houthis and they will be willing to impose a much higher cost on the northwest of Yemen than before."
Joost Hiltermann, International Crisis Group
The Saudis "may want to escalate, which would be a terrible mistake as they have already shown they do not have a viable military solution to this conflict," said Joost Hiltermann, program director, Middle East and North Africa, at International Crisis Group. "I don't see a military way out of this for them. At the same time the war has been incredibly costly for them so they desperately need an exit strategy, but they don't have one."
Miriam Eps, Le Beck International
"The big question related to Saleh's death is who will take his place. A clear successor, with many pointing to his son Ahmed as a potential candidate, could allow for the continuity of Saleh's position, including vis-a-vis any attempts at resolving the conflict," said Miriam Eps, regional security analyst at Manama-based risk management consultancy Le Beck International.
In the short term, his death is likely to increase violence in Sana'a as Saleh forces will be looking to retaliate and the Houthis might attempt to retake areas of the capital lost in recent days, she said. Ultimately, the dissolution of the Houthis' alliance with Saleh undermines their military might and their negotiating position, she said.
"Saleh's death, therefore, is a major blow because it removes a key influencer, but the real question is how the Houthis intend to move forward," she said. "Continued conflict is certainly an option, and they could turn to Iran for increased support, but they may also realise that the dissolution of their alliance means they have to negotiate."
Steffen Sertog, London School of Economics
"The Houthis are a hardened fighting force and some sources indicate that they have proven to be stronger than Saleh's mercenary forces in Sana'a," said Steffen Hertog, a professor at the London School of Economics. If Saleh is dead, "then his faction is likely not to hold together well, as it was very much based on his personal patronage and networks. I don't think his son can fully replace him. So it could be a Houthi win."
Theodore Karasik, Gulf State Analytics
"With Saleh's untimely death, the entire process for solving Yemen's problems just escalated dramatically," Theodore Karasik, senior adviser at Gulf State Analytics, said by phone from Oregon. "By removing Saleh, the Houthis have created a larger problem for themselves, but also it is challenging to Saudi and U.A.E. about what comes next.
"Saleh's removal throws everything into doubt. And now it's time for Plan B."
Asaf Day, Max Security
Saleh's death not only means the end of the Saleh-Houthi alliance but also the likely loss of "a significant amount of troops" for the Houthis, said Asaf Day, senior analyst at geopolitical risk consultancy Max Security in Israel. That might prompt "the Saudi coalition and local pro-Hadi forces to launch an offensive against the Houthis, including against Sana'a," he said.
While politically the Houthis would have absolute control going forward, they are likely to lose territories given the reduction in manpower, he said.
Ayham Kamel, Eurasia Group
Irrespective of Saleh's fate, "the split between the Houthi forces and the pro-Saleh forces appears to be permanent and appears to set a new stage in the Yemen conflict," said Ayham Kamel, head of Middle East and North Africa at Eurasia Group in London.
"Saleh has always been a skillful politician that continues to shift alliances based on regional dynamics." He said. "In that respect he's both part of the problem in Yemen and part of the solution."