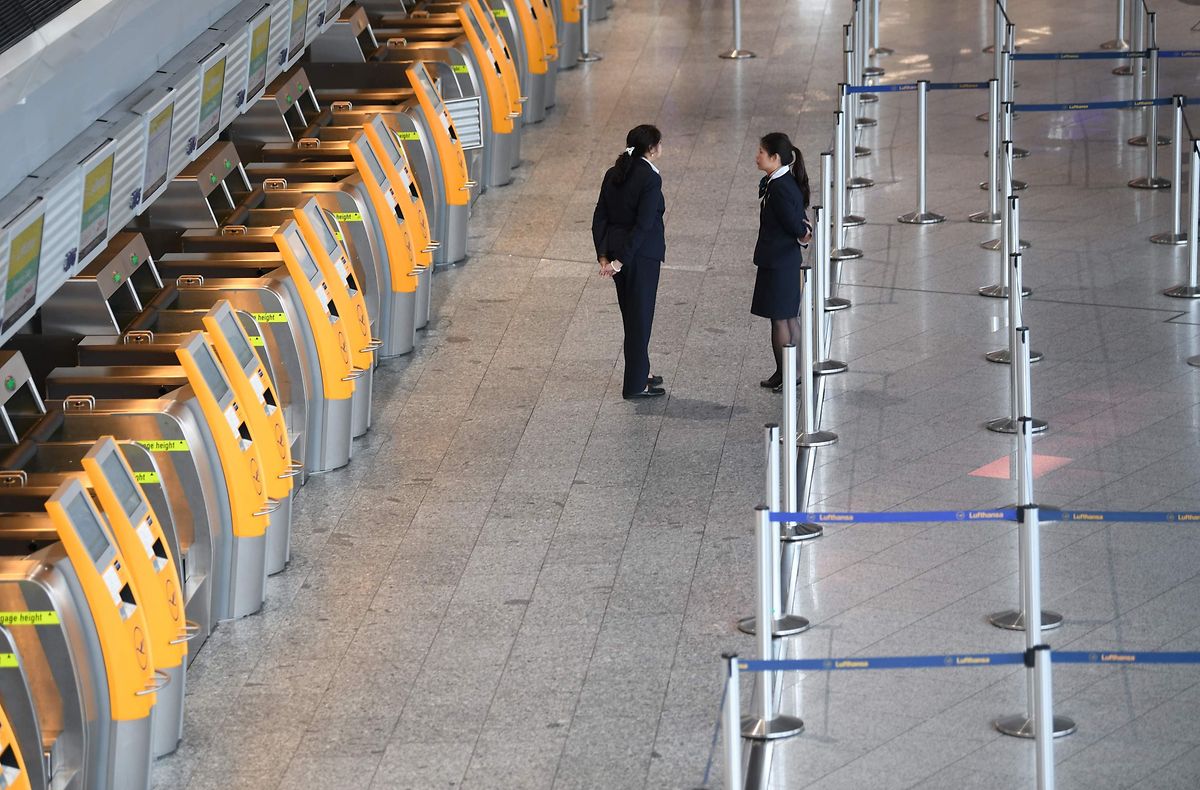 Germany's biggest carrier Lufthansa was forced to cancel 800 out of 1,600 scheduled flights (AFP)
Germany's public-sector workers expanded strikes across Europe's biggest economy on Tuesday, with flights at airports including Frankfurt and Munich suffering severe disruption.
Ahead of a third round of wage talks on 15 April, the Ver.di union is attempting to increase pressure on employers in support of a demand for a 6% pay raise, or at least €200 a month, over 12 months for 2.3 million government workers.
There were widespread delays and cancellations at Frankfurt and Munich airports, while Lufthansa scrapped more than 800 of Tuesday's 1,600 scheduled flights, affecting about 90,000 passengers.
Cologne and Bremen airports were also hit by stoppages, as well as some local transport networks, city administrations, nursery schools, utilities and job centres.
"After two rounds of talks there is still no offer from employers," Ver.di chairman Frank Bsirske said Tuesday in a statement. "At long last, we want to break through this wall."
Removing stimulus
The nationwide walkouts, which Ver.di said involved 60,000 workers across eight federal regions, are due to continue through Friday, although the four airports will only be affected on Tuesday.
European Central Bank monetary policy makers are watching German collective-bargaining talks closely for signs that price pressure is finally on the rise in the euro area, allowing them to gradually remove monetary stimulus.
After weeks of stoppages, Germany's IG Metall manufacturing-industry union struck a deal with employers in February that boiled down to average annual wage increases of roughly 3.7% in 2018 and 4% in 2019.
Ver.di has been staging short-term walkouts, known as warning strikes, since early March.
Germany's VKA local-authorities association predicted the strikes will fail in their goal of pressuring employers and will merely inconvenience the public.
Meeting Ver.di's demands might boost wages that are already "at a very good level" for lower-earning employees, but won't create conditions for attracting more engineers or information-technology experts, association president Thomas Boehle said in an emailed statement.
Acceptable offer
Separately, Ver.di organised a nationwide strike Tuesday at Deutsche Telekom in a push for a 5.5% wage increase over 12 months for the phone company's 62,000 workers.
The fourth and final round of wage talks is set for Wednesday and Thursday.
"If the Telekom employers are interested in a deal, they need to present an acceptable offer," Ver.di negotiator Frank Sauerland said in a statement on Tuesday.
Workers at Deutsche Post voted on Tuesday to accept a pay offer covering around 130,000 employees, Ver.di said.
The agreement includes a 3% raise effective 1 October 2018 and a further 2.1% increase a year later, as well as a one-time payment of €250 backdated to 1 April.