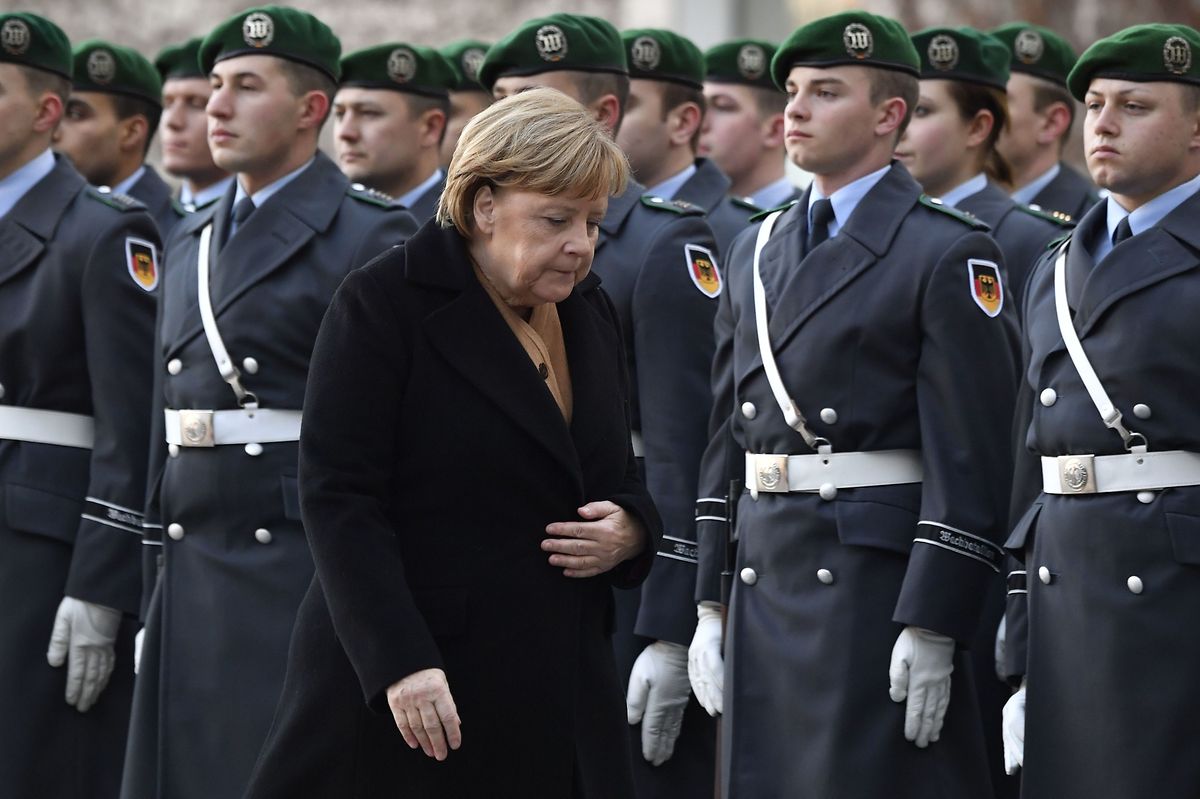 German Chancellor Angela Merkel walks past the honor guard in Berlin (AFP)
If Angela Merkel has emerged weaker from the fall election and failed attempt to form a coalition, then some in her party want to weaken her further still.
The chancellor's refusal to govern Germany without a stable majority is emboldening critics of her 12-year hold on power, including members of her Christian Democratic Union whod like to see her go.
As Merkel seeks a rerun of her previous coalition with the Social Democratic Party, immigration hard-liners and free-market CDU party members say such an alliance may be too high a price for assuring four more years for the chancellor.
They're pressing instead for a minority government, fully aware Merkel argues Europe's biggest economy cannot afford the uncertainty of an administration dependent on ad-hoc deals with other parties to pass laws.
"A minority government is much more unpredictable for Merkel than another grand coalition" with the Social Democrats, Ulrich Sarcinelli, a political scientist at the University of Koblenz-Landau, said by phone.
Those within her party who advocate keeping the option open are doing so partly to "lay down markers for the post-Merkel era", he said.
Merkel challenged
Merkel's chancellery has the rumblings on its radar. A minority administration led by her Christian Democrats might well collapse within a year or two, according to two people familiar with the chancellor's thinking who asked not to be identified discussing strategy.
Such a scenario would most likely trigger an early election and open the floodgates for a party renewal that sweeps Merkel aside, they said.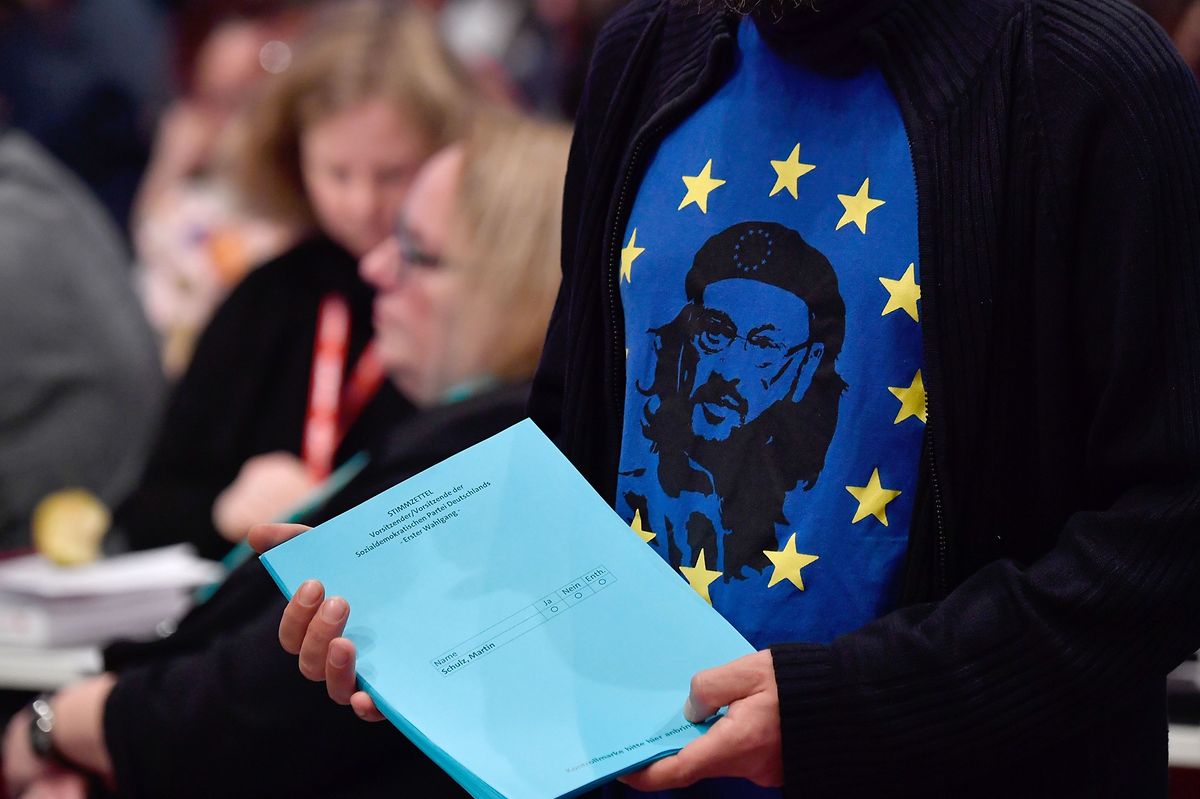 A man wears a shirt with SPD leader Martin Schulz as Che Guevara on it as he prepares to distribute ballots for the vote of Germany's social democrat SPD party's leader on December 7. (AFP)
The list of prominent supporters of minority rule reads like a Who's Who of Merkel baiters:
Jens Spahn is an acting deputy finance minister who views the chancellor's open-borders policy during Europe's refugee crisis as misguided, making him a star among social conservatives. A member of the CDU's national executive, Spahn says other party leaders bungled Germany's refugee policy, which propelled the anti-immigration Alternative for Germany party into parliament in September and weakened the CDU's power base.
Carsten Linnemann, who heads a group of CDU lawmakers who lobby for the interests of small and midsize enterprises, says a minority government would allow Merkel to avoid accommodating the Social Democrats on economic policy, making it easier to pass tax cuts. Echoing Spahn, he says the CDU lost votes in Germany's election in September by underestimating voter anger about crime, refugees and "Islamisation".
Ralph Brinkhaus, a deputy leader of Merkel's parliamentary caucus, is not considered anti-Merkel, but he views fiscal discipline in Germany and Europe as a priority that is easier to defend if the Social Democrats are not in government.
The CDU's business council, a pro-market faction that is critical of Merkel for adopting SPD policies including a national minimum wage and expanded retirement benefits, also wants her to consider a minority government.
The price for allying with the SPD for a third time since 2005 would require expensive promises of social programs that Germany cannot afford, the group said last week.
While the chancellor favors another "grand coalition" of the two biggest parties, SPD head Martin Schulz has left open which level of cooperation his party is willing to offer.
Exploratory talks with Merkel will begin on Wednesday, Andrea Nahles, the SPD's parliamentary caucus leader, told DLF radio.
Conventional wisdom
Ten weeks after Germany's election, Merkel's choice of allies is limited.
The Free Democratic Party, potentially a pro-market alternative to the SPD, tumbled in two national polls published this week after walking out of coalition talks with her on November 19.
FDP head Christian Lindner's approval rating has declined 17 points from early November to 28%, according to an Infratest Dimap poll published Thursday.
Everyone from Merkel's aides to French President Emmanuel Macron and Bild, Germany's most-read daily newspaper, is leaning on the SPD to take the plunge and be Merkel's junior partner again.
So is President Frank-Walter Steinmeier, a Social Democrat who now has a non-partisan role in helping party leaders find a path to a stable government.
"Merkel is an extremely agile power politician who might even survive a minority government. People have tended to underestimate her in the past."

Ulrich Sarcinelli
For all the flirting with unconventional options, no German chancellor since World War II has governed without a formal alliance underpinning the government.
That penchant for stability – and the expectation by Germany's allies that it will anchor Europe – may play into Merkel's hands after her first attempt at forming a coalition fell apart on November 19.
Polls suggest the chancellor can count on overwhelming support among her party's base, even after leading her bloc to its worst electoral showing since 1949.
A Forsa poll published Monday gave Merkel a 60% approval rating, well above the levels for French President Emmanuel Macron or US President Donald Trump.
Even governing without a majority would not necessarily spell the end of Merkel's career, Sarcinelli said.
"Merkel is an extremely agile power politician who might even survive a minority government," he said.
"People have tended to underestimate her in the past."