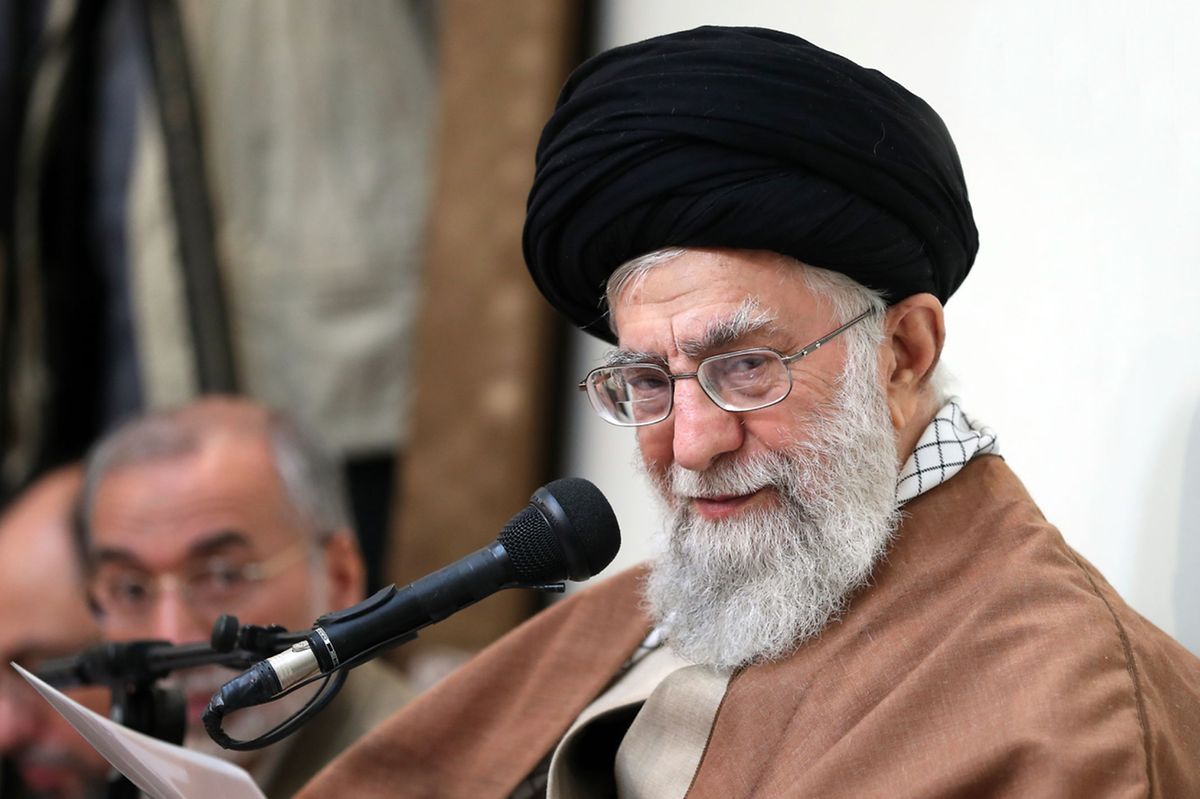 In his first remarks since the protests broke out, Iran's supreme leader Ayatollah Ali Khamenei accused "enemies" of stoking unrest (AFP)
Protests that have roiled Iran over the past five days will die down in a few days, according to a senior Iranian official, as authorities said hundreds of those involved in the unrest have been detained.
Ali Shamkhani, secretary general of Iran's Supreme National Security Council, accused Saudi Arabia, Iran's main regional rival, of waging a social media campaign to take advantage of the protests.
The demonstrations broke out last week, starting in the holy city of Mashhad and spreading to other parts of the country, including the capital, Tehran.
Since Saturday, 350 people have been detained in Tehran, Aliasghar Naserbakht, the province's deputy for political and security affairs, told the Iranian Labor News Agency.
A hundred people were rounded up on Monday alone. Nine people were killed in various cities during clashes on Monday, according to state-run television, bringing the total death toll to about 20.
"What is happening in Iran will be over in a few days, and there is no reason to worry at all," Shamkhani said in remarks reported by the state-run Press TV.
The unrest began with a rally against rising prices and the government's handling of the economy, before turning into a wider protest against the political establishment.
The demonstrations, however, are smaller than the 2009 protests against presidential election results and do not pose an "existential" threat to the regime, according to Trita Parsi, head of the National Iranian American Council.
'Serious measures'
Authorities have said there will be little leniency over violence. Iran's Judiciary Chief, Ayatollah Sadeq Amoli Larijani, ordered prosecutors to take "serious measures" in dealing with rioters vandalising public properties during the recent protests, Tasnim news agency reported.
"I don't think it will lead to a revolutionary situation," Parsi said in an interview with Bloomberg TV's Tracy Alloway. "It doesn't seem to have the organisation and the leadership to really pose an existential threat to the regime but it can really force to change the conversation and shake up the political landscape."
While Iran's president is elected every four years by a popular vote, his influence is kept in check by unelected officials within the judiciary and the powerful Revolutionary Guard Corps, whose job is to protect the principles of the 1979 Islamic Revolution. Ultimate authority rests with Supreme Leader Ayatollah Ali Khamenei.
In his first remarks since the protests broke out, Khamenei accused Iran's enemies of stoking unrest, without naming anyone.
"Over the last few days, Iran's enemies have used various tools at their disposal including money, weapons and security bodies in order to create problems for the Islamic system," he said.
Rouhani's promise
Rouhani, who was elected for a second term last year, promised voters to improve living conditions after the 2015 nuclear agreement with world powers.
His supporters point to a dramatic drop in the inflation rate to about 10% from move than 40% under his hardline predecessor.
Foreign investments, however, have been slow to trickle, with investors concerned about US President Donald Trump's threat to tear up the accord.
The International Monetary Fund has also urged authorities to urgently restructure banks and credit institutions.
Trump took to Twitter to support the protesters and urge change in Iran, which he said was "failing at every level despite the terrible deal made with them by the Obama administration."
"If there is a kind of scapegoat to Iran's economic problems post the nuclear deal, it would be the US administration," Jean-Paul Pigat, Dubai-based head of research at Lighthouse Research, told Bloomberg TV.
"Donald Trump continues to threaten to renegotiate the nuclear deal. That does not encourage foreign investors to enter the market."