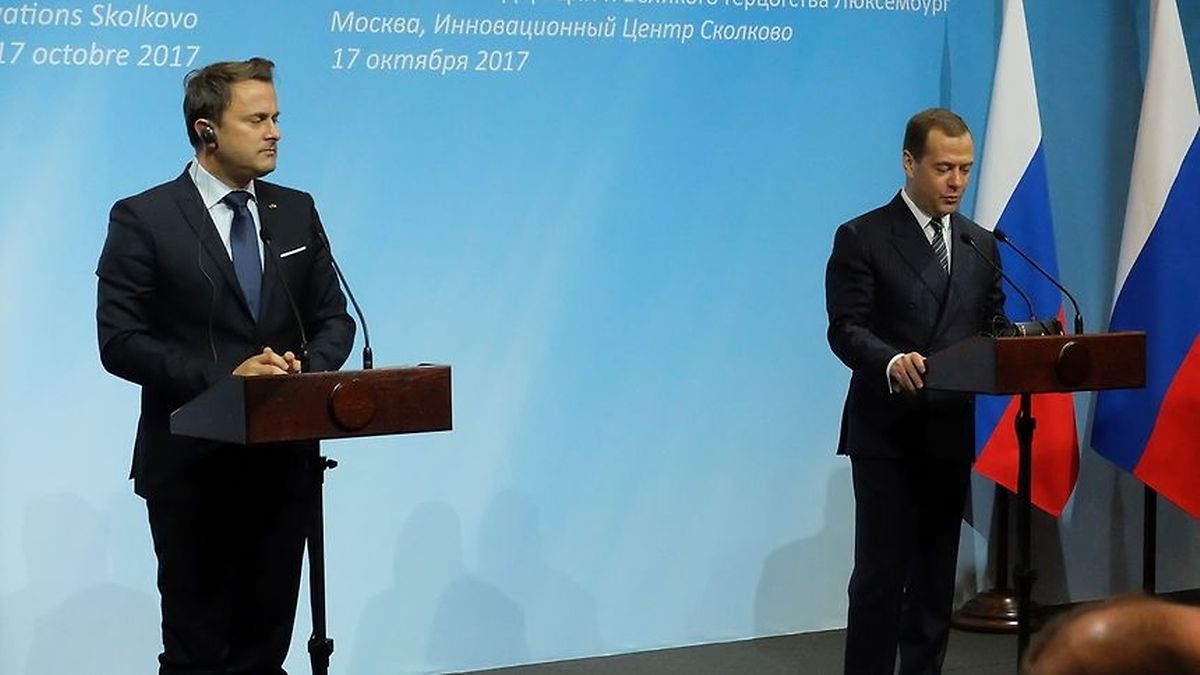 Xavier Bettel (left) and Dimitri Medvedev speaking at a press conference in Moscow. Photo: Dani Schumacher
Luxembourg Prime Minister Xavier Bettel said relations between the Grand-Duchy and Russia were "good" and based on solid foundations, while on a visit in Moscow.

Bettel and Economy Minister Etienne Schneider met with Russian Prime Minister Dimitri Medvedev to discuss bilateral relations and international politics including the European Union.
They also reviewed the economic, cultural and academic relations between the Grand-Duchy and the Russian Federation.
During a press conference with Medvedev after the talks, Bettel said that "bilateral relations between our countries are good, the basis of our relationship is solid and anchored in our common history."
Medvedev echoed the sentiments expressed by Bettel, saying that the two countries still managed to successfully cooperate despite European sanctions and an acrimonious international climate.
"Luxembourg presents an instance of a country, with which we maintain fairly successful cooperation in a number of areas even in the current highly complicated situation with due understanding of the role it plays in the structure of the EU," Medvedev said, according to Russian News Agency TASS.
"We're even building up our trade," Medvedev added.
He said the two countries has also identified new areas of collaboration and that space exploration was one of them.
Bettel also welcomed that the dialogue between Russia and the EU started again and insisted on the necessity of that dialogue. Relations between the EU and Russia have been strained since the Russian annexation of the Crimean peninsula, after which the EU imposed economical sanctions on Russia.
The Luxembourg prime minister said that the two powers needed to "cooperate more to stabilise the situation" in the east of Ukraine. "Civilians deserve to go back to their normal life, children must be able to go to school. I am counting on Russia to do everything that is possible," he said.
Bettel and Schneider also attended the sixth edition of the Open Innovation Forum in Moscow, which was held under the "Digital economy - challenges of the global transformation" banner.

At the conference, Bettel said during a speech that "we have to work on staying competitive for tomorrow, we have to be innovative," and presented the "Digital Luxembourg" initiative, which aims to modernise the country.
Schneider presented the Spaceresources.lu initiative during a panel on "Asteroid Mining – a new space race?"..