Hamas calls for intifada against Israel over Jerusalem
Hamas calls for intifada against Israel over Jerusalem
Anger runs deep in Palestinian territories and broader Muslim world against Trump's decision to break with decades of US policy and recognise Jerusalem as Israel's capital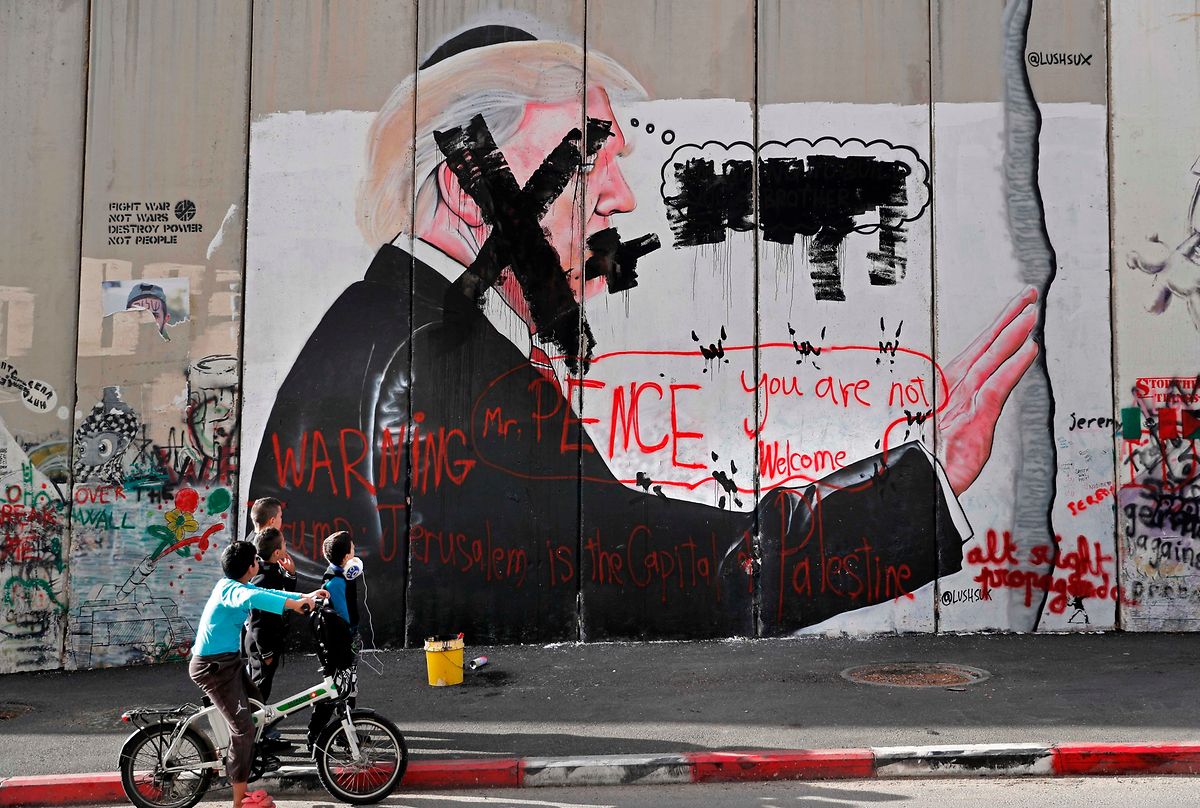 Palestinian children look at vandalised graffiti depicting US President Donald Trump and slogans against US Vice President Mike Pence painted on Israel's controversial separation barrier in the West Bank city of Bethlehem. (AFP)
The Gaza Strip's militant Hamas rulers called for a new uprising against President Donald Trump's recognition of Jerusalem as Israel's capital, while protesters burned American flags and pictures of the US leader in demonstrations across the West Bank.
"We demand, call and will launch an intifada in the face of the Zionist occupation," Ismail Haniyeh said in a speech Thursday broadcast by Al Jazeera television. "Jerusalem is being kidnapped and ripped from us."
Thousands of Palestinians and Israelis died in two previous uprisings.
While it's unclear if there is appetite for a new uprising, or intifada, anger runs deep in Palestinian territories and the broader Muslim world against Trump's decision to break with decades of US policy, which includes plans to move the US Embassy to Jerusalem from Tel Aviv.
Jerusalem is holy to Muslims, Jews and Christians, and previous US administrations had resisted moves that could risk inflaming Muslim passions and alienating Muslim allies.
"We will not accept your patronage of the peace process any more," Palestinian Prime Minister Rami Hamdallah said of Trump. "We will confront you with unity, and Palestine will return to its 1967 borders with holy Jerusalem as its capital," he said, referring to the West Bank, Gaza Strip and east Jerusalem.
The Israeli and Palestinian stock markets, no strangers to turmoil, were little changed.
Trump's move has been disparaged by European and Muslim leaders, who see it provoking further instability in the Middle East and degrading the US's standing abroad.
"The announcement has the potential to send us backward to even darker times than the ones we are already living in," said European Union foreign-policy chief Federica Mogherini. "This move could diminish the potential role that the United States can play in the region and create more confusion around this."
The president "is simply carrying out the will of the American people," US Secretary of State Rex Tillerson told reporters in Vienna. "The reality is Israel's government offices, its courts are all in Jerusalem today, so it is just acknowledgment of what is reality on the ground."
More troops
With a "day of rage" called across the West Bank, Israeli security forces braced for unrest. The army ordered the deployment of additional battalions to the West Bank, and more troops were put on standby, the military spokesman's office said. Mickey Levy, a member of Knesset and former police commander of Jerusalem and the West Bank, said in radio interviews that police brought reinforcements into the city and its environs.
Palestinians burned tires and hurled rocks at Israeli soldiers in various West Bank cities, and troops responded with tear gas. A strike shuttered shops and schools across the West Bank and Gaza.
"The ground is definitely going to burn," Effie Sharon, a 41-year-old owner of a Jerusalem kiosk, said late Wednesday. Yehuda Blackman, a 21-year-old working at a nearby bar, said any violence would be worth it "if it brings a certain recognition of Jerusalem as Israel's capital, which there hasn't been so far."
The ferment spread across the Muslim world.
Al Jazeera television reported that influential Iraqi Shiite cleric Muqtada Al-Sadr called on resistance groups to meet urgently to discuss military action against Israel.
Protests were scheduled in Jordan, which has a predominantly Palestinian population and is the custodian of the fought-over Jerusalem shrine that's the site of the Al-Aqsa mosque and the biblical Jewish temple Saudi Arabia called on the US to reverse its decision, calling it a "drastic regression in the efforts to move the peace process forward".
Demonstrations have also been called in various Muslim nations after the main prayers on Friday, often a flashpoint when passions over Jerusalem are kindled. An Israeli police spokesman didn't have immediate information on whether access to Al-Aqsa would be curtailed.
'Expected'
"We understand and expected the emotional reaction," US Ambassador to Israel David Friedman said in an interview with Fox News Thursday. But people who are demonstrating "did not listen carefully enough," he said. Trump's recognition of Jerusalem as the Israeli capital is "the best path for peace," he said, adding that the US is taking appropriate precautions to protect Americans abroad.
The US State Department has issued warnings to personnel in sites where unrest is anticipated, including Jerusalem, the West Bank and Karachi, Pakistan's commercial capital.
The full impact of Trump's decision won't be known until his son-in-law, Jared Kushner, unveils a peace plan he has been working on. But that may take too long.
"President Trump has delivered a message to the Palestinian people: the two-state solution is over," the chief Palestinian negotiator, Saeb Erekat, said in an interview published in the Haaretz daily, taking a divergent view from Palestinian Prime Minister Hamdallah. "Now is the time to transform the struggle for one-state with equal rights for everyone living in historic Palestine, from the river to the sea."
Israeli Prime Minister Benjamin Netanyahu, addressing foreign diplomats, predicted other countries will move their embassies to Jerusalem. On Wednesday, the Czech Republic issued a statement saying it recognises west Jerusalem as Israel's capital, but isn't considering moving its embassy at this time. Israel Radio, without saying where it got its information, said the Philippines was considering an embassy relocation.