Israel's Prime Minister Benjamin Netanyahu leaves from 10 Downing Street in central London on 24 March, 2023
Israeli Prime Minister Benjamin Netanyahu is in London to talk about the risks of Iran's nuclear program and Russia's invasion of Ukraine with UK Prime Minister Rishi Sunak, leaving behind rising criticism over his plan to reduce the power of the Supreme Court.
On Thursday, tens of thousands of Israeli protesters blocked roadways and lay down in front of police stations, leading to the use of water cannons and dozens of arrests. The demonstrations, which have been going on twice-weekly for three months, are the most sustained in Israel's history.
They are led by mostly secular liberals who fear that Netanyahu's new right-wing religious coalition will strip the high court of its role as a check and balance on lawmaking, leading to reduced rights for minorities. The coalition ran partly on the need to stop the court from interfering in legislation.
Demonstrators protest on Whitehall, following a visit by Israel's Prime Minister Benjamin Netanyahu to meet with Britain's Prime Minister Rishi Sunak at Downing Street in central London on 24 March, 2023
AFP
On his travels to Western capitals, Netanyahu has been emphasising Israel's concerns about Iran's accelerating nuclear program, especially its uranium enrichment. Israel and the allies worry that Iran wants to build a bomb; Tehran says the program is purely peaceful.
When Netanyahu arrived at Downing Street, he was greeted by demonstrators shouting "Shame," in Hebrew, an echo of protests against him at home. After the meeting, the Israeli prime minister's press office issued a statement thanking Sunak for his government's "tough stand on Iran," adding that world powers needed to increase their pressure on Tehran. The statement said the UK and Israel would launch a strategic dialogue headed by their national security advisers.
In his statement, Sunak expressed similar concerns about Iran but also pointedly noted "the importance of upholding the democratic values that underpin our relationship, including in the proposed judicial reforms in Israel."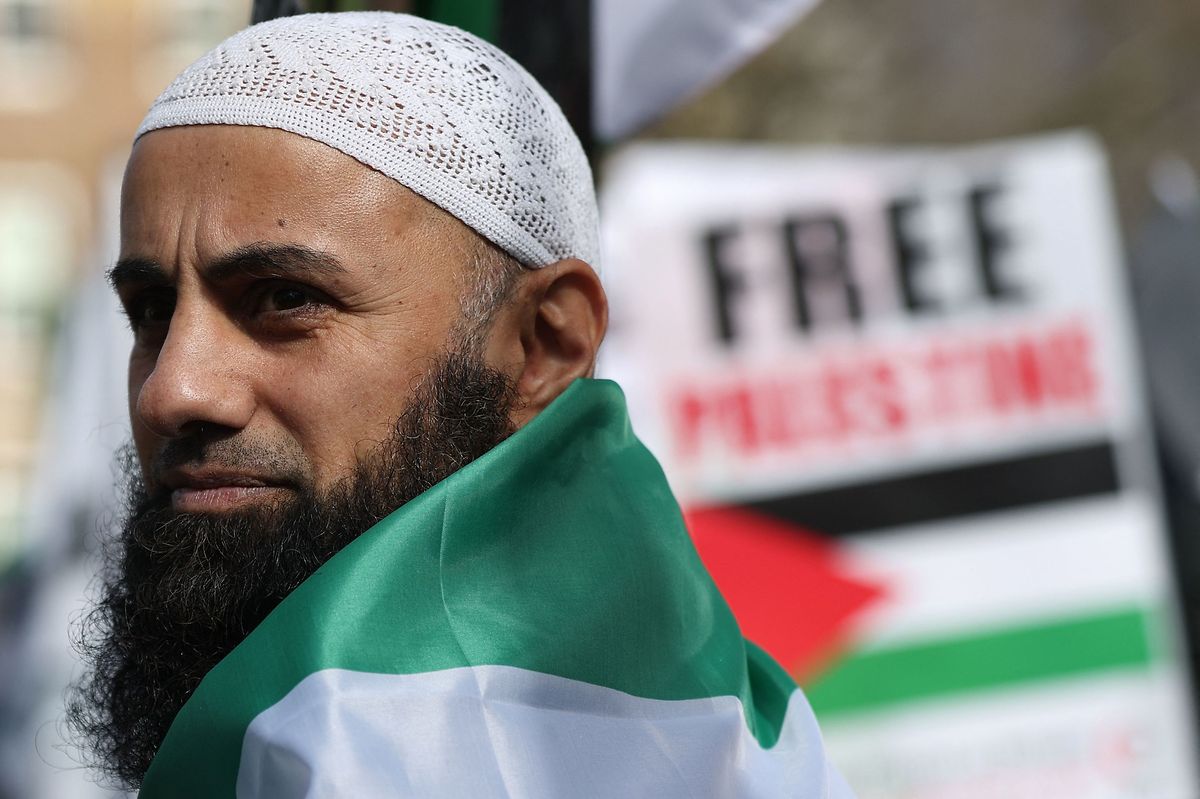 Protestor in London 24 March, 2023
AFP
Other Israeli allies, in Washington and Paris, have made that argument in hopes of persuading Netanyahu to reconsider the package of changes he is planning.
Netanyahu was later expected to see Suella Braverman, Secretary of State for the Home Department, to discuss cooperation on fighting global terrorism.
Back home, pilots and military reservists have been playing a key role in the Israeli protests, and Defense Minister Yoav Gallant was planning to address the nation last night to express his concerns that the court overhaul was damaging national security. But Netanyahu called him to his office and persuaded him to delay his speech.
Instead, Netanyahu said he was open to compromise on parts of the overhaul but not on the bill expected to become law next week — shifting the power of judge selection to the political parties in power.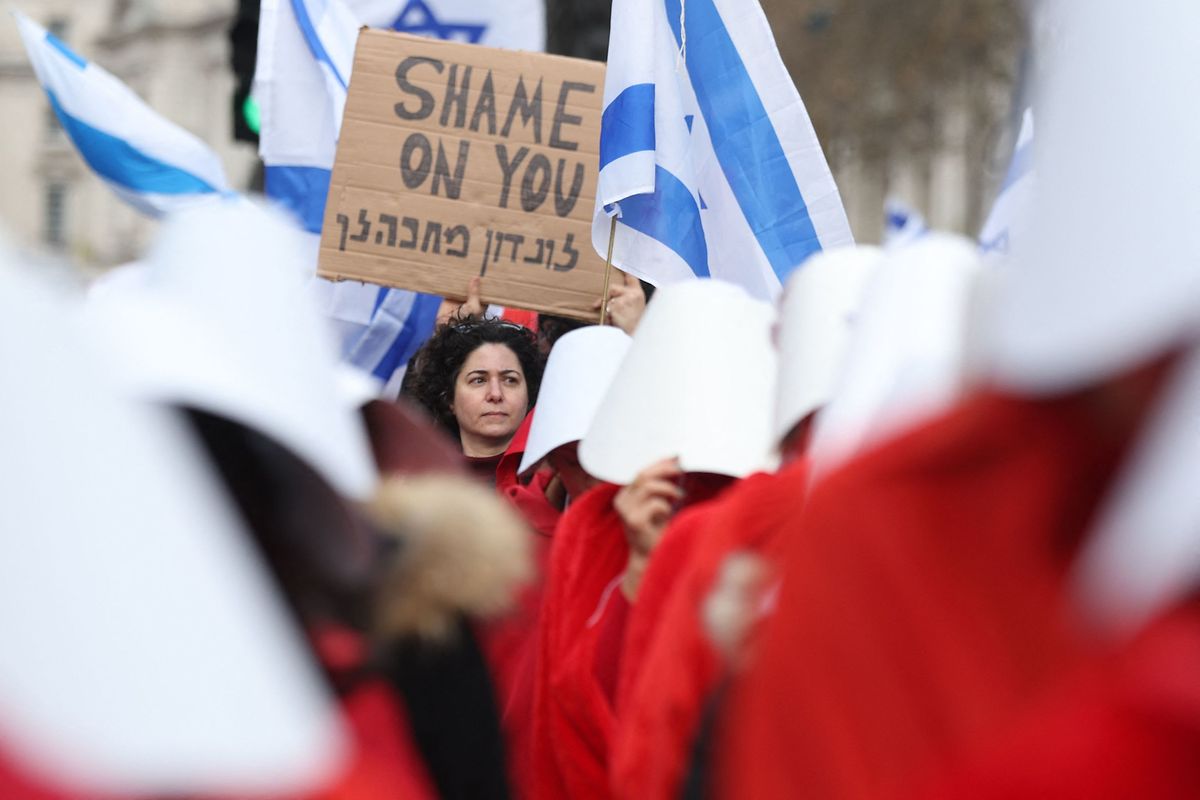 Protesters supporting women's rights, dressed as characters from The Handmaid's Tale protest against controversial legal reforms being touted by the Israel's hard-right government, 24 March 24 2023
AFP
The proposed changes have unnerved investors and triggered warnings from ratings agencies over Israel's outlook.
Netanyahu said he was personally going to take control of this legislation now that the first part of changes had passed — making it harder to remove him from office. A law passed early Thursday said a prime minister could no longer be removed by the legal authorities, only by the legislature and cabinet.
That change, Netanyahu said, permitted him to be fully engaged in the debate, and he would make sure individual and minority rights were protected as the legislation progressed.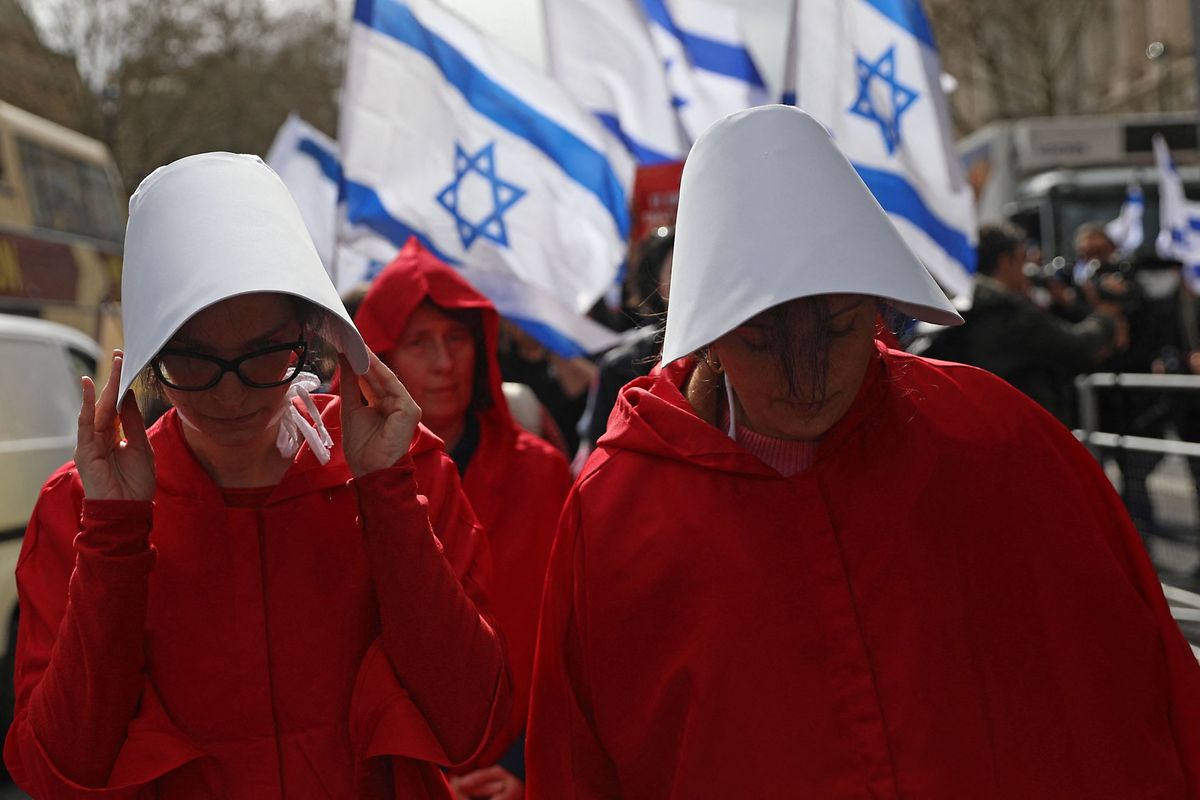 Protesters dressed as characters from The Handmaid's Tale in central London 24 March, 2023
AFP
But Attorney General Gali Baharav-Miara sent him a letter Friday accusing him of violating the law by his speech. "The legal situation is clear - you must avoid any involvement in measures to reform the judicial system, including in the makeup of the Judicial Appointment Committee, since involvement in them would be a conflict of interest," she wrote to him.
This is because Netanyahu is facing charges of corruption by the legal system he is seeking to change. He has denied all the charges.
The disputes are setting Israel up for an historic institutional crisis in which the ruling coalition passes laws stripping the high court of its power and those laws get challenged in that same court, which may strike them down.
©2023 Bloomberg L.P.
---