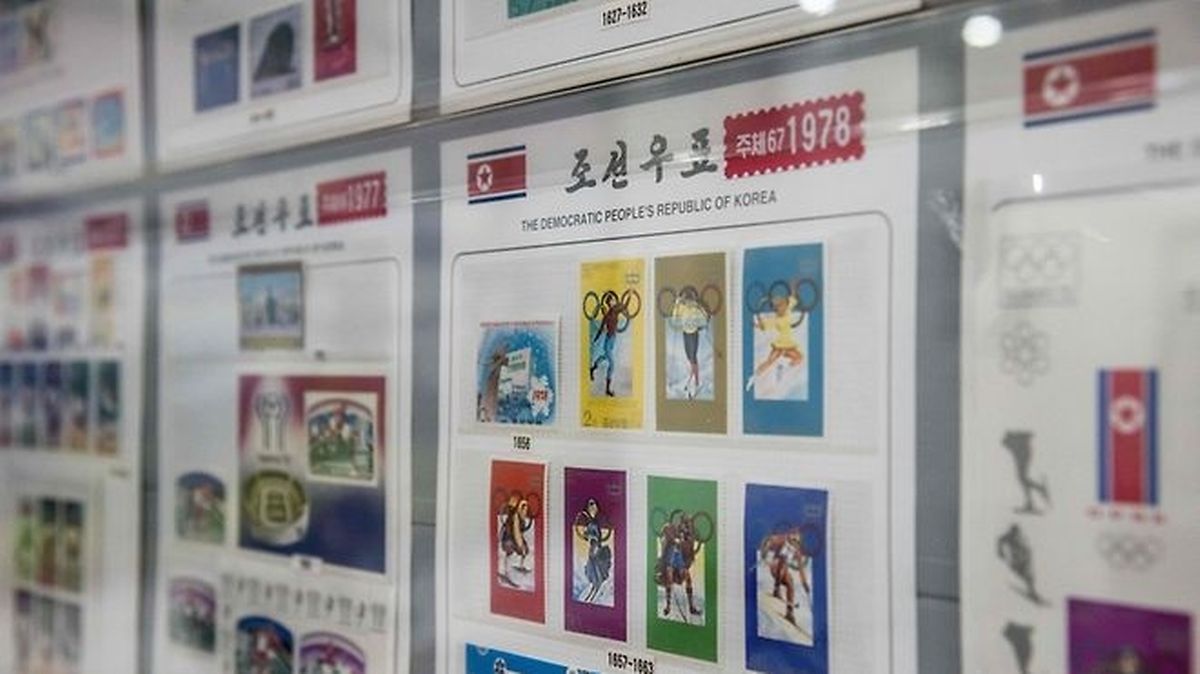 Stamps commemorating North Korea's participation in past winter Olympic Games displayed at a stamp shop in Pyongyang (AFP)
North Korea accepted a proposal to hold talks with South Korea next Tuesday, reducing tensions as President Moon Jae-in's government prepared to host the Winter Olympics next month.
The agenda would include North Korea's offer to send a delegation to the Games, as well as overall inter-Korean relations, South Korea's Unification Ministry spokesman, Baik Tae Hyun, told reporters on Friday.
Preparations for the meeting at a border village – what would be the first formal gathering between the two sides since 2015 – would be done via letters, he said.
US President Donald Trump endorsed the talks Thursday, calling them a "good thing" while agreeing to delay military exercises until after the Games. During a 30-minute phone call, Moon assured Trump that his government would coordinate with the US on the talks.
Tensions over North Korea's nuclear program had threatened to hang over the Games in Pyeongchang, a city about 80 kilometers from the border dividing the Korean Peninsula.
South Korea wants to jointly host the games with North Korea, but time constraints might make that impossible, cable station JTBC reported, citing an official at Moon's office. Beyond that it's considering forming a single Korea Olympics team, entering the opening and closing ceremonies together or forming a single Korea cheering squad, the report said, citing a road map for negotiations from South Korea's presidential office.
The developments have raised hopes that progress can be made toward broader negotiations with North Korea, although significant barriers remain. Both North Korea and the US have continued to threaten each other, with Kim Jong Un ramping up production of nuclear warheads and Trump vowing to keep up his pressure campaign.
US Secretary of Defense James Mattis told reporters on Thursday that the drills were suspended to accommodate the Games, not as a condition of talks between Pyongyang and Seoul. The large annual military exercises with South Korea would resume some time after the Paralympic Games conclude March 18, he said.
"Those talks clearly are the result of the amount of international pressure and they are a way, I think, for North Korea to start talking while keeping it contained to a benign issue," Mattis said. "Is it one-off from him or a real olive branch? I don't know."
'Rare Opportunity'
Kim hasn't yet shown he's willing to freeze his weapons tests, as US officials have demanded. Commercial satellite imagery suggested that North Korea was preparing for a rocket engine test at the Sohae launch facility in the country's northeast, the website 38 North reported on Friday.
South Korea expects more talks over the weekend with North Korea via a hotline reopened earlier this week, said Baik, the Unification Ministry spokesman. The two sides would discuss leadership and composition of each delegation participating in the talks, he said.
International sporting events have previously produced diplomatic openings between the two Koreas, only to lead nowhere. Moon's predecessor, Park Geun-hye, passed up an opportunity to meet Hwang Pyong So – then the vice marshal of the Korean People's Army – when he met South Korean officials during a 2014 trip to the Asian Games in Incheon.
China announced on Thursday that its special envoy for Korean affairs, Kong Xuanyou, was heading to Seoul for talks on Friday and Saturday. Officials in Beijing have sought to get the parties back to negotiations to reduce the risk of a US military strike that could topple their longtime ally or draw them into a regional conflict.
"It's a rare opportunity that cannot afford to be missed," said Shi Yuanhua, a Korean studies professor at Fudan University in Shanghai. "China sees this window of opportunity very clearly and it's in its best interest to work closely with South Korea to maintain peace momentum."