As North and South Koreans meet at the games, Pence holds back
As North and South Koreans meet at the games, Pence holds back
Although Vice President Mike Pence repeatedly floats the prospect of meeting with North Korean leaders in South Korea, he passes up several opportunities at the Winter Olympics in Pyeongchang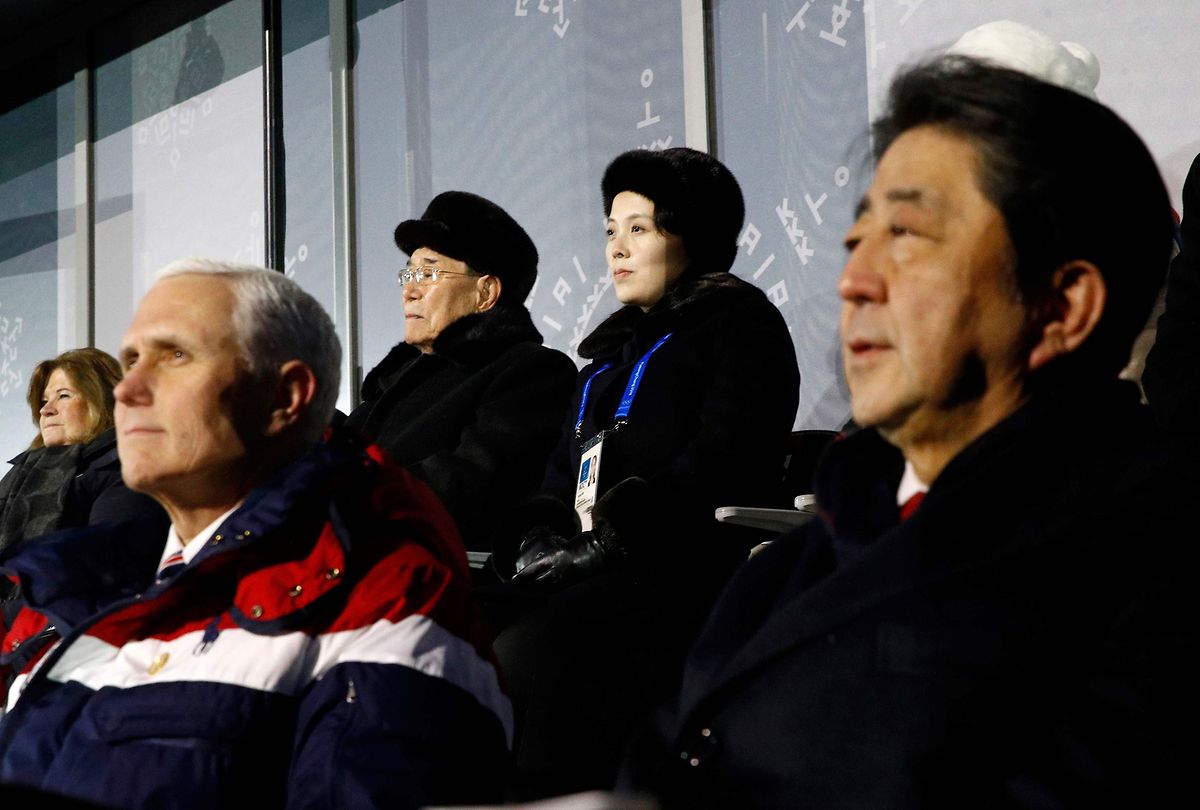 US Vice President Mike Pence (front L), Japan's Prime Minister Shinzo Abe (front R), North Korea's ceremonial head of state Kim Yong Nam (back 2nd L) and North Korea's Kim Jong Un's sister Kim Yo Jong (back R) watch the opening ceremony of the Pyeongchang 2018 Winter Olympic Games at the Pyeongchang Stadium (AFP)
"We'll see what happens," Mike Pence said Monday before leaving for the games, where the two Koreas planned to participate together.
But when he arrived in Pyeongchang, Pence's behaviour drew a sharp contrast with other world leaders, and he did not seem to be present during key moments of the opening ceremonies.
White House aides said the vice president was agnostic about whether or not to meet with top officials from Kim Jong Un's regime and neither pursued nor avoided encounters, though in some cases the officials were just a few feet away.
Pence missed the group photograph organised by South Korea on Friday, shortly before the games began, and was not pictured with world leaders, including North Korea's ceremonial head of state Kim Yong Nam.
He stayed for only about five minutes at a reception hosted Friday by South Korean President Moon Jae-in, and did not interact with Kim Yong Nam, who was also in the room and slated to sit at the same table. At the opening ceremony, Pence did not shake hands with Kim Yo Jong -- the younger sister of North Korean leader Kim Jong Un -- who was nearby.
"Our objective here today is to stand with our allies, but it's also to stand up for the truth, and to recognise that whatever images may emerge against the powerful backdrop and idealism of the Olympics, that North Korea has to accept change," Pence told reporters Friday before traveling to Pyeongchang.
Historic handshakes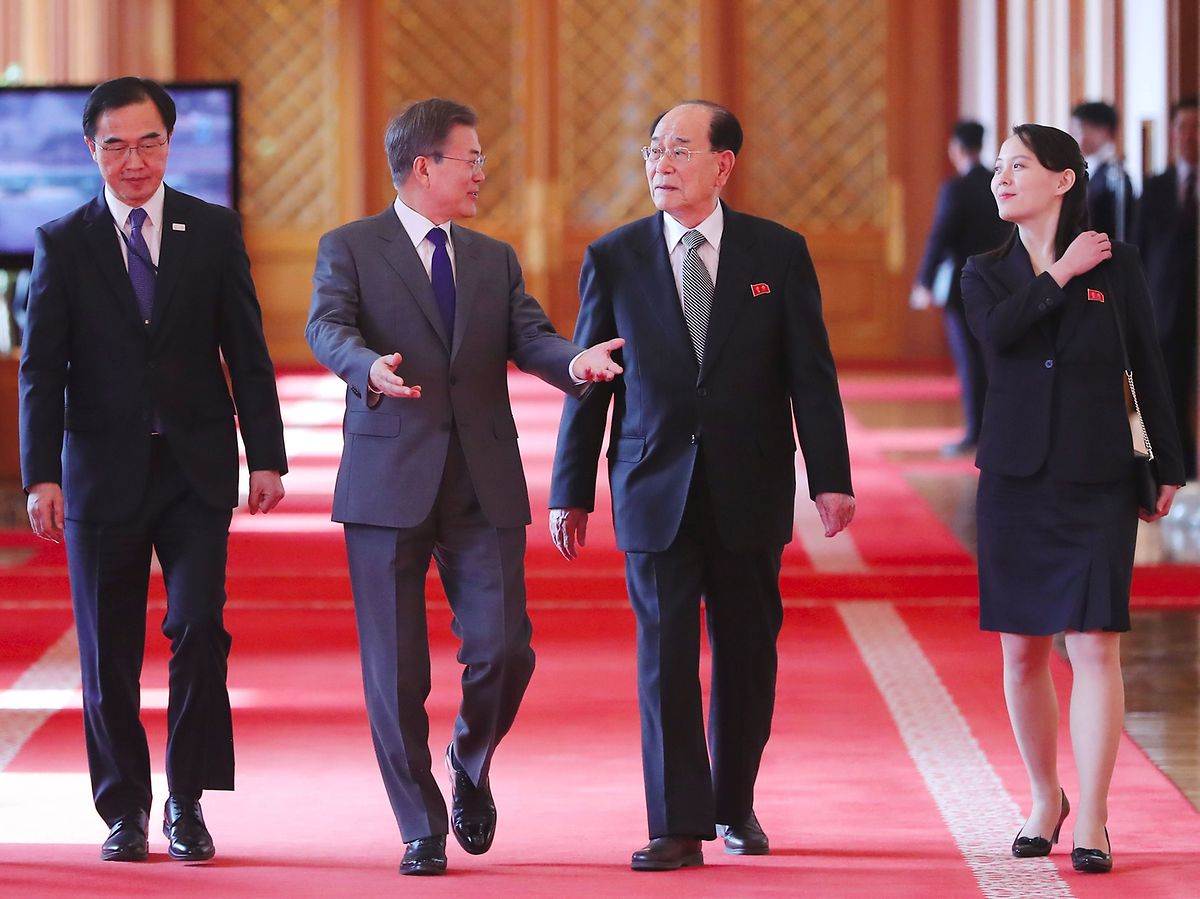 South Korea's President Moon Jae-in (2nd L) walks with North Korean leader Kim Jong Un's sister Kim Yo Jong (R) and North Korea's ceremonial head of state Kim Yong Nam (2nd R) as they move for a luncheon at the presidential Blue House in Seoul on February 10, 2018. (AFP)
Pictures of Moon and Kim Yo Jong shaking hands at the opening ceremony and standing together applauding as athletes from both Koreas waved unification flags dominated South Korean media on Friday and Saturday, and quickly spread on the internet and social media.
Pence, who was in the same VIP box with Kim Yo Jong and Moon, was pictured sitting down facing forward as their historic interaction took place right behind him.
Two White House officials said Pence knew in advance where the North Korean officials would be seated in the VIP box, and opted to accept a seat nearby as well in order to show the strength of the alliance between the US, South Korea and Japan. Japanese Prime Minister Shinzo Abe also sat in the VIP box.
The White House officials, who requested anonymity to discuss internal deliberations, said it was fair to describe the lack of interaction as two-sided, with both the US and North Korea rebuffing Moon's attempts to bring them together. The officials said Pence did not want to just exchange pleasantries with the North Koreans, and a chance encounter at the Olympics wouldn't allow for a more substantive discussion about North Korea's nuclear ambitions.
The officials said the North Koreans were being standoffish, and not interacting much with anyone during their time in the VIP box.
But the attempt to portray them as anti-social came as the images and reports of North Korean leaders meeting with Moon, Abe, United Nations Secretary General Antonio Guterres and other world leaders were going viral online. The greeting between Kim Yong Nam and Abe was the Japanese prime minister's first interaction with a member of the Kim Jong-un government.
South Korean media portrayed Pence as the spoilsport at the Olympics. He left Moon's reception after only five minutes, without taking a seat at the head table or interacting with North Korea's ceremonial head of state. A White House official said Pence was running late because of scheduling conflicts and never planned on staying at the reception to eat.
Kim Yo Jong and the other high-ranking North Korean officials met Moon for lunch at the South Korean presidential Blue House on Saturday, with speculation mounting that she would relay a message from her brother or even an invitation to a summit in Pyongyang, North Korea's capital.
A different message
Moon has sought to describe the Olympics as the "peace games" and use them to begin a broader rapprochement with North Korea despite concerns expressed by Washington.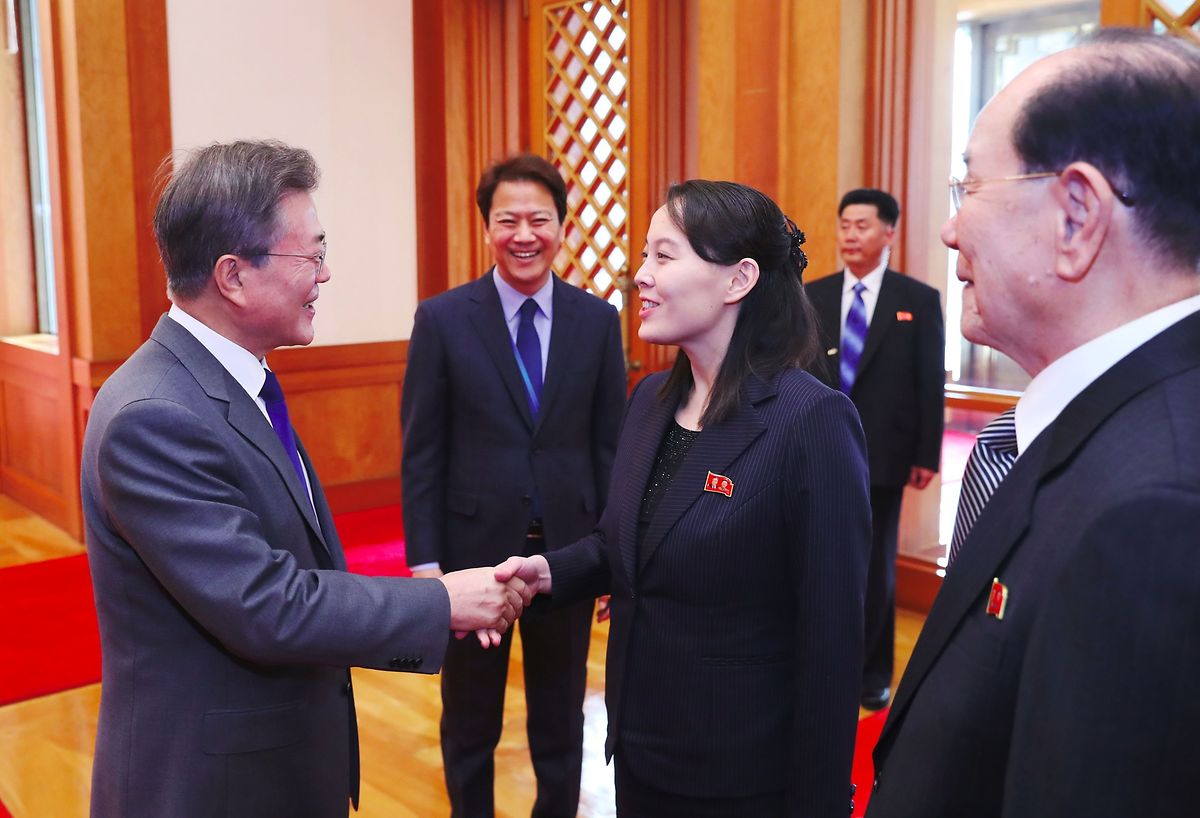 South Korea's President Moon Jae-in greets North Korean leader Kim Jong Un's sister Kim Yo Jong as North Korea's ceremonial head of state Kim Yong Nam (R) looks on before their meeting at the presidential Blue House in Seoul on February 10, 2018 (AFP)
Pence, who is on the final leg of a trip to Japan and South Korea, has offered a different message, trying to counter Pyongyang's propaganda at the games.
Over the course of five days, Pence made stops at four military facilities. Twice, he has delivered statements critical of North Korea while standing in front of American fighter jets. Pence said he didn't want to allow North Korea to "hijack" the games, and announced new sanctions to be unveiled against Pyongyang soon.
Pence also met with North Korean defectors and surveyed the wreck of a South Korean warship that Seoul says was torpedoed by North Korean forces in 2010.
But North Korea has already seized the spotlight at the Winter Games, with media from around the world fixated on the nuclear-armed nation rather than the athletes. While hopes have been raised for peace talks, Pyongyang has refused any discussions about getting rid of its nuclear arsenal.
The North Koreans also said they were unlikely to have substantive discussions with Pence.
"We are not going to use such a sports festival as the Winter Olympics as a political lever," Jo Yong Sam, a senior foreign ministry official, was quoted as saying by North's state-run media. "There is no need to do so".