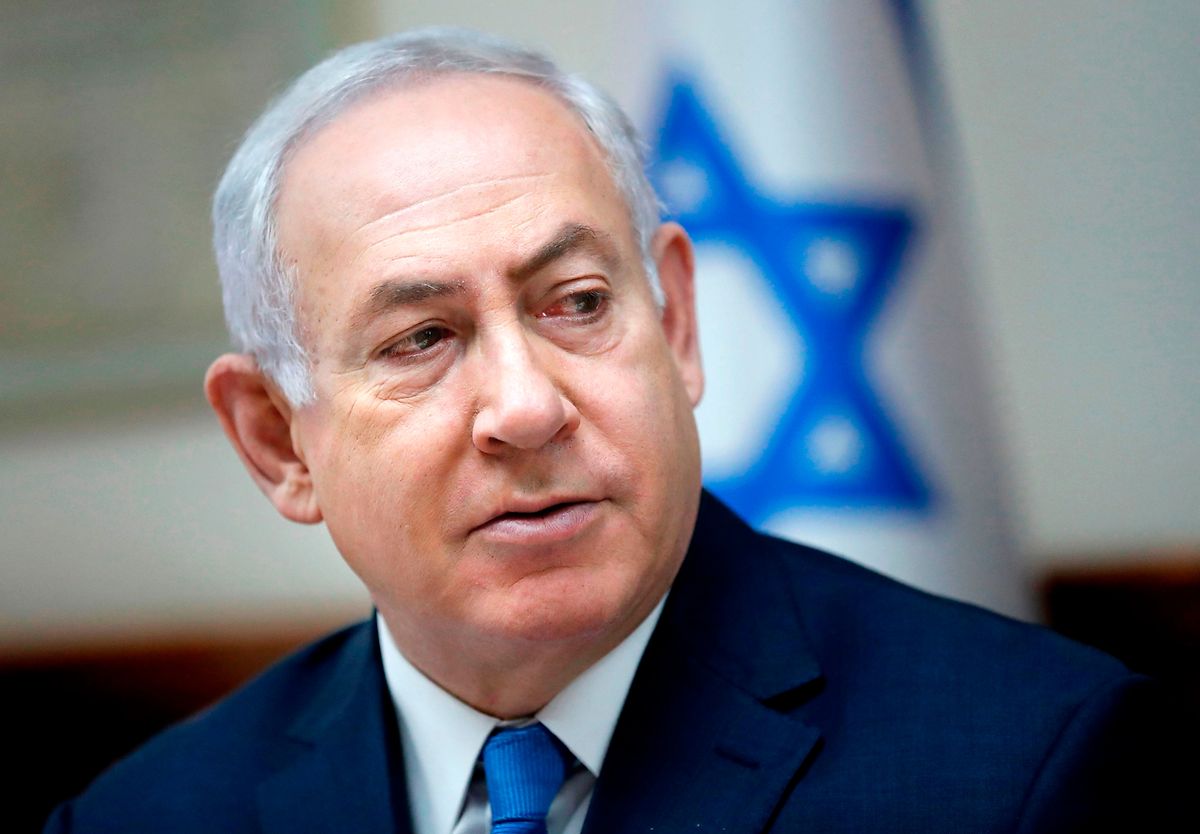 Israeli Prime Minister Benjamin Netanyahu has survived two prior police recommendations to indict him (AFP)
Israeli police recommended charging prime minister Benjamin Netanyahu with bribery, fraud and breach of trust in two separate cases, a decision that could spark the biggest fight of his political life.
Police say they found evidence Netanyahu traded his influence for favours, a non-binding conclusion that attorney general Avihai Mandelblit will have to weigh as he decides whether to file charges against a sitting Israeli premier for the first time.
Netanyahu, who years ago survived two prior police recommendations to indict him, has denied any wrongdoing and claims he's the victim of a witchhunt by left-wing opponents.
For more than a year, detectives have been investigating circumstances surrounding cigars, champagne and other gifts Netanyahu has acknowledged accepting from wealthy friends, including Hollywood producer Arnon Milchan and Australian businessman James Packer.
They've also probed a deal the prime minister discussed with Arnon Mozes, publisher of the Yediot Ahronot newspaper, to pass legislation that would weaken another daily in exchange for more favorable coverage.
Key details from the police report include:
In addition to recommending charges against Netanyahu, the police said there's evidence that both Mozes and Milchan committed bribery
Police estimated Netanyahu received about 1,000,000 shekels (€229,460) in gifts including champagne, cigars, and jewelry. That includes about 750,000 shekels in gifts from Milchan and about 250,000 shekels in gifts from Packer
In exchange, police say Netanyahu sought to advance Milchan's interests in various fields including telecommunications and tax law, and by helping him with his US visa
Police say even if Milchan is Netanyahu's friend, a public servant can't receive gifts in exchange for advancing a businessman's interests
Netanyahu and publisher Mozes took "actual steps to promote each other's interests" after reaching understandings that were recorded by Netanyahu's chief of staff at the time, Ari Harow
Netanyahu denied the allegations in a press conference Tuesday night, calling the police recommendations "disturbed" and claiming the investigations were intended to topple his government.
'No place'
"These recommendations have no place in a democratic society," Netanyahu said.
The shekel extended losses against the dollar after the announcement to trade 0.4% down, making it was the second-worst performer among major currencies on Tuesday.
The recommendation to indict Netanyahu was anticipated, and coalition partners have rallied around a prime minister still popular with his right-wing base.
Tourism minister Yariv Levin called it a "despicable move" to "stage a coup against the voter's will".
Justice Minister Ayelet Shaked has said Netanyahu can continue to govern even if Mandelblit ultimately decides to indict him.
Opposition politicians including Shelly Yachimovich of the liberal Zionist Union and Tamar Zandberg of the left-wing Meretz Party called on Netanyahu to resign.
But with no politician from the coalition breaking ranks Tuesday night, the government appears in no danger of falling at this stage.
'Quite stable'
"We might see some political turmoil, but I think the government is quite stable," said Eran Vigoda-Gadot, a political science professor at the Haifa University.
"It's important to realise that Netanyahu's political base is very loyal, these are people with an emotional connection to the Likud party. They'll say: 'So what if he took some gifts and some money? He's a brilliant English speaker who knows how to represent us in the world stage.' "
Vigoda-Gadot predicted it will take several weeks for Mandelblit to make a decision. If he decides to indict Netanyahu, court proceedings could drag out for a year.
In a video clip posted earlier this month on Facebook, Netanyahu jeered at the anticipated police action.
"There will be recommendations, and also signs reading, 'Bibi is guilty until proven otherwise'," he said, using his nickname.
"But I'm certain that at the end of the day, legal authorities can only reach one conclusion, the simple truth: There's nothing here"
Other cases
Two bigger corruption cases have edged close to Netanyahu without directly entangling him as a suspect.
Confidants – including his personal lawyer and the lead negotiator in some of Israel's most delicate diplomacy of recent years – are suspected of wrongdoing in a €2 billion deal to purchase submarines and patrol boats from Germany's ThyssenKrupp.
Separately, the director-general of the Communications Ministry, a Netanyahu appointee, was suspended after being accused of coordinating regulatory moves with Bezeq Israeli Telecommunication, controlled by Netanyahu's friend Shaul Elovitch.
Netanyahu is no stranger to investigations.
In 1997, during his first term, police wanted him to stand trial in an influence-peddling case involving the appointment of an attorney general.
While he was between terms, police recommended in 2000 that Netanyahu and his wife, Sara, be prosecuted on suspicion of bribery and theft of state gifts.
Neither set of recommendations ripened into charges.