Russian Orthodox Patriarch Kirill attends a meeting of the Russian Defence Ministry Board, December 21, 2022
Russian President Vladimir Putin ordered his forces to cease fighting in Ukraine for 36 hours starting Friday at noon, Moscow time, but Kyiv quickly dismissed the move as a ploy, unlikely to slow a conflict that's heading for its second year.
The Kremlin said Putin gave the order Thursday for Russian Orthodox Christmas. It follows an appeal by the patriarch of that church, which has close ties to the Kremlin.
Ukrainian presidential aide Mikhailo Podolyak suggested the offer was "hypocrisy" in a tweet. Earlier, he rejected the Patriarch's proposal as a "cynical trap and an element of propaganda." Kyiv has demanded Russia remove its troops from Ukraine as a condition for any ceasefire.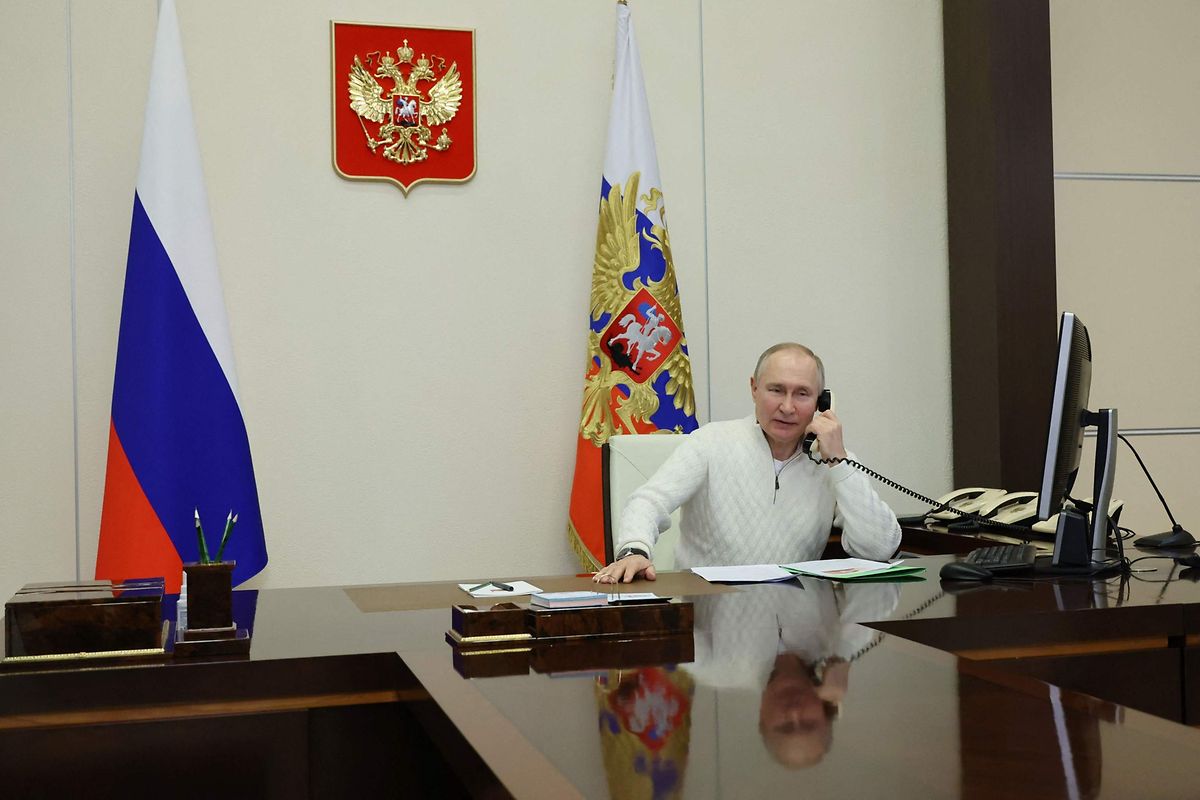 Russian President Vladimir Putin talks on the phone
AFP
For Putin, the offer is "a play at generosity for the public," Tatiana Stanovaya, founder of R.Politik political consultant, wrote in Telegram. She noted that after Ukrainian missile strikes on Jan. 1 killed scores of Russian troops in occupied territory, "he certainly doesn't want something like that to happen on Christmas."
Putin's announcement followed hours after he reiterated that Russia would conduct serious negotiations only "provided that the Kyiv authorities fulfill the well-known and repeatedly voiced demands and take into account the new territorial realities," according to a Kremlin statement. That was a reference to Moscow's demands that Ukraine give up territory claimed by Russia.
Those comments came in a call with Turkish President Recep Tayyip Erdogan, who called on the Russian leader to impose a unilateral cease-fire to show his seriousness about talks, according Ankara's account of the call. Erdogan later spoke with Ukrainian President Volodymyr Zelenskiy, who reiterated his position that Russian troops must leave his territory for the war to end.
Ukraine's forces have been advancing for months, forcing Russian troops out of as much as 40% of the territory they initially took in the invasion. The Kremlin has said it still aims to reverse the setbacks and Kyiv's battlefield progress has slowed in recent weeks, but Russian troops have so far failed to retake significant ground.
©2023 Bloomberg L.P.
---