A soldier sits in a pit where unexploded, suspected Russian ammunition, was placed by a group of the Ukrainian National Guard
Russia said it defeated an insurgent group that crossed the border from Ukraine in the most serious fighting on its territory since the start of the war 15 months ago.
Troops backed by artillery and air strikes drove out a "Ukrainian nationalist formation" from Russia's Belgorod region, killing 70 fighters and destroying four armored vehicles as well as five pickup trucks, Defense Ministry spokesman Igor Konashenkov said in a statement Tuesday.
The "Freedom of Russia" legion, one of the groups that claimed to be involved in the attack, said it was continuing its operations in a post on its Telegram channel.
Bloomberg was unable to independently verify either of the statements.
Ukraine has denied involvement in the incursion that began Monday, saying it was carried out by Russian volunteer militia opposed to President Vladimir Putin's government. "These are patriots of Russia as far as we understand," Ukrainian Deputy Defense Minister Hanna Malyar said in televised comments Tuesday.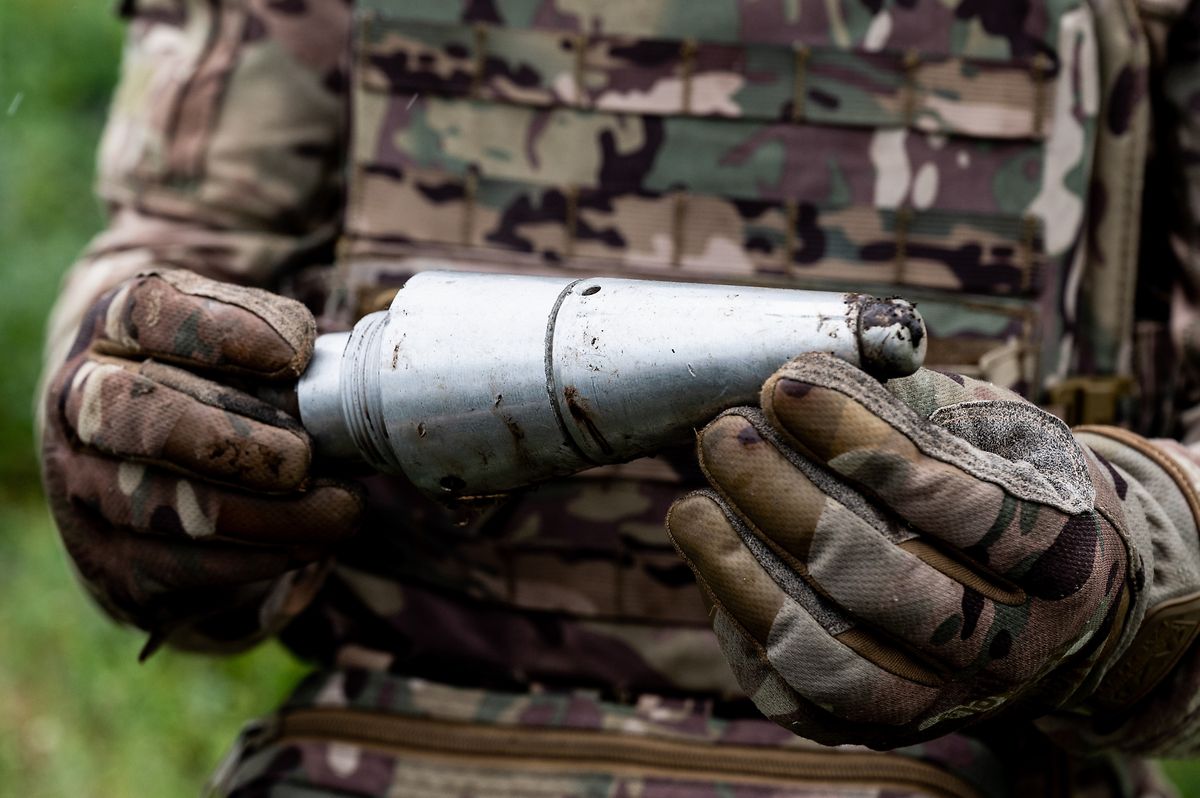 A detonator made of unexploded, suspected Russian ammunition collected and held by a member of a Ukrainian demining unit group
Michael Brochstein
Belgorod Governor Vyacheslav Gladkov said earlier that 12 people were injured in the "unprecedented" attack on border towns in the region, which he said included artillery and mortar fire as well as explosives dropped from drones. It wasn't yet safe tor residents evacuated from the area to return home, he said on his Telegram channel.
There's "deep concern" over the incident, Kremlin spokesman Dmitry Peskov told reporters Tuesday, state-run Tass news service reported. Putin may discuss it at his regular Security Council meeting on Friday, though there are no plans to hold an emergency session on the attack, he said.
Residential and administrative buildings as well as local infrastructure were damaged by mortar and artillery fire, Russia's Investigative Committee said in a statement.
The raid is the second cross-border attack in Russia in two months, after officials accused Ukraine in March of a sabotage operation in a village in the Bryansk region that killed two civilians and wounded a 10-year-old boy. Kyiv denied the claim, calling it an attempt by Russia to boost public support for Putin's invasion of Ukraine.
It also comes after Russia averted a strike by two drones on the Kremlin earlier this month, which it blamed on Ukraine without providing evidence. Ukrainian President Volodymyr Zelenskiy denied his government was involved.
"Russia is facing an increasingly serious multi-domain security threat in its border regions, with losses of combat aircraft, improvised explosive device attacks on rail lines, and now direct partisan action," the UK Defence Ministry said on Twitter.
©2023 Bloomberg L.P.
---