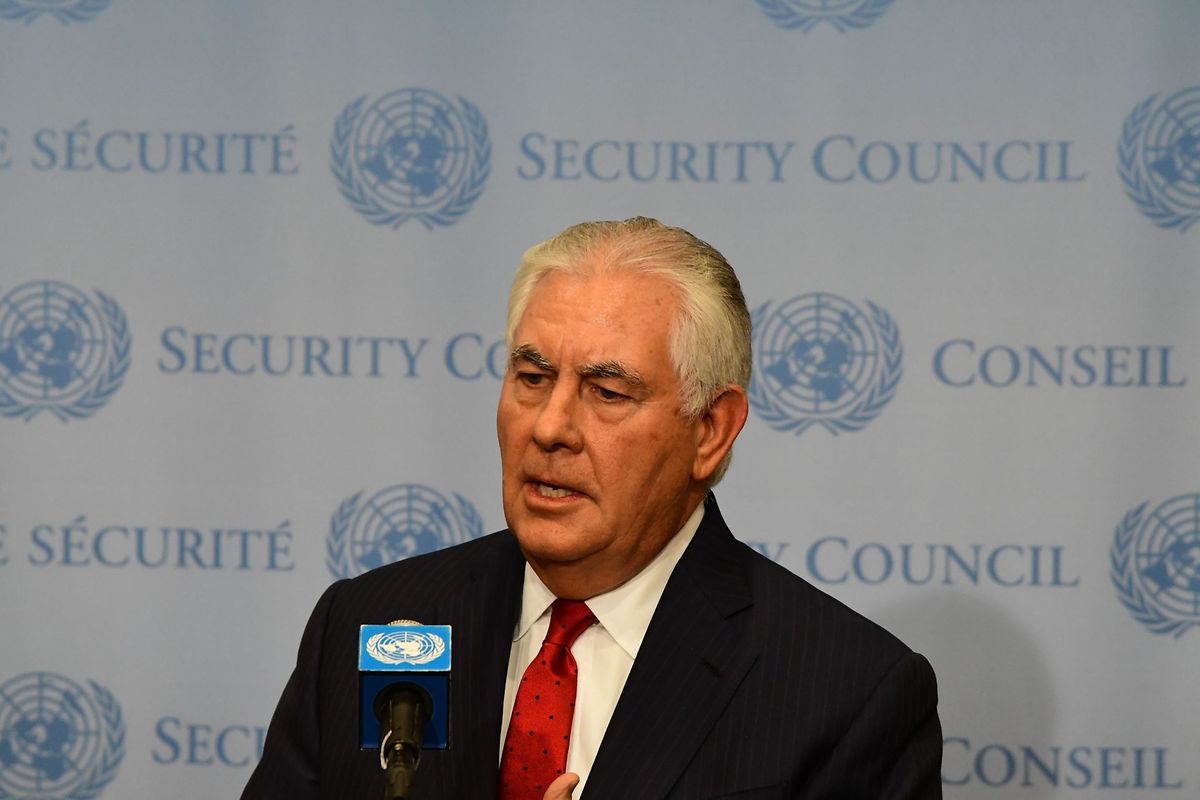 US Secretary of State Rex Tillerson. (Shutterstock)
US Secretary of State Rex Tillerson defended his country's foreign policy during his first year in the post, touting gains in pressuring North Korea, battling Islamic State and supporting Ukraine in the face of Russian aggression.
In an op-ed titled 'I am Proud of Our Diplomacy' published in the New York Times on Wednesday evening, Tillerson said Americans should be encouraged by progress made in pushing for global peace and stability.
He also said a redesign of the State Department would allow diplomats to "flourish professionally" and spend more time solving global problems.
"In spite of the challenges, I remain optimistic about the power of diplomacy to resolve conflicts and advance American interests," Tillerson wrote.
The former chief executive of Exxon Mobil has had a bumpy year as the US's top diplomat. He's clashed with President Donald Trump on issues from North Korea to Qatar, and faced criticism from the wider foreign-policy community for failing to fill key positions and sidelining career diplomats.
Trump rejected reports earlier this month that he was about to replace Tillerson as "FAKE NEWS," saying that despite some disagreements "we work well together." In the op-ed, Tillerson lauded "patriotic and dedicated" State Department employees who are "protecting our citizens' rights to life, liberty and the pursuit of happiness."
Tillerson Highlights
He also made the case that the administration's foreign policy is working:
North Korea: Tillerson said the US has cut off 90% of the country's export revenue, and that pressure would continue until Kim Jong Un's regime shows it's serious about abandoning its nuclear and ballistic missile programs.
China: Tillerson called on China to do even more to pressure North Korea, and said the US would continue to pressure leaders in Beijing on trade imbalances, intellectual property theft and "troubling military activities" in the South China Sea.
Terrorism: Tillerson said the global coalition to defeat the Islamic State has recaptured "virtually all" of the territory held by the group in Syria and Iraq, and called on Pakistan to combat terrorist groups seeking safe haven on its soil and in Afghanistan.
Russia: Tillerson said the US is on guard against election meddling and would keep up pressure on President Vladimir Putin's regime until there is a peaceful resolution of the Ukraine situation. At the same time, he said the US would work with Russia in places like Syria "where mutual interests intersect."
Iran: Tillerson said the nuclear deal is "no longer the focal point of our policy toward Iran." Instead, he wrote, the US is "confronting the totality of Iranian threats" through rebuilding alliances in the Middle East, addressing flaws in the nuclear deal and punishing Iran for violating ballistic missile commitments.