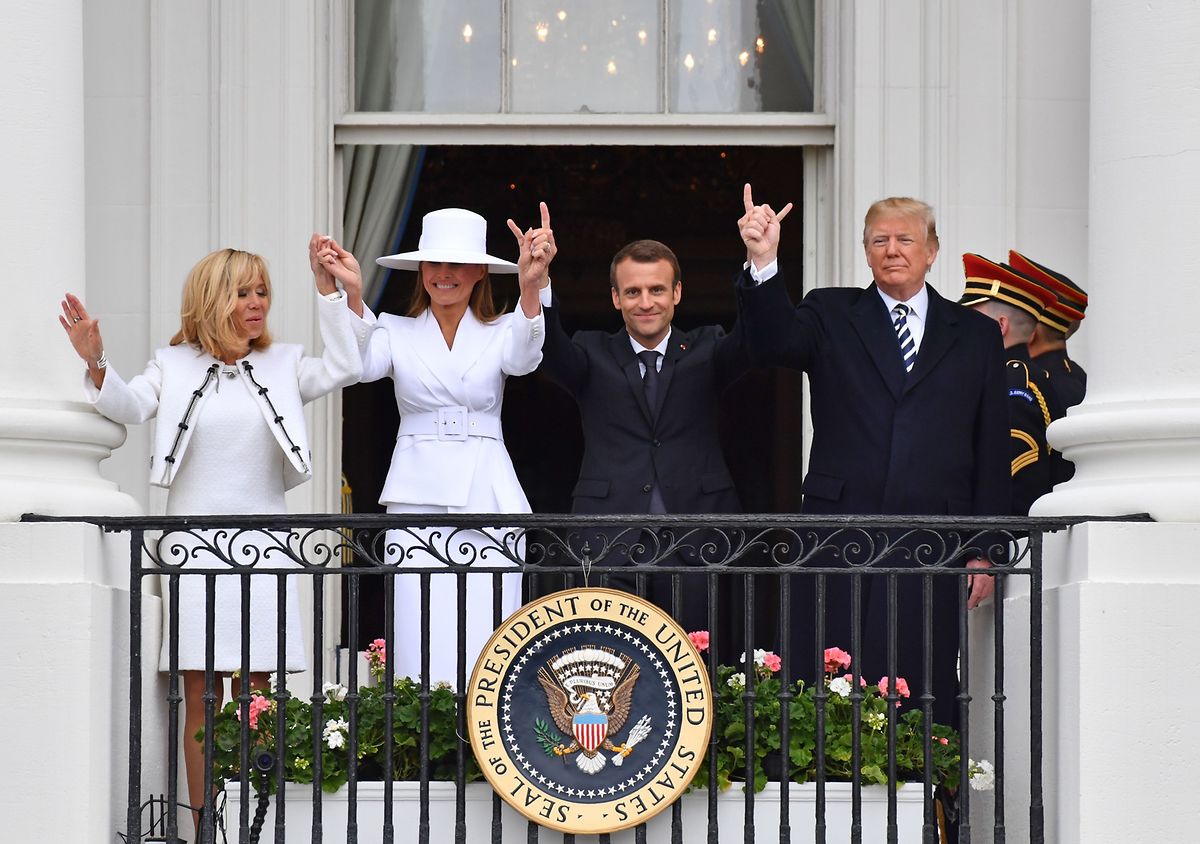 US President Donald Trump, French President Emmanuel Macron, US First Lady Melania Trump, and French First Lady Brigitte Macron on the balcony at the White House in Washington Photo: AFP
French President Emmanuel Macron's last-ditch appeal to salvage the Iran nuclear deal was met with intransigence by the US president.
Macron, who has sought to cultivate a personal bond with Trump, arrived at the White House on Tuesday with an Iran pitch in hand. If the US preserved the existing nuclear accord, that could serve as the cornerstone of a new, expanded agreement that would address the Islamic Republic's ballistic missile programme and destabilising behaviour across the Middle East.
It sounded to me like he wants to be half-pregnant

Jon Alterman
Yet that case, coordinated with other European powers, ran headlong into Trump's competing instincts on foreign policy. While Trump prizes his reputation as a deal maker, and is eager to score major foreign policy wins, he remains deeply sceptical of preserving the 2015 agreement with Tehran.
"It sounded to me like he wants to be half-pregnant -- that he wants to withdraw from the deal but sustain the deal and add something on top of the deal so that it constrains the Iranians more," Jon Alterman, a senior vice president at the Center for Strategic and International Studies, said of Trump's opposition. "The challenge with all of this is the president's objection to the deal is visceral, not intellectual".
Macron's challenge
"The challenge for Macron," he said, "is if there's nothing you can do to language that will make the president feel better about the deal and the president deeply objects to the deal, how do you sustain it?"
Macron's hope is to stave off an American withdrawal next month from the six-party agreement to freeze Iran's nuclear weapons programme. The French leader sought to tempt his American counterpart with the promise of future diplomacy that would not only repair flaws Trump perceives in the original agreement, negotiated by the Obama administration, but resolve a range of security headaches across the Middle East.
Trump seemed at least somewhat interested in Macron's blueprint, calling it a "new deal" with "solid foundations." Teams of American negotiators have been working with European allies for weeks on a new accord along the lines of what Macron laid out. Like Macron, their biggest challenge is the absence of any guarantee that Trump will accept the result.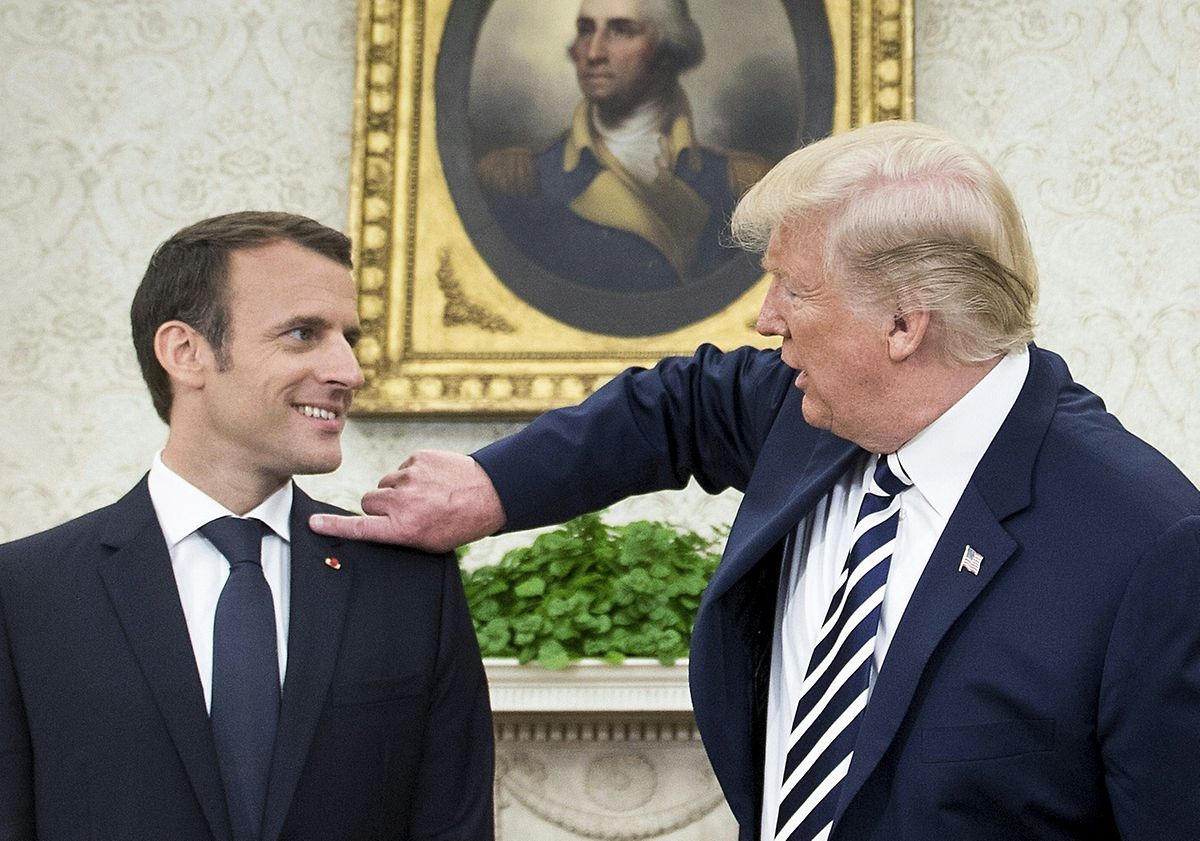 US President Donald Trump clears dandruff from French President Emmanuel Macron's shoulder in the Oval Office Photo: AFP
But Trump's desire didn't appear to overcome his steadfast opposition to the existing agreement, the preservation of which other world leaders and diplomats insist is essential if there is to be further negotiation with Iran. Trump must decide by 12 May whether to continue to waive US sanctions lifted under the accord.
Within minutes of the two leaders sitting down in the Oval Office, Trump ridiculed the existing agreement as "terrible," "insane," and "ridiculous." One-on-one talks seemed to do little to change his mind. Trump went on to threaten Iran with "a price like few countries have ever paid" if the Tehran government restarted their nuclear programme in response to an American withdrawal from the accord.
At a news conference, Macron offered a portrait of a four-part "new accord" with Iran. The French president would combine the existing nuclear agreement with curbs on Iran's nuclear program after 2025, a halt to its ballistic missile development and constraints on its regional influence.
The apparent contradiction exposed the limitations of the French leader's gambit as he sought to influence an American president who has governed by gut instinct and who is predisposed to ending a pact he regularly ridiculed on the campaign trail.
'Potent charm offensive'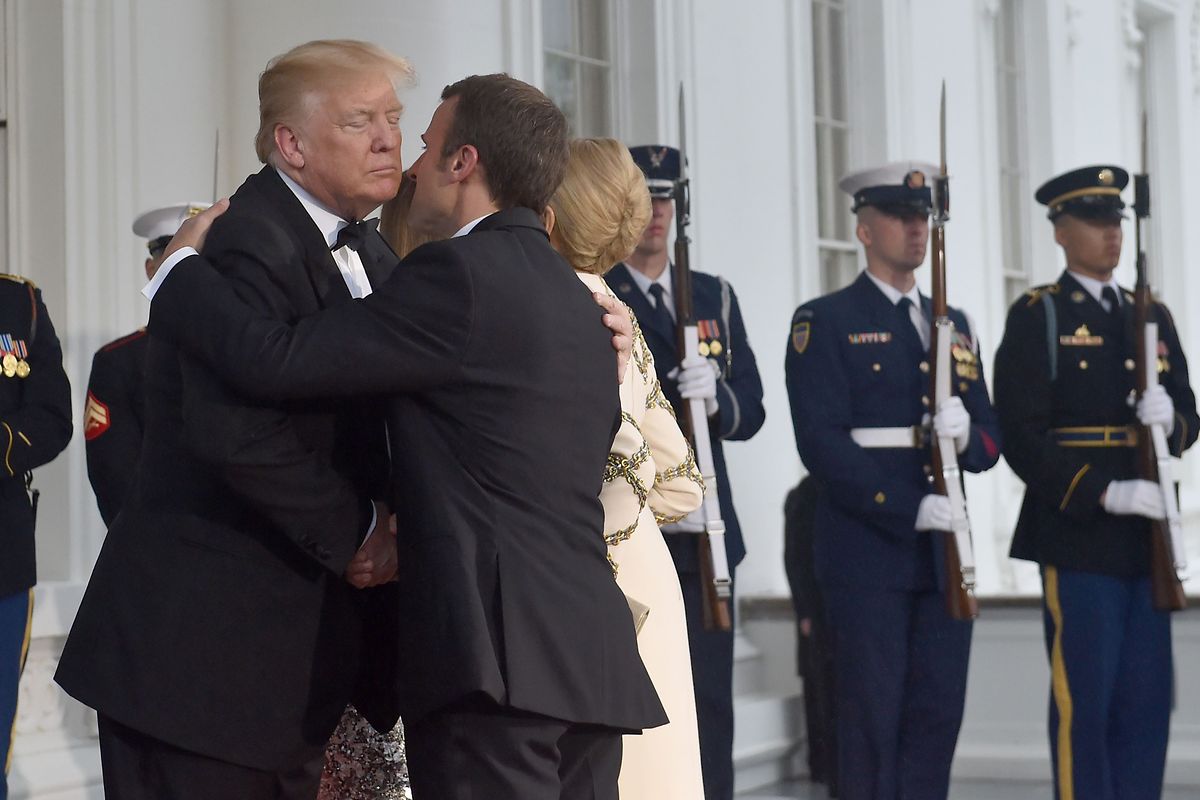 US President Donald Trump welcomes French President Emmanuel Macron for a State Dinner at the North Portico of the White House Photo: AFP
Still, supporters of the deal said they were optimistic that Macron was able to thread that needle, convincing Trump to preserve the existing Joint Comprehensive Plan of Action, or JCPOA, as American and European negotiators work on a series of side deals.
"I think it's a potent charm offensive by Macron, caveated by one quote where he used the word 'wasted' to describe the French and American relationship if America walked away," said Behnam Ben Taleblu, an analyst with the Washington-based Foundation for the Defense of Democracies. "When he underscored that that friendship could have been wasted it should show Americans how committed the Europeans are to the JCPOA."
Trump's repeated use of the word 'flexibility' or 'flexible' is the code word here

James Jeffrey
Indications that the US and France had at least made advances on some of the issues Trump has raised were reasons for optimism, James Jeffrey, a fellow at the Washington Institute for Near East Policy, said in an interview.
"Trump's repeated use of the word 'flexibility' or 'flexible' is the code word here," Jeffrey said. "But until he sees a final agreement from the three European countries, he's clearly not going to commit."
Indeed, US and European officials said they've made more progress than expected in their quiet discussions about coming up with proposals that would meet Trump's demands to contain Iran.
Visceral opposition
But other experts urged caution, noting Trump remained viscerally opposed to the underlying agreement.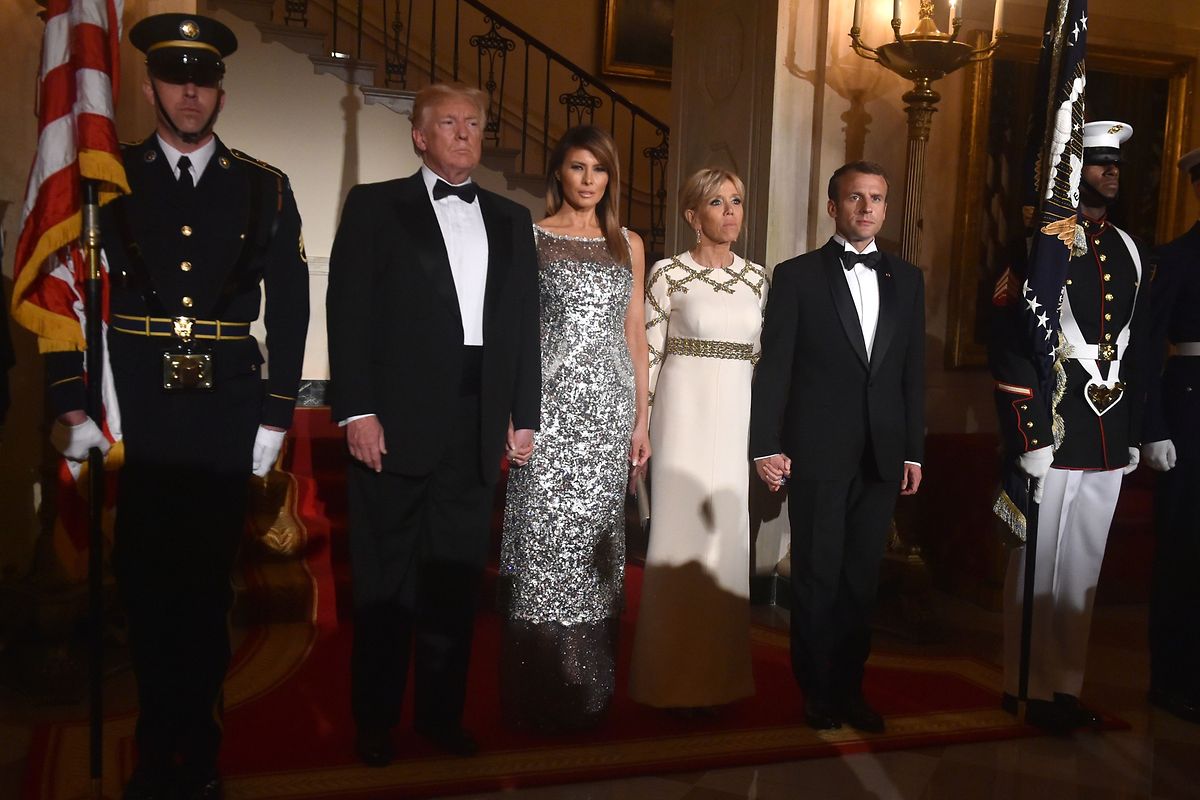 US President Donald Trump and First Lady Melania Trump arrive with French President Emmanuel Macron and his wife, Brigitte Macron, for a State Dinner Photo: AFP
"The president feels it was a bad deal," Alterman said.
And those predilections are only likely to harden as Trump regroups with his hawkish new foreign policy team. Mike Pompeo, the CIA director expected to be confirmed as the next Secretary of State later this week, and National Security Adviser John Bolton have both publicly criticised the Iran agreement in the past. And Trump has shown a repeated willingness to move decisively toward his initial policy inclinations - particularly when he senses others are trying to slow walk him from a potentially disruptive decision.
Heightened drama
"It is very plausible that some kind of contrivance is made to continue the U.S.-European negotiation and maybe the administration finds a way to kind of further heighten the drama -- some way to refine the ultimatum," said Jarrett Blanc, senior fellow at the Carnegie Endowment for International Peace. "It is also certainly possible that Trump wakes up in a bad mood on 11 May and there's a decision to withdraw."
Other experts said that upcoming talks with North Korean leader Kim Jong Un might be weighing heavily on Trump - and leave him more inclined to preserve the agreement. AUS withdrawal could undermine American credibility at the negotiating table as it seeks denuclearisation in another hot zone.
Iranian response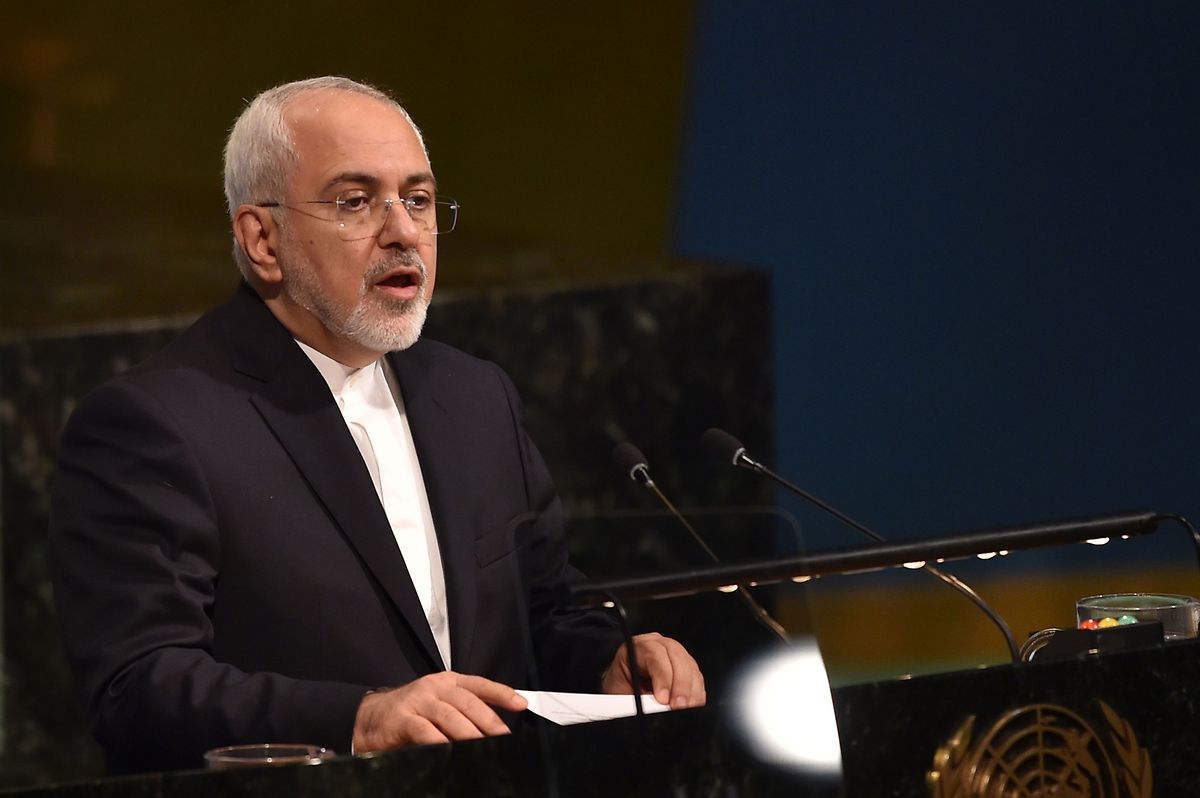 Iranian Foreign Minister Mohammad Javad Zarif speaks during Peacebuilding Meeting and Sustaining Peace at United Nations Headquarters in New York, on April 24 Photo: AFP
Iranian Foreign Minister Mohammad Javad Zarif on Tuesday noted the impending Korean talks and warned in an interview that Trump was signalling that the US is "not a trustworthy, reliable negotiating partner." Zarif repeated a warning that Iran would no longer be bound by the deal's limits if America withdrew.
"If the United States were to withdraw from the nuclear deal, the immediate consequence in all likelihood would be that Iran would reciprocate and withdraw," Zarif told the Associated Press.
There's no guarantee that we will get to some common understanding

Michael Singh
Ultimately, the Trump and Macron comments were "inconclusive" and retained the tension between allied diplomacy and Trump's "strong feelings" on the agreement, according to Michael Singh, managing director of the Washington Institute for Near East Policy and a former senior director for Middle East affairs under President George W. Bush.
"I think in a sense that it's still too soon to tell, there's no guarantee that we will get to some common understanding," Singh said.