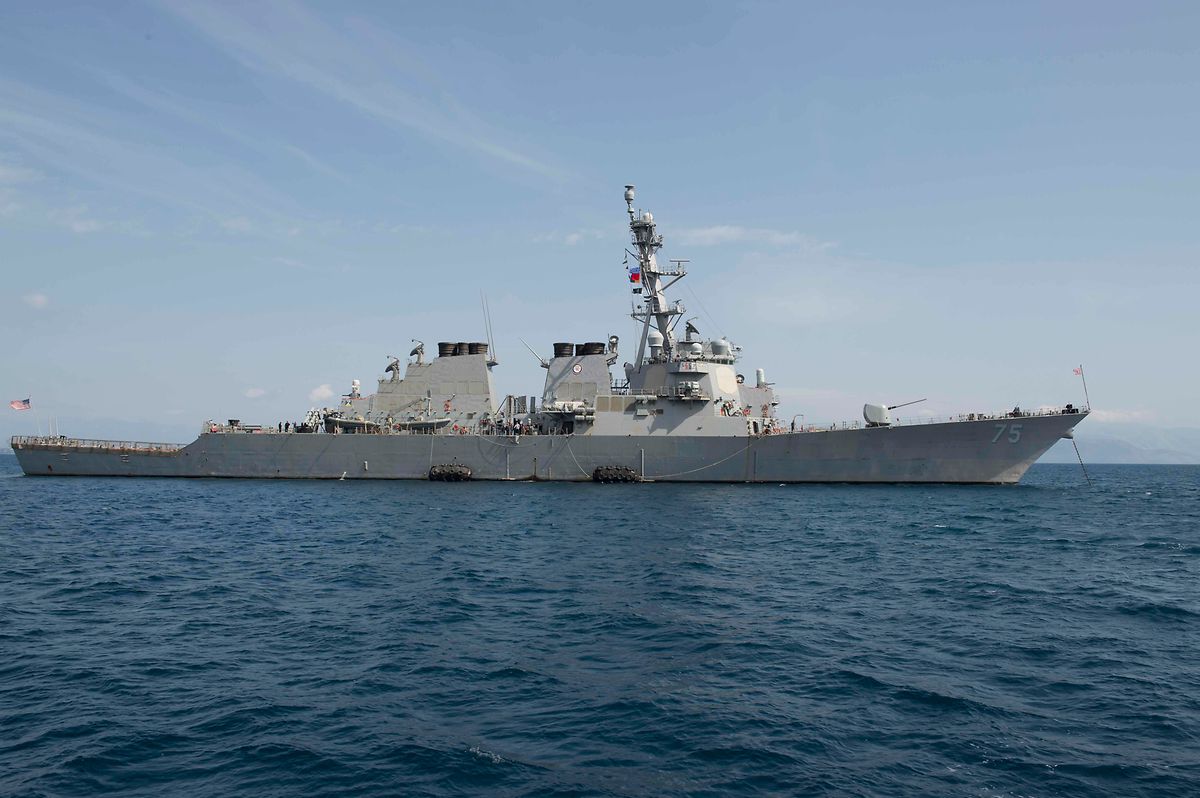 The US has maintained the threat of missile strikes in response to alleged chemical attacks in Syria (AFP)
For the second time in a less than a year, President Donald Trump is weighing a military response to a suspected chemical weapons attack in Syria.
This time, he's under pressure to hit harder and take bigger risks.
"It's unlikely that another set of one-off strikes will deter Assad," said Jennifer Cafarella, a Syria analyst at the Institute for the Study of War.
Trump needs to "establish a more effective deterrent by inflicting greater costs on Assad and perhaps his backers".
The attack Trump ordered last year was limited to a single Syrian base, Shayrat air field, and left little lasting damage.
Military planners avoided cratering runways, which would have made them unusable.
A new retaliatory strike will almost certainly inflict greater damage and probably hit more targets important to President Bashar al-Assad's regime.
The prospect of direct participation by France – and possibly other allies such as the UK – would provide greater legitimacy for a large operation that otherwise would risk criticism as violating international law, said Andrew Bell, an assistant professor at Indiana University who focuses on international security and the law of armed conflict.
A broader coalition helps build the case for a humanitarian mandate, he said.
French President Emmanuel Macron said Tuesday he believes Syria used chemical weapons in violation of United Nations resolutions and that a decision on how to respond would come from France and its allies, particularly the US and Great Britain, "in the coming days".
Alexandra de Hoop Scheffer, director of the Paris office of the German Marshall Fund of the US, said "the French have made it very clear that they have the autonomous ability to strike Syria if they want to".
Trump told reporters at a meeting with military leaders on Monday that the chemical weapons attack on civilians in Douma, near Damascus, would be met "forcefully".
On Twitter over the weekend, he warned of a "big price to pay" for the attack.
Senator Lindsey Graham, the South Carolina Republican, on ABC's "This Week" called the tweet a "defining moment" of the Trump presidency, "because he has challenged Assad in the past not to use chemical weapons".
"We had a one-and-done missile attack. So Assad is at it again," Graham said. "You need to follow through with that tweet. Show a resolve that Obama never did to get this right."
Delicate balance
The problem is that a more forcible response could upset the delicate balance of groups operating in the country.
The situation on the ground is a patchwork of competing and loosely aligned interests, including Russia, Iran, Turkey and the US, which has about 2,000 troops there advising the Syrian Democratic Forces in a fight against Islamic State militants.
A strike that hits Russian assets in the region – even if unintentionally – could result in a dangerous game of one-upsmanship, potentially dragging the US further into a conflict the president wants to leave.
"The most important thing about a US strike is the potential for Russian casualties as a result of any military activity there," said Ayham Kamel, head of Middle East and North Africa research at Eurasia Group.
"That is where there's a risk of an escalatory cycle that would be much more meaningful than attacking Assad's forces."
Long-range missiles
Any US-led attack almost certainly would rely heavily on long-range, precision-strike missiles launched from naval vessels or manned aircraft outside Syrian airspace even as US or allied forces attempted to neutralise Syria's well-known integrated air-defence system.
The Tomahawk missile, made by Raytheon, based in Waltham, Massachusetts, would probably play a prominent role in such an attack.
It has been fired in most conflicts since its initial use in 1991 against Iraq, when 288 were launched.
In last year's attack on the Shayrat air field, two US destroyers fired 59 Tomahawks.
The latest version of the Tomahawk, which both the US and UK navies have, can loiter over an area for hours, beam target images and battle damage assessments to commanders and be programmed to attack new stationary targets while overhead.
Reaper drones
In addition to the Tomahawk, one weapon that likely would be launched from outside Syrian airspace by the B-1B bomber is the Jassm cruise missile. It can also be dropped by the F-15E fighter.
Of the roughly 20 nations participating in the Islamic State campaign in Syria and Iraq, only a handful of nations including the UK, France and Germany have aircraft capable of launching such long-range strike weapons.
In addition to French aircraft and cruise missiles, an attack would probably involve MQ-9 Reaper drones dropping weapons and F-22 stealth fighters based in the region.
The jets have flown missions into Syria and Iraq since 2015 and are capable of dropping GPS-guided Jdam bombs.
Those jets have previously dropped bombs on targets in the region including buildings and weapons caches.
B-1B Lancer bombers capable of launching precision-guided weapons returned last month to the Middle East and would be available for an attack.
Depending on the depth and breath of a plan, B-2 bombers with the 509th Bomb Wing based in Missouri could be used to open an attack, destroying Syrian air defences and other targets.
Two B-2 bombers flying a 30-hour round-trip mission from Missouri in January 2017 attacked Islamic State training camps in Libya, dropping 85 500-pound GPS-guided bombs.
The camp had been monitored before the strikes by Reapers, a tactic that could replicated over Syria.